Christie Loyalist's Role as FBI Source Is Bridge Trial Sideshow
By
FBI sought Baroni aid on Trenton corruption from 2006 to 2010

Baroni set to take witness stand next week in his own defense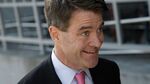 Of all the mysteries at the George Washington Bridge lane-closing trial, perhaps none is more tantalizing than Bill Baroni's secret life as an FBI informant who helped root out corruption in New Jersey state government.
But jurors may not learn those details when he testifies in his own defense next week in Newark federal court. He and another former ally of New Jersey Governor Chris Christie are accused of plotting to create gridlock near the bridge in September 2013 to punish the mayor of nearby Fort Lee for not backing the re-election of the governor.

Baroni, 44, was an informant for the Federal Bureau of Investigation from 2006 to 2010, a time he served as a New Jersey legislator, his lawyer told jurors Sept. 19 at the start of the trial. He regularly told the FBI about "the activities of state legislators and the governor's office," the lawyer said.
Christie, a fellow Republican, appointed Baroni deputy director of the Port Authority of New York & New Jersey in 2010.
Prosecutors rested their case Thursday against Baroni and Bridget Anne Kelly, a former deputy chief of staff for Christie.
FBI Files
Baroni offered three witnesses Friday to speak to his good character. But, in an ironic twist, the U.S. has asked the judge to bar Baroni from offering testimony about his secret work on behalf of the FBI.
Such testimony may confuse the issues, mislead the jury and create unfair prejudice, prosecutors said in an Oct. 12 filing.
"This court should bar Baroni recounting or eliciting specific details about his time as an FBI source," according to the filing.
Baroni's attorney Michael Baldassare couldn't be reached for comment about his client's work as an informant. U.S. District Judge Susan Wigenton hasn't ruled on the government's request to bar testimony about Baroni's FBI work.
Baroni, who was elected to the state assembly in 2003, was approached by agents before his election to the state senate in 2007, Baldassare said, in his opening statement, revealing his client's work as an informant for the first time. Baroni agreed to help because "what he saw in Trenton made him sick," Baldassare said. Trenton is New Jersey's capital.
For more on bridge scandal, click here
"They wanted him to corroborate things they had discovered," Baldassare said. "They wanted background on lobbyists and their interplay with legislators."
Baroni was good at being an informant, his lawyer said. Agents found "again and again that what Bill Baroni told them was then corroborated by other evidence, by other interviews, by documents that had been subpoenaed," his lawyer said. Never "did the FBI ever find that the information Bill gave them was anything less than 100 percent dead on."
Baroni "helped them bring one or two cases," and aided "in some small way to get convictions," Baldassare told jurors.
Baldassare's opening statement suggested how he might seek to use an FBI agent as a character witness. He said Baroni's FBI files show the agency considered him reliable, truthful, consistent and responsive.
Some of Baroni's time as informant overlapped with Christie's tenure as the top federal prosecutor in New Jersey, a job he held from 2002 to 2008. Christie charged more than 100 public officials with corruption, building his reputation as a reformer. In November 2009, he unseated the Democratic incumbent, Jon Corzine, beginning a drive for the Republican presidential nomination that ultimately failed this year.
Convince Democrats
Over the past four weeks, jurors heard testimony about how Baroni and his right-hand man, David Wildstein, used gifts, favors and grants from the Port Authority to help convince Democratic officials to endorse Christie's re-election in 2013.
Wildstein, who pleaded guilty and testified against Baroni and Kelly, said that he and Baroni bragged to Christie during a Sept. 11 memorial service about the traffic jams in Fort Lee and how the mayor wasn't getting his calls returned.
Jurors also saw a videotape of a combative Baroni testifying in November 2013 to a panel of lawmakers investigating the Fort Lee traffic jams. He said the gridlock was part of a traffic study requested by Port Authority police. Jurors heard testimony from other witnesses who said the traffic study was a cover story to hide the real reason for the traffic jams.
The case is U.S. v. Baroni, 15-cr-00193, U.S. District Court, District of New Jersey (Newark).