Trump Calls Sexual-Assault Claims Conspiracy to Defeat Him
By and
Women have come forward to say Trump mistreated them

Republican grapples with political fallout as election nears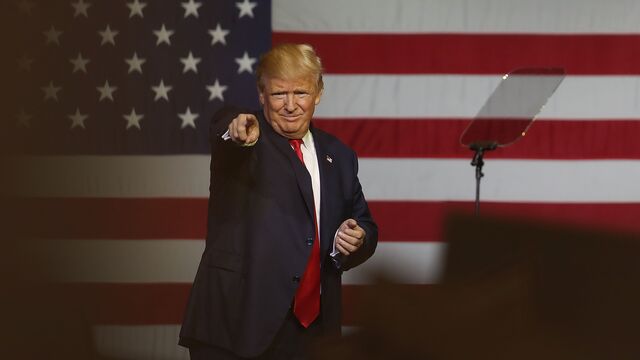 Republican Donald Trump accused the "Washington establishment" and the "corporate media" for spreading what he said were false accusations that he sexually assaulted women as part of a conspiracy to keep him out of the White House.
The embattled presidential nominee, speaking in West Palm Beach, Florida, framed the November election as vital to the very survival of the nation and asked supporters to look past the new flood of allegations.
"Our campaign represents a true existential threat like they haven't seen before," he said. "This is a crossroads in the history of our civilization that will determine whether or not we the people reclaim control over our government."
He added, "It's no coincidence that these attacks come at the exact same moment and all together at the same time as WikiLeaks releases documents exposing the massive international corruption of the Clinton machine."
Two women said on the record that Trump touched them inappropriately in the 1980s and in 2005, according to the New York Times, a regular punching bag for Trump that also drew his ire when it reported in May on other questionable behavior by Trump toward women.
"These vicious claims about me about inappropriate conduct with me are totally and absolutely false and the Clintons know it and they know it well," he told the rally in Florida. "They're pure fiction and they're outright lies."
People magazine also published a story Wednesday night in which the writer said Trump forced himself on her in 2005 when she was interviewing him. 
Trump noted that the writer didn't mention the incident in her story at the time. "You take a look. Look at her. Look at her words. You tell me what you think. I don't think so. I don't think so."
'Enough is Enough'
The revelations, combined with the details of a 2005 tape where Trump bragged about unwanted advances on women, prompted first lady Michelle Obama to deliver a powerful and emotional response on Thursday, saying, "It has shaken me to my core in a way that I couldn't have predicted."
The first lady, who has become an important surrogate for Clinton among women and young voters, denounced Trump's remarks captured in a 2005 recording. Campaigning for Clinton in New Hampshire, said voters must tell Trump, "enough is enough."
"I can't stop thinking about this," she said. It is "not something we can just sweep under the rug as just another disturbing foot note in a sad election season."
The Trump campaign made clear that it would continue to go on the offensive against the accusers, his opponent Hillary Clinton, and the news media.
"Trump is gonna hit it all with a blowtorch," a top Trump campaign official said Thursday. "If you're gonna go after Trump, he's gonna go after you. He denies all this across the board, categorically."
He told an audience in Florida that the Washington establishment, including the news media, was out to get him.
"This is a conspiracy against you, the American people," he added. "This is a moment of reckoning for our society"
He said Clinton is at the center of the conspiracy. "Hillary Clinton meets in secret with international banks to plot the destruction of U.S. sovereignty in order to enrich these global financial powers, her special interest friends and her donors.," he said. "Honestly, she should be locked up."
Onslaught of Claims
The People magazine writer, Natasha Stoynoff, wrote that she didn't mention the assault in the story because "I was ashamed and blamed myself for his transgression" and "I doubted my recollection and my reaction. I was afraid that a famous, powerful, wealthy man could and would discredit and destroy me, especially if I got his coveted PEOPLE feature killed."
The women's claims are the latest blow to Trump's hopes of defeating Democrat Hillary Clinton for the White House in the Nov. 8 election.
His poll numbers turned sharply downward after his first debate with Clinton on Sept. 26. Then, on Oct. 7, the Washington Post unearthed a recording of Trump talking on a hot mic in 2005 about groping women without invitation and being able to "do anything" to women because of his fame.
The same day, CNN published a 2005 radio interview in which Trump said that owning beauty pageants meant he could go backstage to see women naked under the auspices of "inspecting" things. Several women who were teenage pageant contests have said they recall Trump doing that; some declined to be named, and others surveyed by BuzzFeed News said they didn't recall Trump doing that.
Trump apologized for his hot-mic comments, said they were mere "locker-room talk" that didn't represent who he is, and said in the Oct. 9 presidential debate that he hadn't done the things he talked about doing in the recording. The tape drove a wave of Republicans to withdraw their support -- with some even calling for Trump to quit the race -- though some of those lawmakers have since reversed and said they'll still vote for him.
In addition to the Times and People reports Wednesday, the Palm Beach Post identified a women who said Trump groped her 13 years ago, and CBS News reported that a 1992 video of an "Entertainment Tonight" appearance at Trump Tower shows the billionaire eying a girl and saying he'd be dating her in 10 years.
Trump said Thursday that he was preparing a lawsuit against the Times and added that he was assembling evidence to counter the allegations that he would release "in an appropriate way and at an appropriate time."
Trump's lawyers have asked the Times to retract its story and apologize or else face legal action, according to a letter released by the Trump campaign Wednesday.
The Times said it stood firmly by its story and sent a strongly worded response to Trump's legal team.
"Nothing in our article has had the slightest effect on the reputation that Mr. Trump, through his own words and actions, has already created for himself," David McCraw, the newspaper's assistant general counsel, wrote. "We welcome the opportunity to have a court set him straight."
Clinton Attacks
Trump and his allies have tried to regain the upper hand on Clinton by saying she attacked women who have accused her husband, former President Bill Clinton, of sexual misconduct.
"We're going to turn him into Bill Cosby," Trump campaign CEO Stephen Bannon told staffers about Bill Clinton, according to two advisers who were present, starting with a Thursday night appearance on Fox News by three women who have accused the former president of misconduct.
They've also highlighted hacked e-mails from Clinton campaign chairman John Podesta that WikiLeaks has been releasing in batches since Friday, which Republicans say illustrate Clinton's untrustworthiness.
The Clinton campaign has declined to verify the e-mails and has blamed Russian state-sponsored hackers for working with WikiLeaks to help Trump. The U.S. government has publicly blamed Russia for the hacking of Democratic groups this year.
— With assistance by Elizabeth Titus
Before it's here, it's on the Bloomberg Terminal.
LEARN MORE