Canada Housing Rules Revive Paper Market Quiet Since Crisis
By
Uninsured mortgages could go to asset-backed commercial paper

Market has slowed since 2007 liquidity crisis in asset class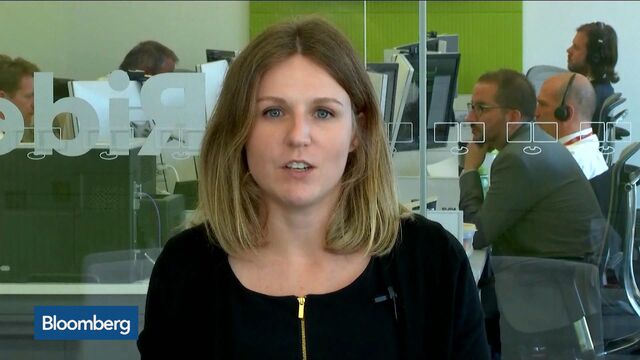 New rules aimed at cooling Canada's housing market are poised to revive a corner of the debt market that's remained sluggish since part of it blew up during the global financial crisis almost a decade ago.
The measures, designed to reduce Canadian government exposure to housing by tightening access to mortgage insurance, may lead to increased sales in the C$15 billion ($11 billion) market for commercial paper backed by residential mortgages, analysts said. ABCP is classified as debt with a maturity of no more than 270 days, with a typical duration of 45 to 60 days.
"If there's going to be increased impediments for mortgage originators to access insurance maybe they look to keep more of their mortgages as conventional," Richard Hunt, a structured finance analyst at Moody's Investors Service, said by phone from Toronto. "It's possible that they now leave them as uninsured loans and fund them through asset-backed commercial paper."
Canada's market for ABCP not administered by banks collapsed in August 2007 amid concern that part of the debt was backed by risky U.S. subprime mortgages. More than 100 companies and about 1,765 people were stuck with about C$32 billion in paper that couldn't trade until a court-ordered plan to convert about the debt into longer-term notes was completed 17 months later. The market's barely grown since then.
Higher Cost
Canadian lenders meanwhile have relied heavily on Canada Mortgage & Housing Corp., the country's national housing agency, to insure mortgages with down payments of less than 20 percent and then package those loans into mortgage-backed securities to fund originations. By making it tougher to access insurance under the new regulations announced last week, the government has signaled it wants to play a smaller role in the market.
Mortgages that no longer qualify for government insurance could flow into the ABCP market, which is backed by pools of credit cards, auto loans or mortgages and totals about C$30 billion outstanding altogether. But those deals will probably come at a higher cost as the debt won't have the same security as the implied AAA credit rating of mortgage-backed securities guaranteed by the government, said Chris Kresic, a Toronto-based partner at Jarislowsky, Fraser Limited Global Investment Management.
Government Out
"Nothing is going to be as cheap as what they were getting from CMHC with the insurance," Kresic said. "CMHC makes less sense now because now you've got a more frothy market in terms of prices relative to incomes."
Stephen Smith, chief executive officer of mortgage provider First National Financial Corp., said last week that the new rules means about a quarter of the company's residential mortgages won't qualify for so-called portfolio insurance -- the bulk insurance lenders buy which the government is also making harder to get -- so he'll probably seek more financing through the ABCP market.
Outstanding paper backed by mortgages may not rise dramatically as insured mortgages mature and are replaced by new debt backed by uninsured mortgages. New regulations came into place earlier this year that forbid insured mortgages from being added to ABCP pools, another measure that takes the government out of the mortgage market.
Raw Nerve
"We're sort of expecting it to stay relatively flat in that the uninsured is going to offset the loss of the insured in the conduits," Moody's Hunt said. Currently about C$10.9 billion, or 33 percent of the ABCP market, is backed by insured mortgages and home equity lines of credit, according to a DBRS Ltd. report.
Keeping ABCP outstanding relatively the same is likely what regulators want to see, given the damage that the asset class caused during the 2008 financial crisis, Aubrey Basdeo, head of Canadian fixed income at BlackRock Inc., said by phone from Toronto.
"That nerve is still very raw and that kind off-balance sheet funding is going to be looked at by the regulators in a very negative way," he said. Basdeo doesn't see issuance of ABCP backed by mortgages growing dramatically as a result of the desire by regulators to cool the housing market.
Any issuance would also need a high coupon in order to attract investor interest, James Dutkiewicz, chief investment strategist at Sentry Investments Inc., said in an interview Tuesday before an appearance on Bloomberg TV Canada.
"It would be a fringe market," he said.
High Support
Commercial paper is structured so that the issuer retains much of the credit risk, unlike the government-sponsored mortgage-backed securities programs. Short-term debt programs are structured so that they are secured by lines of credit to cover any shortfall if they need to pay back the investor before the lender receives payment for the mortgage, Hunt said.
To be sure, ABCP backed by pools of residential mortgages is not the same as pools of mortgage derivatives that caused the 2008 financial crisis, said Daniel Williams, partner at Toronto-based investment bank Kilgour Williams Group. A bigger risk to the housing market is low interest rates that encourage continued borrowing, he said.
"Given the uncertainty and the general sense in the marketplace that housing prices are high relative to incomes, they'll structure these things with very high levels of support," Kresic said. Any issuance is unlikely to draw in new investors to the ABCP market, but those who are comfortable with the risk will look to buy it, he said.
"They're still high-quality, prime, conventional mortgages," Moody's Hunt said. "The borrower credit scores are still very good, the performance continues to be exceptional, with very low levels of delinquency and default."
— With assistance by Doug Alexander
Before it's here, it's on the Bloomberg Terminal.
LEARN MORE