U.S. ELECTION WRAP: Republican Congress at Risk as Trump Lashes Out
Donald Trump goes full Trump and wages war against the Republican establishment, putting vulnerable GOP House and Senate candidates in a tricky spot.
By and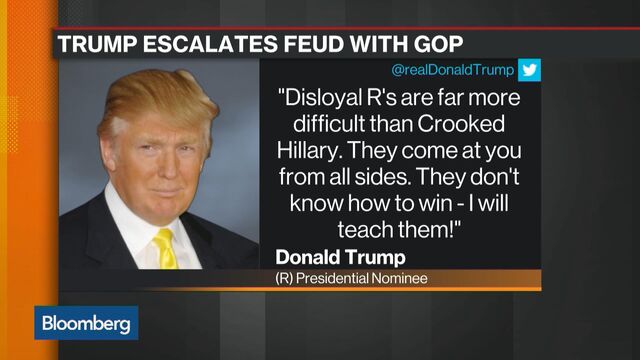 Donald Trump's break with the Republican establishment is bringing into question whether the Grand Old Party can keep control of at least one chamber of Congress.
While winning the Senate has long been seen as highly possible for Democrats, securing a majority in the House of Representatives had been considered a longshot
But now that Trump has declared war on "disloyal" Republicans -- most notably House Speaker Paul Ryan -- GOP leaders and rank-and-file members are worried Trump could kill their party's chances of keeping the House, despite a sizable majority in the lower chamber

"My sense last week was that Republicans were on track to hold their losses in the House to under 10 seats," Cook Political Report's David Wasserman said in a phone interview, adding that the situation is deteriorating rapidly

Wasserman now thinks those losses could reach the double-digit range, though he's not yet ready to predict that Democrats can pick up the 30 seats they need to take control of the House
As recently as last month, House Democratic leaders speculated they might win 20 seats, 10 short of their 30-seat goal; now, given Trump's woes and highly volatile campaign, they see a real chance of retaking the chamber, Washington Post reported

House Democrats are targeting 26 Republican-held districts that President Obama carried in 2012, and another 23 where he came close to winning, according to the newspaper

NOTE: Republicans' House majority rests on seats in the suburbs, districts that went for 2012 GOP presidential nominee Mitt Romney, but by 10 points or less

In a normal year, Republicans would have an advantage, though not an overwhelming one, in each of those districts
Yet with a majority built on states that only slightly lean Republican, the GOP-led House is susceptible to a wave election

An internal Democratic Congressional Campaign Committee poll found that Democrats have a 7-point lead on the question of which party voters want to control Congress, according to Politico's Scott Bland; that matches an NBC News/WSJ survey released Monday that showed 49% of respondents favoring a Democratic-led Congress vs 42% who want Republican control

DCCC survey taken after Sunday's presidential debate also showed little difference between voters' views of Republicans who recently disavowed Trump and those standing by him: Washington Post

As for the Senate, Democrats now control 46 of the chamber's 100 seats, meaning the party needs a net gain of four if Clinton wins and five if Trump overcomes steep odds and becomes president
Cook Political Report's Jennifer Duffy still predicts that Democrats will pick up between 4-6 Senate seats, though she warns "we are in unchartered waters" given the Trump-related drama
Democratic candidates are "beating up the Republicans who have abandoned Trump and those who are sticking with him" she said in an interview. As with the House outlook, everything needs a "few more days to bake" before getting a better hold on Senate prospects, she said

GOP BURNS?
The long-feared Republican Party war with Trump became a reality today as the presidential nominee went on a scathing Twitter tirade against Ryan and other Republican officials who are distancing themselves from the blustery billionaire
Republicans "don't know how to win - I will teach them!" he wrote
And: "It is so nice that the shackles have been taken off me and I can now fight for America the way I want to"

Trump's view that candidates not supporting him should be punished on Election Day raises the "ugly specter of people voting for Trump at the top of the ballot and then leaving the rest of the ballot blank," former Breitbart editor Ben Shapiro said on his podcast Monday
Trump is happy to see Republicans and conservatives go down in "fiery ruin": Shapiro

Trump can't win and wants to take "the whole damn party down with him," liberal syndicated radio host Bill Press told CNN

Press said RNC Chair Reince Priebus should call a GOP meeting and "dump Donald Trump"

For months, vulnerable GOP House and Senate candidate have struggled to strike a balance between not getting too close to the controversial Trump campaign but also not angering his supporters who are fed up with Washington. The time for wishy-washy political posturing is over, former Republican National Cmte Chairman Michael Steele said.

"For a lot of these folks at this point there is no tightrope to walk, you are either in or you're out," Steele said on MSNBC. Candidates in tough races must make the "hard decision" depending on their particular circumstances, he said
On Sunday night, when Trump saved his cratering campaign and energized his base during a debate with Hillary Clinton, Steele made his point by Tweeting the image of a mushroom cloud

But Trump is only a outlier of the problems within the Republican Party, Steele said on Tuesday

The GOP is struggling with "internal corrosion and it has to come to grips with that"

ON THE TRAIL
Florida is the venue for both Hillary Clinton and Trump on Wednesday
Former Vice President Al Gore is joining the 2016 Democratic presidential nominee in the state he was ruled to have lost by 537 votes in 2000, costing him the White House, Tampa Bay Times reported
Gore's loss to George W. Bush was in part because more than 97k Floridians voted for third-party candidate Ralph Nader

"Your vote really, really really counts," Gore told the crowd

The former VP could help Clinton attract much needed younger voters, many of whom are passionate about Gore's top issue: climate change
Former President Bill Clinton also is in Fla. today on behalf of his wife
President Obama is campaigning for Clinton in Greensboro, N.C., where he also will separately take part in a town hall-style talk on race
Trump is set to speak in Panama City, Fla., Tuesday night

ENDORSEMENTS/DENOUNCEMENTS
Christianity Today, an evangelical publication, excoriated Trump in a piece published Monday, "Speak Truth to Trump"

"Enthusiasm for a candidate like Trump gives our neighbors ample reason to doubt that we believe Jesus is Lord," Christianity Today executive editor Andy Crouch wrote
"They see that some of us are so self-interested, and so self-protective, that we will ally ourselves with someone who violates all that is sacred to us"
NOTE: Trump has praised evangelicals for their support and frequently speaks about changing the law so churches can make political donations

Sen. Marco Rubio, who is seeking re-election in Fla. after Trump beat him in the state's GOP presidential primary, said he's still endorsing the GOP nominee

"I disagree with him on many things, but I disagree with his opponent on virtually everything," Rubio said in a statement

Trump blasted Republican Sen. John McCain for pulling his endorsement of him

McCain, the 2008 Republican presidential nominee, said he won't vote for Trump or Clinton and may write in name of his friend, GOP Sen. Lindsey Graham of S.C.
McCain withdrew his support of Trump after publication of a 2005 video showing Trump making lewd comments about women

Conservative political commentator Glenn Beck said opposing Trump is a "moral, ethical" choice, even if that results in Clinton becoming the next president, CNN reported
New Jersey Governor Chris Christie is standing by Trump, breaking his silence four days after a tape of the Republican presidential candidate's lewd comments set off a furor within the party

POLLS/PREDICTIONS
Clinton gets 46% backing to Trump's 37% in NBC/WSJ poll that includes interviews following Sunday's debate
Skybridge Capital founder Anthony Scaramucci, a fundraiser and economic adviser for Trump, said the Republican presidential nominee has about a 20-percent chance of winning November's election, based on polls; click here for full story

TAXES
Clinton proposed to revamp and expand the child tax credit to provide more benefits for low-income families and for eligible families with children age 4 and under, Bloomberg's John Voskuhl reported
Trump's plan to offer all businesses a flat 15 percent income-tax rate would prompt workers to try to cut their tax bills by turning themselves into "self-employed" contractors -- without leaving their current employer -- according to a tax-policy group's report; see full Bloomberg story here

ETC

CONGRESSIONAL ELECTIONS
SENATE RACES (Republicans hold 54-46 majority)
AZ: Democratic Rep. Ann Kirkpatrick "chided" Republican Sen. John McCain for endorsing Trump more than "60 times" before finally rescinding his support, while McCain "challenged Kirkpatrick to rebuke Clinton," Arizona Republic reported on debate last night on Arizona PBS

Watch the debate HERE
Trump wrote on Twitter today that "the very foul mouthed" McCain "begged for my support" during his primary and "then dropped me over locker room remarks!"
FL: Republican Sen. Marco Rubio said in statement he still backs Trump because "I do not want Hillary Clinton to be our next President"

Rubio said he's "never hesitated to oppose his policies I disagree with" and "consistently rejected his offensive rhetoric and behavior," but "I disagree with his opponent on virtually everything"
Democratic Rep. Patrick Murphy, speaking Spanish in new TV ad, says he worked with Obama on an immigration overhaul while Rubio changed his position and still supports Trump
Rubio in 2013 was among 14 Republicans who voted for Senate-passed legislation that included more funding for border security while providing path to citizenship for many undocumented immigrants; Rubio says border security needs to be addressed first
Murphy's ad first aired this morning on Miami-area Telemundo affiliate WSCV, according to ad-tracker Kantar Media/CMAG
MO: Democratic Secretary of State Jason Kander said in TV ad he enlisted in Army after 9/11, "worked to clean up state government" and is running for Senate because "we won't change Washington until we change the people we send there"

National Republican Senatorial Cmte, which backs Sen. Roy Blunt's re-election, in TV ad referred to Kander and Clinton as "tax-raisers" and "politicians we can't trust"
NC: Republican Sen. Richard Burr said he's still backing Trump over Clinton despite what Burr said were Trump's "indefensible" comments about women, Raleigh News & Observer reported

"You hear and read comments like this from professional athletes frequently, and they're entertainers," Burr said, adding that "I don't think this is something that we dwell on after somebody has asked for forgiveness"
NARAL Pro-Choice North Carolina, a group that supports abortion rights and Democratic challenger Deborah Ross, said in statement that N.C. families "deserve a leader who makes respect for women a cornerstone of their platform"
NH: Democratic Gov. Maggie Hassan, speaking directly to camera in TV ad, says N.H. families tell her "Washington is locked into a system where the special interests come before people"

Hassan, who's challenging Republican Sen. Kelly Ayotte, says a new senator "who puts your priorities ahead of special interests can make a difference"
Granite State Solutions, a pro-Ayotte super-PAC funded in part by billionaire Sheldon Adelson, has spent $9.8m on the Senate race, according to FEC filing today
PA: Republican Sen. Pat Toomey "refused to rule out" supporting Trump, even as he also said today he has "serious reservations, serious concerns" about Republican White House nominee, Philadelphia Inquirer reported

Toomey, opposed by Democrat Katie McGinty in one of nation's most competitive Senate races, said Clinton is "one of the most flawed nominees in the history of the republic"
HOUSE RACES (Republicans hold 246-186 majority)
AK-Statewide: Republican Rep. Don Young's campaign released TV ad saying Alaska "needs Don Young now more than ever"

Spot also shows image of Democratic opponent Steve Lindbeck, a former public-radio executive, with images of Democratic figures including House Minority Leader Nancy Pelosi and Sens. Chuck Schumer of N.Y. and Barbara Boxer of Calif.
CA-07: Congressional Leadership Fund, a super-PAC aiding the House Republican majority, released TV ad attacking Democratic Rep. Ami Bera for voting to approve "dangerous" Iran nuclear deal

Bera in Sept. 2015 said accord is "the best agreement we have at this time to prevent Iran from obtaining a nuclear weapon"
Bera seeking third term against Republican Scott Jones, the Sacramento County sheriff, in district that voted 51%-47% for Obama in 2012 election
CA-49: Republican Rep. Darrell Issa's campaign released TV ad of ex-NYC mayor Rudy Giuliani saying "law enforcement and first responders have no greater champion in Congress" than Issa

Issa opposed by Democrat Doug Applegate, a retired Marine Corps colonel, in mildly Republican-leaning district that includes parts of San Diego and Orange counties
IL-10: House Majority PAC, a super-PAC aiding Democratic ex-Rep. Brad Schneider, released TV ad of suburban Chicago woman charging Republican Rep. Bob Dold with "voting to privatize Medicare" and "charging women more for health care"

Ad cites Dold's votes in March 2012 and March 2015 for budget resolutions, which are nonbinding blueprints, that included the health care language
District includes North Shore suburbs and was most pro-Obama district in 2012 election (58%) that's now represented by a Republican in the House
MI-01: Democrat Lon Johnson and Republican Jack Bergman participated in candidate forum yday at which Johnson said Bergman "plans to privatize Social Security and different health-care services and resources, including VA hospitals," Traverse City Record-Eagle reported

Listen to the forum, courtesy of Interlochen Public Radio
Johnson, a former state Democratic Party chairman, and Bergman, a retired Marine Corps lt. gen., are seeking to succeed retiring GOP Rep. Dan Benishek in district that includes Michigan's Upper Peninsula and voted 54%-45% for Mitt Romney over Obama in 2012 election
MN-03: Democratic state Sen. Terri Bonoff, speaking directly to camera in TV ad, says Republican Rep. Erik Paulsen for "over a year refused to disavow" Trump and voters "deserve someone in Congress with the courage to do what's right"

Paulsen, who's seeking a fifth term, said Oct. 9 that Trump's vulgar comments about women in 2005 video were "disgusting and offensive" and "I will not be voting for him," Star-Tribune reported
District includes western suburbs of the Twin Cities and voted for Obama over Romney by <1 ppt in 2012 election
MN-08: Republican Stewart Mills's campaign in TV ad said Democratic Rep. Rick Nolan would give Clinton "a blank check to run up trillions in new debt and job-destroying taxes"

Ad doesn't cite any specific policies to buttress the claim; it also faults Nolan for supporting Iran nuclear deal, which Nolan said last year "best positions the United States and our allies to deal with Iran's continuing challenge to our security, and the world's"
Nolan, Mills in rematch of 2014 race that Nolan won 49%-47% in district that includes Duluth and Iron Range
NE-02: Democratic Rep. Brad Ashford and Republican Don Bacon, retired Air Force brigadier general, will participate in debate at 7 p.m. eastern time and 6 p.m. local time that will air on Omaha television station KMTV and also will be carried by C-Span 3 and streamed on Omaha World-Herald's website

Ashford, who's broken from Democratic leaders on some major votes, defending his seat for the first time since unseating Republican Rep. Lee Terry in 2014
National Republican Congressional Cmte Chairman Greg Walden told KETV "we have a path to victory here, or I wouldn't be here and we wouldn't have $2 million on TV and radio here"
Bacon raised $525k in Q3, Omaha World-Herald reported
NJ-05: National Association of Realtors Congressional Fund's opposition to Republican Rep. Scott Garrett and support for Democrat Josh Gottheimer is "political payback" for Garrett "pushing a bill in 2013 that would have scaled back the role of Fannie Mae and Freddie Mac," Bergen Record reported

Garrett is chairman of the House Financial Services Subcmte on Capital Markets and Government Sponsored Enterprises and also sits on Housing and Insurance Subcmte
NV-03: Congressional Leadership Fund released TV ad referring to Democrat Jacky Rosen as a "Washington puppet" funded by "Beltway bigwigs" who's now "dancing to their tune"

Rosen, a local synagogue president, and Republican businessman Danny Tarkanian are seeking competitive Clark County district of Republican Rep. Joe Heck, who's running for Senate
NY-25: Democratic Rep. Louise Slaughter's campaign released TV ad featuring a woman who praises Slaughter's work to bring a photonics institute to Rochester

"If it can't be done in Rochester, it can't be done," says Slaughter, who's opposed by Republican Mark Assini in rematch of 2014 race Slaughter won by <1 ppt
PA-08: Republican Brian Fitzpatrick in TV ad decried gridlock in Congress and said he would "take my experience protecting your family" as former federal prosecutor and FBI agent "to the place where it's needed the most"

Fitzpatrick opposed by Democratic state Rep. Steve Santarsiero in competitive suburban Philadelphia district of the GOP candidate's brother, retiring Rep. Mike Fitzpatrick
UT-04: Republican Rep. Mia Love and Democratic lawyer Doug Owens "said they could help end the partisan gridlock in Washington, D.C., during their first and likely only debate" yday, Deseret News reported

Love said neither Trump nor Clinton represents her values and she's "been looking into the other candidates"; Owens said he's ''voting for my party's nominee, but I have not endorsed any candidate" and ran for Congress "not to play in the presidential race, but to do what I could for Utah"
Watch the debate HERE
Love, the first black Republican woman to serve in Congress, and Owens, whose late father Wayne Owens served in House, are in rematch of 2014 race that Love won 51%-46% in GOP-leaning district where most residents live in Salt Lake County