markets
Sterling Is Trading Like an Emerging Market Currency
The Not-So-Great British Pound.
By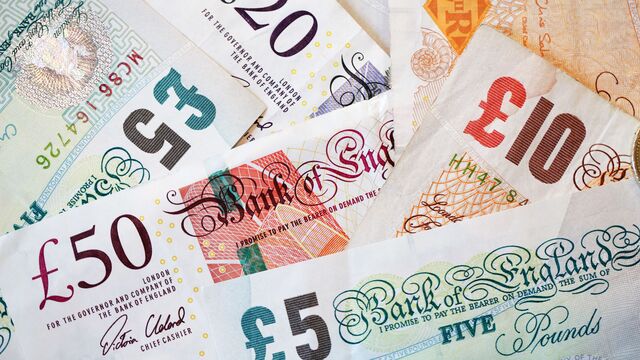 Is the British pound the new Mexican peso?
U.K. markets are now dancing to an emerging-markets beat as the violent sell-off in the pound this month has triggered a rise in government bond yields as investors look to reprice U.K. sovereign risk.
Amid rising fears that the U.K. will take a big economic hit from its move to leave the European Union, the correlation between the pound and an index of emerging-market currencies has jumped to levels last seen since the run-up to the Brexit vote.

"Investors are increasingly casting U.K. assets in an emerging-market light, amid a fundamental re-appraisal of the country's medium- to long-term economic fortunes," Chris Scicluna, London-based strategist at Daiwa Capital Markets Europe Ltd, said in a phone interview.
On Tuesday, the pound fell for a fourth day,  tumbling 0.49 percent to $1.2296, as of 5:50 a.m. ET, bringing its year-to-date fall against the dollar to 17 percent — the worst among 16 major peers.
"The pound is the purest expression of investors' fears about political risk in developed markets," Nicholas Spiro, partner at London-based Lauressa Advisory, a London-based macro consultancy firm, wrote in a note to clients on Monday. "While the Mexican peso — the most liquid emerging market currency and the most reliable gauge of 'Trump risk' — has given sterling a run for its money this year, it's the pound that has become a proxy for politically-driven volatility in markets."
While developed-country government bonds typically benefit from safe-haven buying during bouts of market nerves, the dynamic is now in reverse, with the pound and government bonds falling in tandem, and the U.K. 10-year note yielding 0.98 percent compared with 0.52 percent in mid-August. While global bond markets have sold off this month, amid expectations of tighter monetary policies, U.K. yields have outpaced rises in the U.S. and euro-area countries.
The correlation between the pound and two-year gilt yields — which move inversely to prices — is at the lowest in a decade.

Gilt market underperformance, combined with the pound sell-off, suggests that U.K. markets aren't enjoying the benefits that accrue from the pound's reserve-currency status, says Jordan Rochester, FX strategist at Nomura Holdings Plc.
"Since reserve-currency countries enjoy investor confidence and there's a lack of a liquidity premium, FX markets look to buy government bonds when yields rise. But the sell-off in U.K. rates markets, leading to a weaker currency, is reminiscent of the dynamic in emerging-market countries," he says. 
An "upward shift in inflation expectations," driven by the falling pound, combined with "big long-term fiscal questions" posed by the U.K.'s future outside the EU, justify the synchronized sell-off in currency and rates markets, says Daiwa's Scicluna.
Given rising price pressures and jittery foreign-investor sentiment amid a current-account deficit that widened to a two-and-a-half-year high in the second-quarter at 5.9 percent of GDP, the Bank of England's limited room to cut rates this year "is another indication of the U.K.'s emerging-market style" macroeconomic challenges, Scicluna concludes.
"The pound used to be a relatively simple currency that used to trade on cyclical events and data, but now it has become a political and structural currency," wrote David Bloom, strategist at HSBC Holdings Plc in a note on Friday. "The currency is now the de facto official opposition to the government's policies."
Before it's here, it's on the Bloomberg Terminal.
LEARN MORE