BMW Sees Electric Cars Pushing Into Mainstream in Tesla Race
by and
Electrified cars could account for 25% of BMW sales, CEO says

Longer ranges, more charging stations set to win over buyers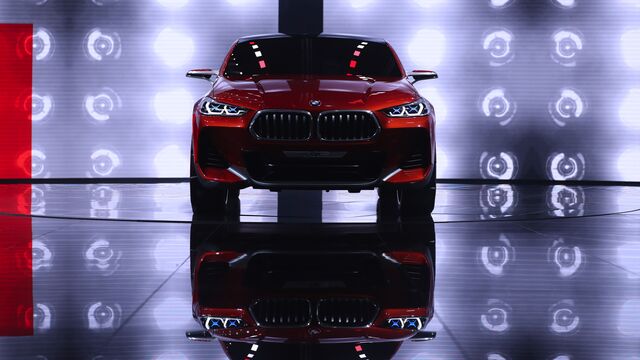 BMW AG expects sales of its electrified cars to surge in the next decade as the technology hits the mainstream, putting it in a race against Tesla and Mercedes-Benz.
Plug-in hybrids and all-electric cars across the BMW and Mini brands could account for between 15 percent and 25 percent of sales in about 10 years, BMW Chief Executive Harald Krueger said in a Bloomberg Television interview. To put it in context, that's potentially more than half a million cars based on 2015 sales of 2.25 million vehicles, and compares with a 2 percent share of deliveries now.
"With more range and more infrastructure being available, you'll see more electrified vehicles," Krueger said during a visit to Los Angeles. "We need some time for this movement and development, but it's nothing that'll go away."
Auto producers are under pressure to sell more battery-powered vehicles to make good on heavy investment in the technology and meet tightening emissions regulation. Volkswagen AG, General Motors Co.'s Opel and Renault SA are among the European carmakers readying models that can drive several hundred miles on a single charge. Volkswagen's I.D. concept -- due to go on sale by 2020 -- will have a range that's almost twice as long as Tesla Motors Inc.'s upcoming Model 3 sedan.

Daimler's investments on capital projects, plus research and development will balloon to 14 billion euros this year, in part due to the cost of developing electric cars, Daimler CEO Dieter Zetsche said Tuesday. That's up from an average 10.9 billion euros over the past three years.
BMW, which has an all-electric car and a plug-in hybrid that make up its more environmentally friendly "i" sub-brand, was one of the first European manufacturers to produce a standalone electric vehicle. Last month, the company unveiled plans for a battery-powered model for its urban Mini brand and an all-electric version of the BMW X3 sport utility vehicle, indicating that the company considers the technology ready for a mainstream rollout.
BMW was little changed at 77.71 euros at 12:46 p.m. in Frankfurt trading. The stock has lost 20 percent this year, compared to a 13 percent decline in the STOXX Europe 600 Automobile & Parts Index.
Luxury Rivals
After claiming the first-mover crown among major luxury-car makers, BMW's efforts slowed, as limited driving range and high costs made buyers wary. The i3 electric city car, which came to market in 2013, costs about $42,400. The Munich-based manufacturer also offers seven models with plug-in hybrid technology, such as the $89,100 BMW 7-Series sedan and the i8 sports car.
As ranges improve and costs drop, competition is intensifying. Mercedes, set to overtake BMW this year as the world's best-selling luxury-car maker for the first time in a decade, predicts electric vehicles will account for as much as 25 percent of its deliveries by 2025. The Stuttgart, Germany-based company plans to produce at least 10 all-electric models by then, and is working on a coupe-style SUV that's part of a new standalone sub-brand dubbed EQ.
European carmakers are responding to the threat posed by Tesla, which has proved that cars can be eco-friendly and cool at the same time. The U.S. company is boosting output at its Fremont, California, factory with the aim of making 500,000 vehicles a year by 2018.
Tesla's more established rivals have emphasized plans to manufacture electric models on production lines that also make cars with combustion engines, setting them up for a flexible response to growing demand.
"Electric cars are very important for the future -- if you'd like to offer sustainable mobility solutions then you need electrified products," said Krueger. "But in the next couple of years you'll still have combustion engines."
Before it's here, it's on the Bloomberg Terminal.
LEARN MORE