Apple Questioned by Supreme Court on Size of Samsung Award
By and
Justices suggest that case may be returned for more hearings

Case could determine how much Samsung should pay Apple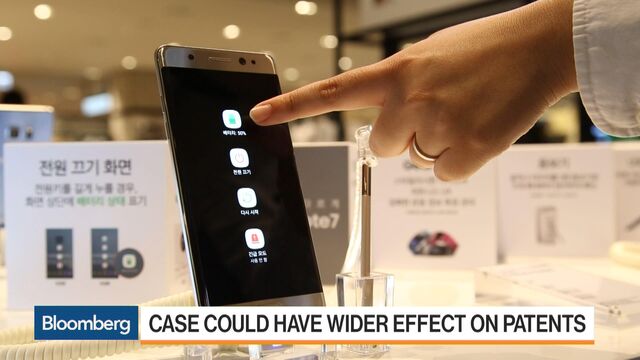 U.S. Supreme Court justices questioned whether Apple Inc. should be allowed to keep all of a $399 million patent award it won in a suit that accused rival Samsung Electronics Co. of copying the design of the iPhone.
Listening to arguments Tuesday in Washington, the justices suggested they may return the case to a lower court for more hearings. But several of them said they weren't sure how a jury or judge should decide how much Apple should collect because design is only one factor consumers consider when buying a phone.
A decision will help determine how much Samsung will have to pay Apple to end a legal dispute over smartphones that's waged for six years. It may also impact other cases because design patents are increasingly used by tech companies and makers of consumer products to differentiate their products from competitors.
The justices used an analogy to Volkswagen AG's Beetle to discuss how a court would determine if the German automaker could collect the entire profits of a competitor who copied the iconic design without permission.
"Nobody buys a car, even a Beetle, just because they like the way it looks," Justice Samuel Alito said.
Value of Design
The issue before the justices Tuesday was whether the owners of design patents are entitled to the entire profit from a product.
A federal appeals court said Apple could collect Samsung's entire profit from 11 phones found to have infringed Apple's patents.
Instead, Apple, Samsung and the U.S. government agreed the patent award should be based on an "article of manufacture," which could mean just an aspect of a product. The hard part, the justices said, was how to determine what that means and how to explain it to a jury.
"I simply wouldn't know what to do" as a juror, Justice Anthony Kennedy said. "Neither side gives us an instruction to work with."
Ornamental Look
Design patents cover the ornamental look of an object rather than any functional aspect. The court hasn't considered design patents since disputes involving spoon handles in the 1870s and carpets in the 1890s.
Google, Facebook Inc., EBay Inc. and Hewlett Packard Enterprises Co. warned in filings that a victory for Apple would allow owners of design patents to extract unfair rewards on products that can have hundreds or even thousands of features.
Apple lawyer Seth Waxman said that, even if the court decides that the wrong standard was used, Apple was still entitled to the full amount set by the jury because Samsung never identified anything other than the entire phone as the basis of analysis. Samsung lawyer Kathleen Sullivan said that's because Samsung was precluded from making any other arguments.
Cases involving rugs or things like the design for wallpaper, for instance, are easier to analyze, Justice Stephen Breyer said. The question is how to handle a product that has multiple components like the modern smartphone.
Wallpaper and Cars
"Wallpaper, you get the whole thing," he said. "A Rolls Royce thing on the hood? No, no no. You don't get all the profit from the car."
Justice Sonia Sotomayor said that design may drive a consumer to one product over another, since "all smartphones basically function the same."
"It makes logical sense to me, it may not to anybody else, that the Volkswagen body, not the innards, are the article of manufacture," Sotomayor said, continuing the Beetle comparison. A jury, she said, will have "to decide how much value the design is to the product being sold."
Apple introduced the iPhone in 2007, revolutionizing an industry that before then had received limited interest from consumers. Waxman said that Samsung, undergoing a "crisis of design," simply copied the look of the iPhone to avoid a loss of market share.
Sullivan said the entire profit wasn't attributable just to the looks of the phone, since consumers expect more from their smartphones. It "cannot by definition cover the innards of a phone," she said.
Samsung Payout
The government suggested using four factors, including the relative prominence of the design to the overall product, to determine what is the article.
This was the first of two cases that Apple won at trial. Samsung sent Apple $548 million in December 2015, though it hopes to get as much as $399 million of that back if it wins the Supreme Court case, and the rest if it's successful in invalidating other Apple patents through a process at the U.S. Patent and Trademark Office.
In a second case, Apple won $119.6 million over three patents, including the slide-to-unlock feature and technology to detect phone numbers in messages. The appeals court on Friday reinstated that verdict, which had been thrown out by a three-judge appeals court panel in February.
The case is Samsung Electronics v. Apple, 15-777.
Before it's here, it's on the Bloomberg Terminal.
LEARN MORE