Trump Threatens Intensely Personal Clinton Attacks If More Tapes Emerge
At a Pennsylvania rally, Trump says he's being unfairly attacked for "locker room talk" about groping women.
By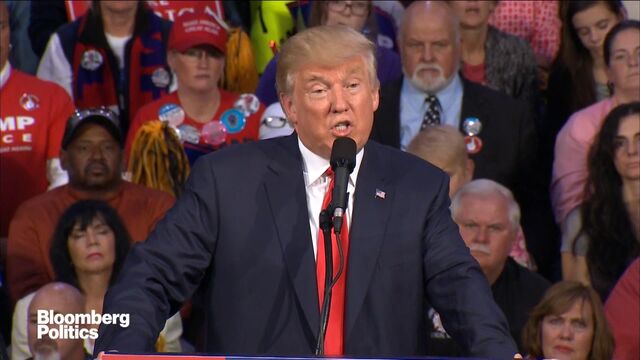 Donald Trump vowed to continue to attack Hillary Clinton over her husband's marital transgressions if more of his own past comments are made public in the final month of the campaign.  
"If they want to release more tapes saying inappropriate things, we'll continue to talk about Bill and Hillary Clinton doing inappropriate things," Trump said Monday at a rally in Ambridge, Pennsylvania. 
Seeking to push back against a furious wave of Republican desertions following the release of a 2005 video of him talking about groping women and getting away with it because of his celebrity, Trump energized Republican voters by confronting Hillary Clinton at the second presidential debate with Bill Clinton's accusers. The strategy locked up the support of his running mate, Mike Pence, and Republican National Committee Chairman Reince Priebus.
But he also moved to address the larger threat looming on the horizon Monday: the potential emergence of more damaging tapes.
Hours after an NBC News/Wall Street Journal poll taken after the video's release and before Sunday's debate showed him trailing Clinton by double digits, Trump said his newly launched scorched-earth tactics were meant to discourage the release of more evidence. 
Reports of possible damaging transcripts of Trump from his years as a star of the NBC reality show The Apprentice continued to swirl Monday, leading MGM and producer Mark Burnett to release a statement denying that they would pursue legal action if unaired excerpts were released.
"The recent claims that Mark Burnett has threatened anyone with litigation if they were to leak such material are completely and unequivocally false. To be clear, as previously reported in the press, which Mark Burnett has confirmed, he has consistently supported Democratic campaigns," the statement said. 
At the Pennsylvania rally, Trump told supporters he was being unfairly attacked for "locker room talk" with former Access Hollywood host Billy Bush.
"I was getting beaten up for 72 hours," Trump said, "for inappropriate words 12 years ago."
So he brought three of Bill Clinton's most prominent accusers as his guests at the debate, and gave them the chance to speak to a startled press corps just hours before his face-off with Hillary Clinton.
"Bill Clinton sexually assaulted innocent women and Hillary Clinton attacked those women viciously," he continued at Monday's rally. "She goes out and says 'Oh, I love women, I'm going to help women.' She's a total hypocrite."
Trump's advisers believe the stepped-up attacks on the Clintons can help him close the polling gap despite Republican allies who warn it could help Clinton seem more sympathetic to voters, particularly women. 
"The bet they are making is that the country has become fully enthralled with the reality show extreme storyline and that there is no price to pay for saying whatever you want," said David Kochel, who was Jeb Bush's chief strategist and opposes Trump. "Let's remember that the most popular scenes in Real Housewives usually include someone turning over a dining table or throwing a drink in someone's face. Geraldo's greatest moment in 30 years was get hit in the face by a thrown chair."
At a voter registration rally in Detroit on Monday, Clinton kept her focus squarely on Trump's leaked remarks on women. 
"Donald Trump spent his time attacking when he should have been apologizing," Clinton said. "There are a lot of things he should apologize for, right? And on Friday the whole world heard him talking about the terrible way he treats women. And last night when he was pressed about how he behaves, he just doubled down on his excuse that it's just locker room banter."
A CNN/ORC instant poll found that 57 percent of registered voters believe Clinton won the debate, while 34 percent said Trump won. Among two key constituencies Trump is underperforming with, the results were worse: women and college-educated white voters each said by a 2-to-1 margin that Clinton won.
A separate YouGov poll found a tighter result, with 47 percent of voters saying Clinton won and 42 percent saying Trump bested her.