Trump Unpacks Three Decades of Clinton Baggage in Debate
By and
Clinton says Trump's behavior makes him unfit for office

Second presidential debate mixes personal attacks, policy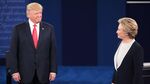 Donald Trump and Hillary Clinton combined salacious charges about past sexual scandals with sober discussion of substantive topics during their second presidential debate Sunday night following a weekend of unprecedented crisis in the Republican nominee's campaign.
It wasn't clear the debate would enable Trump to stop the free-fall of his campaign or the flood of top Republicans rescinding their support for him after a 2005 video surfaced Friday in which Trump talked about being able to do anything to women because of his fame.
Trump revived past accusations against Bill Clinton in a dramatic fashion, convening three of the former president's most prominent accusers in a pre-debate appearance broadcast live on Facebook and repeatedly addressing the topic from the debate stage. Trump also said if elected he would name a special prosecutor to investigate Hillary Clinton and that she would be put in jail over her use of a private e-mail server while secretary of state.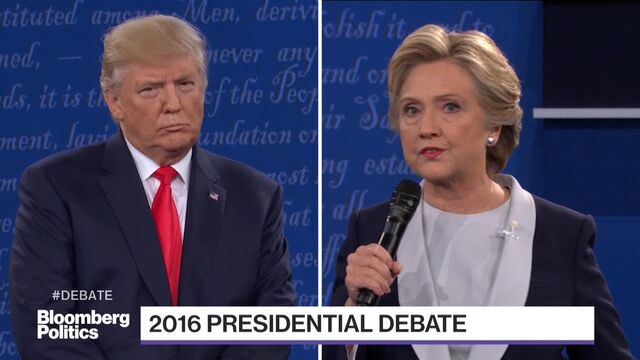 Clinton said that Trump's comments in the 2005 video demonstrate he's unfit for office and that he's spread so many falsehoods it's as if "he lives in an alternative reality."
Policy Issues
Yet a full hour of the town-hall debate at Washington University in St. Louis touched on topics from the Syrian war to Muslims in America to the candidates' views on Obamacare. The exchanges were pointed, but Trump generally refrained from the bombastic language that marked his first debate performance.
Trump dismissed his comments in the 2005 video as nothing more than "locker room talk" and repeatedly pointed to Clinton's husband as he made his attacks.
"If you look at Bill Clinton, far worse," Trump said, as the former president sat in the same audience as the accusers Trump brought as guests. "Mine are words, and his was action. His was what he's done to women. There's never been anybody in the history of politics in this nation that's been so abusive to women. So you can say any way you want to say it, but Bill Clinton was abusive to women."
Clinton said the video presented a window into Trump's character and fitness for the presidency.
'Never Apologizes'
"Look, if this were just about one video, maybe what he's saying tonight would be understandable, but everyone can draw their own conclusions at this point about whether or not the man in the video or the man on the stage respects women," she said. "But he never apologizes for anything to anyone."
Overshadowed by the questions about the Trump video and Clinton's e-mail use, Trump conceded that the almost $1 billion in losses he claimed on 1995 tax forms allowed him to avoid paying federal income tax. Trump said he pays federal taxes and noted that other billionaires, such as Clinton supporter Warren Buffett and George Soros, take tax write-offs as he does.
Clinton declined to respond directly to the comments about her husband, but she lit into Trump, saying his comments caught on the video are a reflection of the kind of man he is. She said he was trying to draw attention away from the downward spiral of his campaign.
"I know you're into big diversion tonight, anything to avoid talking about your campaign and the way it's exploding and the way Republicans are leaving you," Clinton said.
No Handshake
In a sign of how bitter the campaign has become the two candidates didn't shake hands as they took the stage, though they shook hands at the end. During the debate, Trump said, "she has tremendous hate in her heart" for calling many of his supporters deplorable.
Trump returned several times to attacks on Clinton over her use of a private e-mail server while secretary of state. "You should be ashamed of yourself," Trump said.
Clinton said she took responsibility for the decision to use a private server rather than the government system, and called it a mistake. She dismissed any concerns of a security breach.
"There is no evidence that anyone hacked the server that I was using" or that any classified material was stolen, she said.
Clinton Speeches
Clinton was questioned about purported excerpts of speeches she gave to Wall Street that were released by WikiLeaks. In those comments, Clinton indicated that she saw the need to have "both a public and a private position" in politics to make deals.
Clinton said the comment was based on the movie "Lincoln" about the president's efforts to pass the 13th Amendment and quickly pivoted to allegations Russia is trying to influence the U.S. election. She suggested that the Russian government would rather have Trump in office instead of her. She also turned his complaints about a lack of transparency into a plea for him to release his tax returns.
Trump denied being influenced by Russia or its president, Vladimir Putin. Although the U.S. has blamed Russia for the hacking of the Democratic National Committee and attempts to breach state election systems, Trump questioned whether Russia really was behind the hacking. He said the U.S. would benefit by having better relations with Russia.
Disagreement
In yet another odd moment in an unusual presidential campaign, Trump said he disagreed with his own running mate on what the U.S. policy should be in terms of dealing with Russia to confront the Islamic State in Syria. "He and I haven't spoken and I disagree," Trump said.
In a quick telephone poll conducted by CNN immediately after the debate, 57 percent of registered voters who watched said Clinton won the debate, while 34 percent said Trump did (the margin of error was plus or minus 4 points). In a YouGov poll of registered voters who watched, 47 percent said Clinton won and 42 percent said Trump won (margin of error: plus or minus 3.9 points).
The debate closed out a weekend of drama that had Trump's White House bid sinking, Republican leaders openly rebelling against him, and the party that he technically leads facing its biggest crisis in decades.
In the video, unearthed by the Washington Post, Trump talked about groping women in the "pussy" and trying and failing to "fuck" a married woman. It was widely reported and played repeatedly on television all weekend. It triggered a rush of Republican officeholders -- including Senator John McCain of Arizona, the party's 2008 nominee -- to distance themselves or call for his exit from the race.
Early Votes
Trump vowed never to quit his campaign and lashed out on Twitter against the Republicans abandoning him: "So many self-righteous hypocrites. Watch their poll numbers - and elections - go down!"
Some veteran Republican strategists have concluded Trump is too damaged to rebound whatever he does. With less than a month before the election, the timing of the video's release could hardly be worse for Trump and his party. Ballots are already being cast in about a dozen states and the situation threatens the party's hold on the Senate and potentially the House.
Even before the latest controversy, polls showed Clinton widening her lead nationally and in key states such as Ohio that Trump probably needs to win.
The town hall-style debate featured about half the questions coming from uncommitted voters screened by Gallup, with the rest posed by moderators Martha Raddatz of ABC News and Anderson Cooper of CNN.
The final question of the night came from an audience member who asked whether either candidate would name one positive thing that they respect about one another.
"His children are incredibly able and devoted, and I think that says a lot about Donald," Clinton said. "I don't agree with nearly anything else he says or does, but I do respect that."
Trump praised her tenacity. "She doesn't quit; she doesn't give up," he said. "She's a fighter. I disagree with much of what she's fighting for."
The third and final presidential debate is scheduled for Oct. 19 at the University of Nevada in Las Vegas.
— With assistance by Jennifer Epstein, Jennifer Jacobs, and Jennifer Oldham
Before it's here, it's on the Bloomberg Terminal.
LEARN MORE