Here's What We Know About the Pound's Flash Crash: QuickTake Q&A
by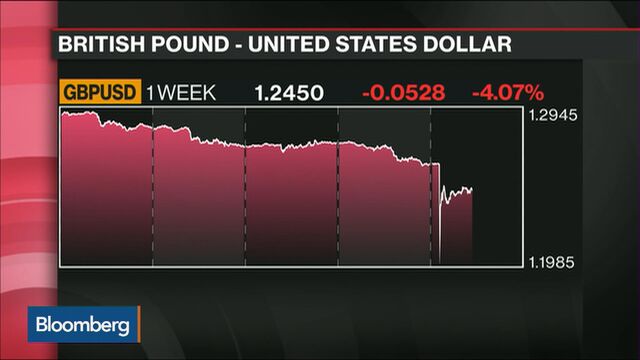 Investors in London woke up Friday to learn that the pound had plunged 6.1 percent against the dollar in two chaotic minutes early in the Asian day, before recovering. For a time, the world's fourth most-traded currency resembled a frontier market -- one that has thin trading and whiplash swings -- as volatility soared and traders grasped for a reason.
1. What caused the crash?
The Bank of England is investigating. Analysts speculated that the initial decline may have been sparked by a "fat finger" human error, while others pointed to comments by French President Francois Hollande pushing for the European Union to negotiate hard in Brexit talks. The slide capped a tumultuous week for sterling that has seen it tumble as Prime Minister Theresa May raised the specter of a "hard Brexit" -- the U.K. losing access to the EU single market, the economic backbone of the world's largest trading bloc.
2. How low did it go?
The move took the pound to far weaker levels than most forecasters have been expecting. Surveys by Bloomberg show they see sterling ending 2016 at $1.28. It traded as low as $1.1841 on Friday, the weakest level since March 1985, according to Bloomberg composite prices. At least one electronic trading platform was said to have recorded a transaction at $1.1378. As Friday continued, the currency's woes continued, leaving it down 2 percent at $1.2365 as of 2:12 p.m London time.



Bloomberg FX strategist Richard Jones explains why the pound crashed
3. Could one human error carry such consequences?
Whatever started the slide, computer-driven orders added to the selling pressure, especially because it came at a time of day where there aren't many human traders at their desks and liquidity is particularly thin. The crash happened just after 7 a.m. in Singapore, or midnight in London, and after New York had closed on Thursday. At one point, the bid-ask spread -- the difference between the prices at which dealers buy and sell, which is also a gauge of illiquidity -- jumped to more than 250 times its median during the past year.
4. What was the market fallout?

For an event of this magnitude, other markets remained pretty resilient. The U.K.'s benchmark equity gauge, where exporters have been rallying as the weaker pound buoys the outlook for earnings, advanced. A bigger reaction came in U.K. gilts, which saw 10-year yields climb as much as 15 basis points.
5. Has this happened before?
Yes -- at least in other currencies. In January, the South African rand tumbled 9 percent in 15 minutes before rebounding, while New Zealand's dollar had its own flash crash in August. Moments of extreme volatility in currency markets are getting more common. Due to regulatory changes, global investment banks are pulling back from dealing, leaving fewer parties to take the other side of trades. At the same time, algorithmic transactions have more than tripled over the last three years, accounting for almost $200 billion of daily turnover, according to Aite Group, a consultant in Boston.
6. Isn't foreign exchange supposed to be deep and liquid?

Usually. The pound-dollar pair is the third most traded in the $5.1 trillion-per-day currency market, according to the Bank for International Settlements. The pair makes up 9.2 percent of all trades, totaling $470 billion per day. For all that liquidity, there are certain times when trading is lighter.
7. What happens next?
Strategists noted that the currency's technical outlook now looks grim. Derek Mumford, a director at Rochford Capital Pty in Sydney, said it's set to drop to $1.15 in the coming weeks if it doesn't recover above $1.28. With the exact meaning of Brexit still unclear, traders are expecting more volatility.
8. What does the crash mean for the U.K. economy?
Potentially, faster inflation. The weakened currency had already pushed up import costs by 9.3 percent in August from a year earlier, and the pound has fallen 5.3 percent against the dollar since August ended. The U.K. 10-year break-even rate, a measure of bond market inflation expectations, has soared this week, reaching the highest since 2014. While sterling's slide has been a fillip to exports, it's also focusing attention on the difference between money coming into the U.K. and money sent out, with some analysts warning that foreign investors may be less willing to finance the deficit by buying U.K. assets. The current-account gap was 5.9 percent of gross domestic product in the second quarter, and Bank of England Governor Mark Carney has warned of a reliance on "the kindness of strangers."
The Reference Shelf
(An earlier version of this story corrected the size of daily pound-dollar trading.)
Before it's here, it's on the Bloomberg Terminal.
LEARN MORE