Trump Reallocating Some Advertising Next Week in Battleground States
Trump may be advertising in Wisconsin for first time in general election
By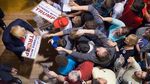 Donald Trump's presidential campaign is pulling previously planned advertising orders in select markets in some key battleground states next week and adding others elsewhere, according to ad tracking sources.
The previously planned spots are being pulled from stations in states that include Maine, Ohio, Colorado, Florida, Iowa, North Carolina and Pennsylvania, said Steve Passwaiter, a vice president and general manager at Kantar Media/CMAG.
"It seems to be mostly smaller markets," he said, adding that the changes started to be reported by media buyers late Friday morning and were ongoing. 
For example, planned spots are coming down in the Ohio markets of Dayton and Toledo, Passwaiter said, while Trump's campaign appears to be remaining on the air in Cleveland and Cincinnati. Trump's campaign also looks to be adding some spending later in the month to the market that includes Columbus, Ohio.
Planned spots were also being taken down in the Florida markets of Jacksonville and West Palm Beach, Passwaiter said, although those changes could be related to Hurricane Matthew and the potential that voters will be distracted by more pressing needs than thinking about the election.
All of the bookings that Trump's campaign had in place for the remaining weeks of the campaign have not been pulled, Passwaiter said.

Trump's campaign on Friday also placed advertising orders for next week in the Wisconsin markets of Milwaukee, Madison and Green Bay, Passwaiter said. That would be a new state for Trump television advertising in the general election phase of the campaign.

Jason Miller, a Trump spokesman, said on Twitter: "Our data-driven campaign is shifting resources from over-performing markets to new battlegrounds w/in the battlegrounds. Buy is growing."
In another tweet, Miller said the campaign's media spending would be growing by an extra $1 million and that "state-by-state levels remain roughly same."
Hope Hicks, a Trump spokeswoman, didn't immediately respond to an e-mail seeking comment on the campaign's strategy.
For the week starting Oct. 18, the Kantar Media/CMAG data shows that Trump's campaign has reservations in place to spend the most on advertising in Florida ($2.7 million), Pennsylvania ($1.2 million) and Ohio ($1 million). The spending in Pennsylvania next week is expected to total about $977,000, according to the Kantar Media/CMAG data, before increasing to $1.2 million in each of the two following weeks.
"The Trump calculation is apparently to hope that national forces put him over the top in Florida and North Carolina and Ohio and that his campaign can make a difference in Pennsylvania," said Ken Goldstein, a advertising and polling analyst for Bloomberg Politics. "If the race ends up being competitive, Pennsylvania is a pivot point."
Before the changes were made, data from Kantar Media/CMAG had showed Trump's campaign spending about $7.5 million next week on broadcast, cable and satellite television. The company's ad tracking software has reporting delays associated with orders being placed or cancelled, so that number is likely to change. As of late Friday afternoon, it showed just more than $6 million.

—With assistance from Kendall Breitman
Before it's here, it's on the Bloomberg Terminal.
LEARN MORE