Tape of Trump's Crude Remarks About Women Rocks Campaign
Damaging tape emerges two days before what is widely seen as a make-or-break presidential debate.
By , , and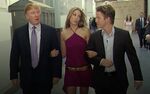 Two days before what is widely seen as a make-or-break presidential debate, Donald Trump was again forced to defend himself against Republicans and Democrats after a tape emerged of him speaking about groping women, adultery and other crude, sexually aggressive comments. 

In the recording, published by the Washington Post, the Republican presidential nominee speaks of trying and failing to seduce a married woman during a 2005 conversation with Billy Bush, a television host, that took place before they taped a segment for "Access Hollywood."  Republican leaders condemned Trump's comments but stopped short of withdrawing their endorsement.

"I did try and f--- her. She was married," Trump, whose third marriage began earlier that year, said in the video. He also said he would "grab them by the p---y," referring to women he was attracted to. "And when you're a star they let you do it," he says. "You can do anything." 

In the most stinging rebuke, the Republican presidential nominee was uninvited from a campaign event with Speaker of the House Paul Ryan Saturday in Wisconsin.
"I am sickened by what I heard today," Ryan said in statement. ``Women are to be championed and revered, not objectified. I hope Mr. Trump treats this situation with the seriousness it deserves and works to demonstrate to the country that he has greater respect for women than this clip suggests. In the meantime, he is no longer attending tomorrow's event in Wisconsin."
Other Republican criticism of Trump was swift and emphatic.

"No woman should ever be described in these terms or talked about in this manner. Ever," said Reince Priebus, the chairman of the Republican National Committee. 
Other top Republicans to lash out at Trump for his comments include: Senators Mitch McConnell, John McCain, Marco Rubio and Ted Cruz. Utah Governor Gary Herbert took to Twitter to say he wouldn't vote for Trump.
"Donald Trump's statements are beyond offensive & despicable. While I cannot vote for Hillary Clinton, I will not vote for Trump," Herbert said.

Spencer Zwick,  a top Republican fundraiser, said donors are backing away from Trump.

"Major GOP donors are pulling support from Donald Trump and are now looking to fund an effort to back someone else as the Republican nominee," Zwick said
The Fallout


Democratic presidential nominee Hillary Clinton denounced Trump's remarks as "horrific," saying "We cannot allow this man to become president."
In the immediate aftermath of the news, some Trump insiders were candid in expressing fears the tape could prove fatal to the campaign, but several others played down the impact, saying the tape was more than 10 years old and Trump had immediately apologized.
While most Republicans initially kept quiet, Democrats in battleground states excoriated them for continuing to support their candidate. 
Minutes after the Post story was published, Trump released a statement that acknowledged what he said and launched a new accusation against the former president and husband of Hillary Clinton.
"This was locker room banter, a private conversation that took place many years ago, " he said. "Bill Clinton has said far worse to me on the golf course - not even close. I apologize if anyone was offended."
Equally unforgiving were two of Trump's most prominent foes in the GOP primary who have since refused to endorse him. Ohio Governor John Kasich called Trump's comments "indefensible." Jeb Bush, the former Florida governor and cousin of Billy Bush, invoked his family. "As the grandfather of two precious girls, I find that no apology can excuse away Donald Trump's reprehensible comments degrading women," he wrote on Twitter.
Already Behind
Trump is trailing Clinton by 4.7 percentage points in national polls tracked by Real Clear Politics. He lags Clinton in support from women voters by 14.8 points, according to Bloomberg's Poll Decoder. Without broadening his coalition to include more women and minorities, he faces an exceedingly narrow path to victory.
Corey Lewandowski, Trump's former campaign manager turned CNN commentator, struggled to defend his former boss's comments. "Clearly this is not how women should be spoken about," Lewandowski said during a phone interview with CNN's Wolf Blitzer. "Is this defensible? I don't think so."
Lewandowski said he would advise Trump to find a way to discuss the comments "with a serious journalist" before Sunday night's debate. "If I was consulting Donald Trump right now, my advice would be, in addition to the statement that he's put out ... my advice would be, sit down and do an interview," he said.
Trump adviser Keith Kellogg, a retired Army lieutenant general who has helped the candidate with debate prep and was in a national security meeting at Trump Tower this morning, said he still has confidence in Trump. "I think 'change' is what has others nervous," Kellogg said. "We are a great republic and we will be fine."
In a sign of how Trump's standing in the election could affect down-ballot races, Senator Kelly Ayotte, already under fire from challenger Maggie Hassan for saying she "absolutely" thought Trump was a role model for children during a recent debate, quickly condemned Trump's comments.
"His comments are totally inappropriate and offensive," the New Hampshire Republican said in a statement emailed by her campaign. 
Ayotte, however, has repeatedly said she will support Trump but not endorse him.
Other Senate Republicans in tough races were facing similar attacks Friday night for continuing to stand by Trump. 
A History of Controversy
Throughout the election, Trump has fought off accusations of sexism while videos, recordings and testimonies from former associates and co-workers outline a history of vulgar comments.
A series of interviews Trump did on The Howard Stern Show during the 1990s and 2000s revealed him commenting on women's physical and sexual attractiveness. This week, Trump was accused of repeatedly making "sexist and lewd" comments on the set of his reality show The Apprentice, according to a Monday report from the Associated Press.
The Republican has also come under fire for sexualizing his own daughters. In April, Comedy Central's "The Daily Show" aired a segment from 1994 in which Trump said Tiffany Trump, then one-year-old, had inherited her mother's legs but "time will tell" if she would also inherit something else, motioning to his chest. During a 2006 segment on ABC's "The View," Trump said that his daughter Ivanka Trump has a "very nice figure," adding "if Ivanka weren't my daughter, perhaps I'd be dating her."
Following the first presidential debate, former Miss Universe Alicia Machado publicly condemned him for criticizing her weight and calling her "Miss Piggy" and "Miss Housekeeping."
During a Wednesday interview with KSNV in Las Vegas, Trump defended his comments and insults toward women as "entertainment." "A lot of that was done for the purpose of entertainment, there's nobody that has more respect for women than I do," he said.
Regrets and Provocations
On the campaign trail, Trump has repeatedly said he regrets some things in his past, but argues that he had no idea he'd be running for president one day.
"Now, had I known that I would be doing this I would have commenced with certain television interviews, radio interviews," he said in Pueblo, Colorado on Monday. "I would have said things slightly differently. And I wouldn't have had as good a time in life and as much fun in life, but it would have made my life as a politician a little bit easier."
As he did in Friday's statement in response to the tape obtained by the Post, Trump turned the topic into an attack on his Democratic rival on Monday. "You know, these people, holier than thou, they never said anything around the breakfast room table," he said "They never do. Bill and Hillary never say anything like this around the breakfast table. Can you imagine what they say?"
Still, Trump said the vulgar term on the campaign trail on the evening before the New Hampshire primary, his first victory of 2016. At the final rally on the eve of the primary, Trump repeated an attendee's comment that Cruz, who had beat him in the Iowa caucuses, was a "p---y."
"You know what she said? Shout it out," Trump said. The woman repeated her remark. "You're not allowed to say that and I never expected to hear you say that again. I never expect to hear you say that again. She said he's a p---y," Trump said.
—With assistance by Steven Dennis, Mark Halperin and Arit John.
Before it's here, it's on the Bloomberg Terminal.
LEARN MORE