Comeback Kid Basquiat's Canvas Boosts $229 Million U.K. Auctions
by
Works by Richter, Ghenie surpass their presale estimates

Historically low pound fosters bidding from U.S., Asia, Europe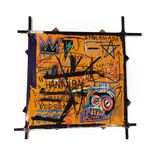 A painting by Jean-Michel Basquiat that failed to sell at Sotheby's 11 months ago became the comeback kid of the $229 million Frieze week auctions in London, where historically low sterling and strong global demand for contemporary art boosted market confidence.
On Friday, the 1982 work "Hannibal" -- starring the artist's signature skull and crown surrounded by scribbles on orange background -- was chased by at least seven bidders to reach 10.6 million pounds ($13.2 million) at Sotheby's, more than double its presale high estimate of 4.5 million pounds. The work drew no bids in November when it was pegged at as much as $12 million at a Sotheby's sale in the U.S.
The auctions anchored by the Frieze art fair have already tallied 184 million pounds, or $229 million, with a final, smaller sale still coming at Sotheby's on Oct. 8. The results, driven by an international mix of buyers, bode well for the bellwether semiannual auctions next month in New York. 
"Prices defy gravity," said Philip Hoffman, chief executive officer and founder of Fine Art Group in London. "Some of it is down to the fact that the pound collapsed, so everything seemed cheap. The Basquiat and Richter are international pictures. They were 20 to 25 percent cheaper in sterling terms than they were six months ago."
Pound selling, sparked by Prime Minister Theresa May's timetable for the U.K.'s withdrawal from the European Union, accelerated throughout the week, sent the currency to a 31-year-low and culminated in a so-called flash crash that saw it plunge 6.1 percent in a few minutes.
Earlier in the Sotheby's sale, the 1982 abstract Gerhard Richter painting "Garten" fetched 10.2 million pounds, almost three times the high estimate. At Christie's the night before, at least seven bidders vied for Adrian Ghenie's 13.5-foot-wide canvas "Nickelodeon," from the opening bid of 800,000 pounds to the final price of 7.1 million pounds -- almost five times the high estimate. The result was an auction record for the fashionable Romanian-born artist and the top lot of the week for Christie's.
Among the week's other highlights:
Sotheby's auctions have generated 71.3 million pounds, led by Friday's contemporary art evening sale that tallied 48 million, up 32 percent from a year ago. An Italian sale totaled 23.3 million pounds, topped by Alberto Burri's 1962 fiery, burnt canvas "Rosso Plastica 5" that fetched 4.7 million pounds.


Christie's tallied 91.1 million pounds throughout the week. Its evening auction of postwar and contemporary art reached 34.3 million pounds, a slight decline from a year ago. An Italian sale added 18.7 million pounds. Every work sold at a special auction of the collection of the late art dealer Leslie Waddington that reached 28.3 million pounds.


Phillips, the smallest of the three auction houses, totaled 21.7 million pounds at its day and evening sales. The top lot was Andy Warhol's "20 Pink Mao's" that sold for 4.7 million pounds, within the estimated range.

Prices include commissions paid by the buyers; estimates don't.

Before it's here, it's on the Bloomberg Terminal.
LEARN MORE