Republican Chairman of Wall Street Committee Held Fundraiser With Official From 'Domestic Terrorist' Group
New Jersey Representative Scott Garrett praised Edward Durfee, the regional coordinator for New Jersey Oath Keepers, at an October gathering.
By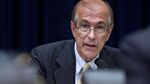 Republican Representative Scott Garrett of New Jersey, a seven-term incumbent locked in a close re-election race, headlined an Oct. 1 breakfast organized by an official for an antigovernment group that New Jersey's Office of Homeland Security and Preparedness considers a "domestic terrorist threat." At the breakfast, Garrett hailed the official, Edward Durfee, as an "unsung hero." Durfee is regional coordinator for New Jersey Oath Keepers, a group state officials list as "militia extremists [who] pose a moderate threat to New Jersey." Durfee also co-founded the American Bedrock Foundation, which co-sponsored and collected payments for the Garrett breakfast. "The American Bedrock Foundation is basically the fundraising arm for the Oath Keepers and other pro-Constitution groups," Durfee said in an interview with Bloomberg Businessweek. "That's what our purpose is."
Garrett didn't respond to interview requests. In a statement, his campaign manager, Sarah Neibart, said, "Congressman Garrett has no affiliation—personal or political—with any of the organizations mentioned. Any suggestion otherwise is absurd."
Durfee also co-founded the breakfast's other sponsor, Bergen County New Jersey for Liberty, a group formed in 2007 to support Ron Paul. Some members of Bergen County New Jersey for Liberty believe the federal government was complicit in the Sept. 11, 2001, terrorist attacks. Durfee won't go that far, but says he's skeptical of the government's investigation: "I'm not fully settled with that, with the story that was put out, personally." The group's Meet Up page features pictures of members at a 2010 press conference for Architects and Engineers for 9/11 Truth, an organization that disputes the findings of the federal government's investigation into the causes the Sept. 11 attacks.
Garrett is casting a wide net in his re-election bid because he suddenly needs all the friends he can find. He is chairman of the powerful House Subcommittee on Capital Markets and Government Sponsored Enterprises, which is vital to Wall Street because it oversees U.S. capital markets. "The rules of the road for handling money and anything with the SEC go through this committee," says Marcus Stanley, policy director of the nonprofit Americans for Financial Reform. But while Garrett has easily won re-election since winning New Jersey's 5th District seat in 2002, he ran into trouble last year, when Politico reported that he made disparaging remarks about gays in a meeting with Republican colleagues and refused to pay his party dues to protest Republicans' recruitment and support of gay candidates. Afterward, many banks and hedge funds who had supported Garrett—including Goldman Sachs, JPMorgan Chase, and Elliott Management—stopped giving him money.
Since then, he has had to rely on individual donors, including Donald Trump's campaign manager, Kellyanne Conway, who lives in Garrett's district and has given him more than $5,000 this year, according to Federal Election Commission filings. Even so, Garrett has struggled to raise money, and polls show his Democratic challenger, Josh Gottheimer, within striking distance. On Oct. 4, the nonpartisan Cook Political Report warned that Garrett was "in danger" and moved its rating of the race from "lean Republican" to "toss up." According to Politico, House Speaker Paul Ryan has agreed to hold a fundraiser for Garrett "in the coming weeks," at the urging of some of Garrett's Republican colleagues, who are worried he might lose.
Garrett is a founding member of the right-wing House Freedom Caucus and one of the most conservative members of Congress—a profile that has endeared him to Oath Keepers like Durfee. "He sticks to the Constitution," Durfee says. "We organized the breakfast meet-and-greet to bring some credence to our organization, as well as to inform the people [in attendance]." Dennis LaGrua, state president of New Jersey Oath Keepers, says many politicians refuse to associate with his group for fear it will damage their political standing. Earlier this year, Oath Keepers members were among the anti-government activists who occupied the Malheur National Wildlife Refuge in Oregon during a 41-day armed standoff with federal agents. One of the activists, LaVoy Finicum, was shot and killed by Oregon state troopers. Last year, the Oath Keepers' founder, Stewart Rhodes, declared in a speech that Arizona Senator John McCain should be "hung by the neck until dead" for treason. LaGrua dismissed these episodes as unsanctioned and unrepresentative of what Oath Keepers seek to achieve. His organization's goal, he says, is to "reach, teach, and inspire" people to defend the Constitution, even it requires military and law enforcement officers to disobey orders. "There are people like Scott Garrett," says LaGrua, "who realize that we're good guys working for a good cause."
New Jersey officials disagree. Under Governor Chris Christie, state authorities have made a concerted effort to track militia groups and other threats. "In 2014, we became concerned that a lot of domestic terrorism threats were not being looked at closely enough," says Dean Baratta, analysis bureau chief for New Jersey's Office of Homeland Security and Preparedness. "Oath Keepers are one of the domestic terrorist threats we've become concerned with." He says his office based its finding on evidence of "increased activity, increased violent rhetoric, and the capability, intent, and presence in New Jersey." Although there has not been criminal activity like the seizure of the federal building in Oregon, "state boundaries are not a significant barrier to [Oath Keepers] moving or conducting criminal activity," says Barrata.
While many politicians are wary of associating with extremist groups, for some this disinclination has begun to erode. "Politicians are increasingly endorsing or embracing fringe conspiracy theories and the groups that support them in ways that we have not seen in a long time," says Ryan Lenz, who tracks anti-government extremist groups for the Southern Poverty Law Center. "It's no longer necessarily fatal to your political future and may actually be just enough to get the votes that you need. Look at Donald Trump, who refused to disavow David Duke." 
With Trump expected to lose New Jersey—a RealClearPolitics polling average shows Hillary Clinton leading by 11 points—Garrett's hopes for re-election lie in activating conservatives like the several dozen who attended the Oct. 1 breakfast at the River Edge Diner in River Edge, New Jersey. 
"I blasted out tons of emails to everyone I know," says Durfee, "We drew local Republicans, Tea Partiers, and lots of liberty folks." In the wake of the Sept. 17 bombings by New Jersey resident Ahmad Khan Rahami that wounded 29 people in Manhattan, Durfee says he is determined to pressure state officials to rescind the "terrorist" designation for the Oath Keepers. "I'm on it like white on rice," he says. "We've been aggressively pursuing trying to get some pressure onto the Office of Homeland Security to not go along with this [way of branding us]." LaGrua says he may sue the state for slander.
For his part, Garrett seemed to have no reservations about his host or the crowd. "What I need from you is your blood, sweat and tears," he told his audience. "We need the grass roots to come on out." When he finished speaking, Durfee handed out pamphlets with "suggested links" that included the websites for Bergen County New Jersey for Liberty and the Oath Keepers. 
Before it's here, it's on the Bloomberg Terminal.
LEARN MORE