Ohio Tests Whether Clinton Ground Game Can Top Trump's Lead
By and
Clinton builds superior get-out-the vote operation in state

Trump, with edge in polls, relies on more modest organization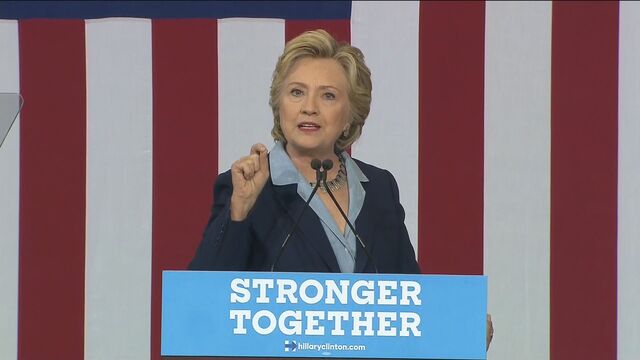 Deborah Charney didn't need much persuading when Hillary Clinton volunteer Cordell Clealand stepped onto her front porch and pulled out a "join the team" card.
"I'm not sure how females can vote for Trump,'' said Charney, 52, an attorney from Powell, Ohio, said of Republican presidential nominee Donald Trump. She had Clealand check the boxes that said she would help register voters and make phone calls for Clinton.
Clealand didn't end up at Charney's home by accident. She was one of 31 carefully selected Democratic households that Clealand visited last week in the Republican stronghold in central Ohio. Clinton's Ohio staff is big enough -- with twice the number of offices as Trump and the Republicans -- to go after even the smallest sample of Democrats deep into Republican turf.
Across the state, Trump's team is playing catch-up. In blue-collar Youngstown, the local volunteer chairing Trump's operation in Mahoning County was forced to resign after making racially insensitive remarks. Local Republican Party Chairman Mark Munroe has tried to pick up the slack, deploying door-knockers for Trump from a thick book of volunteers he keeps on his desk.
"We are here to provide support for the Trump campaign,'' Munroe said. "He's been a little bit controversial at times. It's our job to make people feel a little more comfortable about him.''
Why Swing States Dominate U.S. Presidential Race: QuickTake
Ohio is always a critical swing state in a presidential election year but this year, it's something more, a testing ground for a question at the heart of the Trump-Clinton race: which is more important in a close race, traditional campaign mechanics or sheer enthusiasm?
Trump has held a mostly steady lead in Ohio since mid-September, and his rallies in Ohio draw crowds of cheering supporters. He is betting big rallies, cable television and Twitter has changed the nature of presidential campaigning, at least for this election.
While Clealand is volunteering directly with Clinton's campaign, Trump has mostly outsourced the grueling but essential work of identifying voters and getting them to vote to the Republican National Committee and local party organizations. That means Trump needs the party apparatus that helped Governor John Kasich defeat Trump in the state's March presidential primary. Kasich, the highest ranking Ohio Republican, hasn't endorsed Trump.
Energizing Voters
"Donald Trump is not your typical political candidate,'' said Mark Weaver, a longtime Republican political consultant in Columbus who is not aligned with the Trump campaign. "He's found a way to energize people without performing the due diligence of a ground game.''
But Clinton is counting on chipping away at Trump's lead with a campaign organization that dwarfs the Republican's operation. She started building an political infrastructure in the state months earlier than Trump and now counts 64 offices with campaign staff across the state compared, with 31 offices that Trump has jointly with the Republican National Committee and local county party organizations.
The ground game has been central to winning Ohio in recent presidential elections. Republican George W. Bush won Ohio in 2000 by 165,000 votes out of 4.7 million cast. Four years later, Bush turned out more than a half-million additional votes even though John Kerry boosted Democratic turnout as well. Barack Obama, whose campaign set a new a standard for identifying and motivating voters, topped them both in 2008 by winning 2.94 million votes, the highest total in state history.
The RealClearPolitics average of recent polls in Ohio show Trump with a 2.4 percentage point lead, though a Monmouth University poll released Wednesday put Clinton 2 points up. Clinton on Monday made her first visit to the state since Labor Day, when she held a 3.3 point average lead in polls, and declared that she's "running to win Ohio." Her campaign also is bringing in its big guns. Former President Bill Clinton made a two-day swing Tuesday and Wednesday through the Appalachian counties and the Mahoning Valley, economically lagging areas that he won but where Trump did well in the March primary. Obama is heading to the state next Thursday and Friday.

Ohio's Demographics
The state's demographics favor Trump's campaign. Ohio is less diverse than the U.S., with a population that's almost 83 percent white compared with 77 percent nationally, according to the U.S. Census Bureau. The state also has lower education levels, a measure shaping up to be one of the main demographic fault lines in the campaign, with 25.6 percent of residents having a bachelor's degree or more compared with 29.3 percent nationwide, data show.
Trump also has focused in Ohio on trade deals that many union members blame for the loss of manufacturing jobs. A Sept. 14 Bloomberg Politics poll showed that 57 percent of state voters are skeptical of trade deals such as the North American Free Trade Agreement backed by Clinton's husband when he was president. During the past decade, Ohio has lost 106,700 manufacturing jobs, the fourth-most in the U.S. during that time, according to the U.S. Bureau of Labor Statistics.
But the Clinton campaign is counting on that organizational advantage to deliver enough votes to carry the state, Ohio Director Chris Wyant said.
"We certainly look at the dynamics of the state and have built our campaign from the very beginning with the expectation that our team, the ground game that we're building, is going to be the difference,'' said Wyant, who also worked on Obama's 2008 and 2012 campaigns in the state.
No Republican has won the presidency without carrying Ohio and its 18 Electoral College votes, and the last Democrat to lose the state and still win the presidency was John F. Kennedy in 1960. While Clinton can get to the 270 Electoral College votes needed for the presidency without carrying Ohio, it's unlikely Trump can, said Kyle Kondik, managing editor of Sabato's Crystal Ball, the University of Virginia Center for Politics newsletter on campaigns, and the author of a book about Ohio's role in presidential elections.

John Weaver, the chief strategist for Kasich and a Trump critic, said Trump could win the state and still lose the election but that Clinton's ground game could decide a tight race.
"My guess is if it was today, she would win," Weaver said. "She has a massive turnout operation right now that's worth 2 or 3 points. And he's got nothing."
Voter Registration
The Clinton campaign has waged a voter registration drive, including having volunteers engaging people on High Street in Columbus after an Ohio State football game. The campaign is also focused on banking votes from supporters with the start of early voting on Oct. 12.

"We think we have a superior turnout operation than Donald Trump does, and the early voting is the time when we can really put that to use and exploit that advantage," Robby Mook, Clinton's campaign manager, said Thursday in a conference call with reporters.
The campaign took over the home of Enas Yunis in Powell on Oct. 2 to call volunteers and deploy teams, which included Clealand, to knock on the doors of Democrats in Delaware County, the wealthiest in the state. Republican nominee Mitt Romney won 61 percent of the vote here in 2012, but Clinton's campaign hopes many suburban women and others who backed Romeny won't be enamored of Trump.
Late Start
Trump was slow to organize in Ohio. Mark Weaver, the Republican consultant in Columbus, said the billionaire's initial organizers in Ohio were "largely amateurs.'' The head of the campaign is Bob Paduchik, who ran Bush's successful state campaigns in 2000 and 2004, as well as Republican Rob Portman's U.S. Senate bid in 2010.
Still, it is party regulars who mostly provide the infrastructure. In Republican-rich Hamilton County, a must-win for any Republican candidate, where Romney pulled 7.3 percent of his statewide vote four years ago, the county party organized door-knocking and more than 120 hours of weekly phone bank operations in two locations, working six days a week, chairman Alex Triantafilou said.
"We're seeing some of the excitement that Obama got in '08," Triantafilou said.
Trump is spending far less in television advertising than Clinton, according to a Bloomberg Politics analysis of Kantar Media/CMAG data. In Ohio, Clinton has reserved $311,079 per Electoral College vote through the Nov. 8 election, compared with $179,717 for Trump, data show.
Trump is focusing on building volunteers through rallies and maximizing enthusiasm from television coverage and social media.
Asked what the biggest challenge is for Clinton's Ohio ground game facing an unconventional candidate such as Trump, Wyant, the state director, said focus.
"To some degree, it is not being distracted by this unusual, unorthodox campaign and recognizing we know the path forward, we just need to execute it,'' he said.
Before it's here, it's on the Bloomberg Terminal.
LEARN MORE