Banks Miss Out on Vietnamese Stock Rally Amid Credit Crunch Risk
by
Nation's lenders down 6.7% this year as VN Index rallies 19%

Undercapitalization key issue in system: RongViet Securities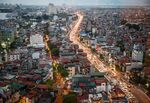 Vietnam's banks are missing out on the rally that's propelled the benchmark share index to an eight-year high as a lack of capital and a lingering bad debt problem keep investors on the sidelines.
A gauge of six lenders listed in Ho Chi Minh City dropped 6.7 percent this year through Wednesday as the VN Index jumped 19 percent, with Bank for Investment and Development of Vietnam and Saigon Thuong Tin Commercial JSB down at least 16 percent. The economy is overly dependent on loan growth and the government lacks funds to bolster banks' finances, according to Credit Suisse Group AG, which has flagged the risk of a Vietnam credit crunch.
"The key issue in the banking system now is undercapitalization," said Marc Dandji, head of institutional sales at RongViet Securities Corp. in Ho Chi Minh City. "Low capitalization and the bad debt situation make it hard for Vietnamese banks to benefit" from international interest in lenders in frontier markets, he said.

The phasing in next year of Basel II standards, which require banks to hold more capital, will see BIDV needing an extra $458 million and Vietnam JSC Bank for Industry and Trade requiring an additional $231 million, according to estimates made by Credit Suisse in July. The combination of high loan growth and poor capitalization is unsustainable, said the Swiss lender. As credit growth increases to meet official targets, investors see a mounting risk that lending standards will drop.
New lending rose 11 percent in the first nine months of the year, central bank figures show, and the government is targeting 18 percent to 20 percent growth for the whole of 2016.
The shares of Saigon Thuong Tin, or Sacombank, have dropped 27 percent in 2016 through Wednesday and BIDV is down 16 percent as the two lenders reported increases in bad loans. Vietnam Export Import Commercial JSB, or Eximbank, declined 7.1 percent and Vietnam JSC Bank for Industry and Trade lost 5.4 percent. The VN Index rose less than 0.1 percent at the close on Thursday. BIDV remained unchanged, while Sacombank gained 2.8 percent.
Several calls to BIDV's chief executive officer weren't answered, while Sacombank and Vietnam Bank for Industry and Trade said they were unable to respond to questions in time.
Bad Loans
Vietnam has done much to clean up its banking industry since a lending spree in 2012 pushed up the nation's bad debt ratio to as high as 17 percent, with non-performing loans dwindling to 2.58 percent at the end of June. Still, AMC, an asset-management company set up by the government to purchase soured loans from banks four years ago, has resolved only 15 percent of the 251 trillion dong ($11.3 billion) of debt it bought as of Aug. 11.
"Bad debts have been transferred to AMC but they still sit there," said Alan Pham, the Ho Chi Minh City-based chief economist at VinaCapital Group Ltd., the country's largest fund manager. "So far, there is no progress in terms of resolving them" and investors want to know what the next step is, he said.
Vietnamese banks are still attracting some foreign interest, with Singaporean sovereign wealth fund GIC Pte reaching a preliminary agreement in August to pay less than $400 million for a 7.7 percent stake in Bank for Foreign Trade of Vietnam JSC, the largest lender by market value. Its share price has risen 18 percent this year through Thursday, while Military Commercial Joint Stock Bank is up 2.1 percent.
Potential Risks
The injection of foreign capital is positive, although a 30 percent cap on offshore ownership means the country's lenders may need to raise significant capital in the still-developing domestic market, Fitch Ratings said an Aug. 31 note. The banking system "is making progress" and certain lenders are attractive, said Bill Stoops, chief investment officer at Dragon Capital Group Ltd. in Ho Chi Minh City.
The VN Index's performance this year has been underpinned by an increase in foreign-direct investment and an economy that's forecast by analysts to expand 6 percent. Vietnam Dairy Products JSC and PetroVietnam Gas JSC, the two biggest companies that combined account for more than a quarter of the gauge, are up 33 percent and 95 percent, respectively.
While the operating environment for the banking sector has stabilized, capital levels remain inadequate and asset quality is still weak, according to a Aug. 31 report by Moody's Investors Service. Rising loan growth points to potential risks, Moody's said in the report.
"Corporate banking is still full of bad debt, both from the private and state-owned enterprise sectors," said Attila Vajda, managing director at Project Asia Research and Consulting Pte in Ho Chi Minh City. "Credit growth may disguise some of the existing bad debt on their books."
Before it's here, it's on the Bloomberg Terminal.
LEARN MORE