Bank Bail-In Advice From First EU Country Ever to Try One Out
by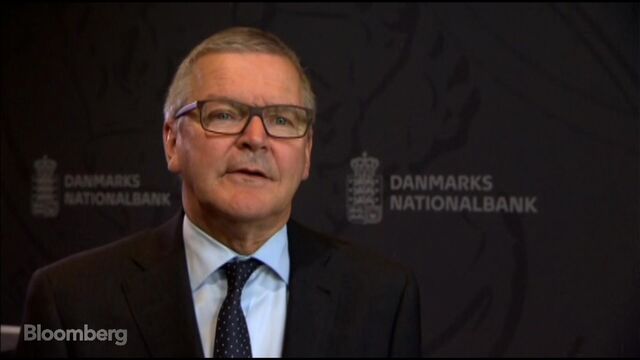 Back in 2011, Denmark became the first European Union country to force losses on senior bank creditors in a bail-in. The shock left all but the biggest Danish banks shut out of funding markets as bond investors watched in horror.
Now, with Europe being tested on its resolve to commit to the same strategy, the potential costs and contagion are no match for standing by principle, according to Lars Rohde, the governor of Denmark's central bank.

For more on why markets assume EU leaders won't resort to a bail-in, click here.
If Europe ever has a too-big-to-fail bank facing insolvency, the region will have to apply the bail-in rules set out in the Bank Recovery and Resolution Directive, Rohde said in an interview after giving a presentation at a bankers conference in Copenhagen on Wednesday. It's "unconditionally" the best path to take, he said.
Denmark passed its bail-in law half a year before Amagerbanken A/S -- a small community lender -- became the first to test it. The automatic enforcement of the legislation caught investors off guard, and funding costs soared for the few Danish lenders still able to tap the market. By mid-2012, credit default swaps on Danske Bank A/S, the country's largest lender with assets equivalent to almost twice Denmark's GDP, had jumped to more than five times their current level as a result of the market shock.

But despite all the pain, Rohde says bail-ins are a healthier solution than their alternative. Bailouts kick the can down the road. Bail-ins, while dramatic at first, present a cure to the moral hazard that bankers have been prone to embrace. Bank creditors shouldn't expect preferential treatment, he said.
"If you're not covered by depositor guarantees, then you should expect as a principle that those liabilities that are furthest out can be subject to bail-ins," Rohde said.
Since Denmark's enforcement of its bail-in legislation 5 1/2 years ago, its banking industry has bounced back to become one of the strongest in Europe. Danske Bank's shares have gained about 4 percent this year and the lender now boasts a market capitalization that's almost twice Deutsche Bank's. Bloomberg's index of European financial stocks has lost more than 20 percent this year.
But Rohde also underscored the need for clarity on which bank bonds are subject to bail-in rules, so that investors know what they're getting into. Denmark has yet to specify how it will apply rules setting a minimum requirement for own funds and eligible liabilities, which is Europe's version of total loss absorbing capacity requirements that will apply to globally systemic banks.
To read more about MREL discussions in Denmark, click here
"It's very important that we get MREL/TLAC in place so that everybody knows what they have to abide by," Rohde said. It's also important that "TLAC and MREL are big enough to ensure that any lender can be recapitalized."
Before it's here, it's on the Bloomberg Terminal.
LEARN MORE