Tesco Surges as Lewis Seeks to Restore Margins Amid Revival
By
Shares rise as much as 11%, biggest gain since January 2015

CEO aims to double margins over three years with cost savings
Tesco Plc surged the most in almost two years as CEO Dave Lewis vowed to double the U.K. supermarket's profit margins, helped by an additional 1.5 billion pounds ($1.9 billion) in cost cuts and more premium items.
The stock rose as much as 11 percent to 210.15 pence, the highest since August 2015, as Lewis set a target to widen the operating margin to between 3.5 percent and 4 percent by 2020. Tesco also reported first-half earnings that trounced estimates thanks to a third consecutive quarter of higher U.K. sales.

The margin target illustrates that Lewis is moving from recovery mode and back toward growth. After grappling with a price war and an accounting scandal in his first two years at the helm, the CEO is fighting back against discounters Aldi and Lidl, who now account for about 10 pence of every pound spent in U.K. supermarkets.
"These results illustrate a business moving out of crisis to one showing real confidence in its recovery," Lewis said on a conference call with reporters.
The cost savings will be split equally across buying, logistics and in-store productivity improvements. The retailer will also seek to boost cash generation, maximize sales of higher-margin items like its Finest range and extract value from its property.
"The margin target implies long-term profit estimates will have to rise quite a bit," Charles Allen, an analyst at Bloomberg Intelligence, said by phone. "It's not purely a cost cutting target, it's also based on winning sales back."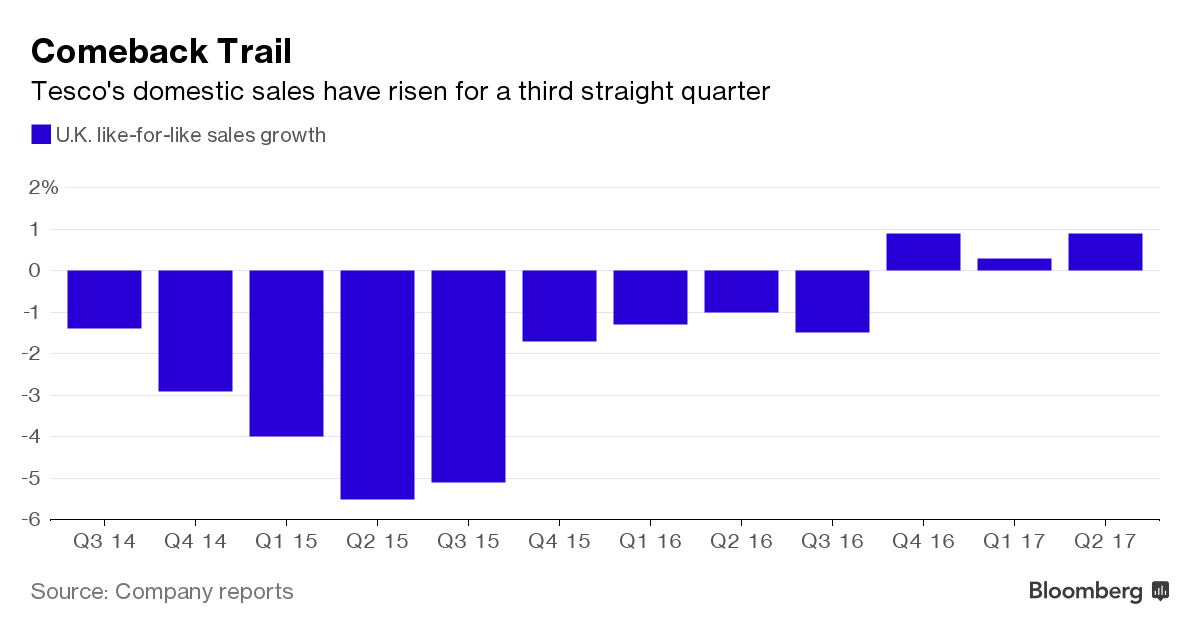 Tesco's operating margin has shrunk to about 2 percent from 5 percent three years ago as the grocer has cut prices to keep pace with the discounters. The margin for the main domestic supermarket business was 1.8 percent in the first half, up from about 1.6 percent in the second half of last year.
The margin improvement, combined with increased domestic sales and cost cuts, led to a 60 percent increase in first-half operating profit to 596 million pounds before one-time items, beating the 523 million-pound median estimate of 15 analysts surveyed by Bloomberg News.
Free Fruit
Since his arrival from Unilever, Lewis has focused on winning back shoppers who were turned off as Britain's largest retailer bullied smaller shops, squeezed suppliers and raised prices under previous management. He's added 12,000 shop-floor staff to assist customers, rebranded its fresh fruit, vegetables and meat under the banner of fictitious British farms like "Redmere," and reduced the cost of a typical grocery basket by 6 percent. Recently, Tesco began giving free fruit to children while shopping with their parents.
Those moves helped boost U.K. same-store sales, which rose 0.9 percent, excluding fuel, beating the analyst estimate for a 0.5 percent increase.
"This is a fantastic set of results, delivering on all aspects of the U.K. recovery," Bruno Monteyne, an analyst at Sanford C. Bernstein, said by email.
The plunge in sterling since the U.K.'s vote to leave the European Union could hinder Tesco's ability to reach the margin goal, said Jon Copestake, an analyst at the Economist Intelligence Unit, as it would push up the cost of imported goods.
Lewis faces other hurdles outside his control: a new minimum wage is raising costs for the U.K.'s largest private-sector employer while falling bond yields drove up Tesco's pension deficit by 3.2 billion pounds to 5.9 billion pounds in the last six months.
The pension deficit is "a fly in the ointment," John Ibbotson, an analyst at researcher Retail Vision, said by e-mail. "There's still a long way to go, but Tesco has started to hit its stride."
Before it's here, it's on the Bloomberg Terminal.
LEARN MORE