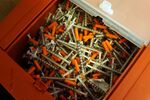 Almost 30 years ago, at the height of the AIDS crisis, Seattle established one of the first public needle exchanges in the U.S. to contain the spread of the disease. With opioid use reaching epidemic levels, the city has again put itself at the vanguard of treatment with a plan to open facilities where users can take heroin or other opiates under medical supervision. They'll offer users clean needles and cookers, access to care in case of overdoses, and information about addiction treatment and other public health services.
The centers were proposed in mid-September by King County's Heroin and Prescription Opiate Addiction Task Force, established in March after Seattle declared a state of emergency because of the rise in homelessness. The goal is to reduce the number of overdoses in the county as well as help users find treatment if they want it. "Our current strategy, the status quo, wasn't working," says Dr. Jeff Duchin, Seattle and King County's top public health officer, who co-chaired the task force. "From our perspective, substance abuse is a medical condition, and it should be viewed the way we view other chronic treatable medical conditions like diabetes."

New York is also exploring whether to open a supervised opioid-injection facility. The only such drug center in North America is Vancouver's Insite center, where staff members have overseen more than 3 million injections since 2003. Clients inject their own drugs and then go to a "chill out" room where they're offered coffee and juice. "We all would wish that people would not take intravenous drugs and would not end up with serious, long-term drug habits, but you have to deal with that," says Anna Marie D'Angelo, senior media officer for Vancouver Coastal Health, which operates Insite. "There's a cost to doing nothing."
About 60 to 100 people overdose monthly at Insite, D'Angelo says, but none have died because staffers are armed with naloxone, a drug that reverses the effects of opioids. "If you look at somebody using drugs in an alley or in a rooming house, and they overdose, then it's 911, ambulance, police, fire," D'Angelo says. "It's a huge draw on your first responders."
The number of people admitted to heroin treatment programs doubled from 2010 to 2014 in King County, and in 2015 heroin users outnumbered alcoholics in treatment admissions for the first time. According to the King County Medical Examiner's Office, 132 people overdosed last year in the county, which includes Bellevue, Redmond, and SeaTac. "We need to do what the science tells us to do," Seattle Mayor Ed Murray said during a Sept. 15 news conference.
The task force that recommended opening supervised consumption sites will now begin exploring where to put them and how to pay for them. The goal is to open at least one in the next year. "We don't believe people will come to the areas specifically to use these," says Duchin, the co-chair. "We put them in areas where people are already using."
The task force included the U.S. attorney for Seattle, Annette Hayes. Washington state, which has legalized marijuana for both medical and recreational use, is already operating in a legal gray area with regard to federal drug laws. Local law enforcement officials have pledged not to arrest people who use the centers. Says King County Prosecuting Attorney Dan Satterberg, whose office participated in the task force: "This drug crisis should be handled by the public health experts and not the criminal justice system."
The bottom line: Seattle plans to open a facility for drug users to take opioids with medical supervision, the first of its kind in the U.S.
Before it's here, it's on the Bloomberg Terminal.
LEARN MORE