IMF Urges Deutsche Bank to Take Steps to Reassure Investors
by
Deputy director says bank needs to show viable business model

German lender also needs to address questions of legal risks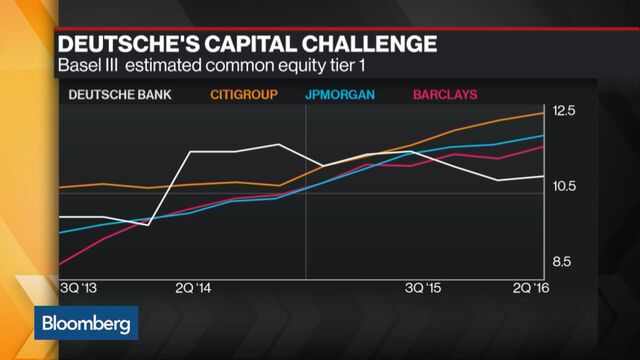 Deutsche Bank AG needs to take steps to convince investors it has a viable business model, a senior official for the International Monetary Fund said about the institution that it has deemed to be the biggest contributor to systemic risk.
The German lender also needs to address "issues of operational risk arising from litigation," Peter Dattels, the IMF's deputy director of monetary and capital markets, said Wednesday.
"That's the new environment we're in and I'm sure those challenges will be met," Dattels told reporters at a news conference in Washington.
The IMF said in June that Deutsche Bank's connections to other lenders may make it the single biggest contributor to systemic risk among global banks. The company has assets of about 1.8 trillion euros ($2.02 trillion), more than half the size of the German economy, and operates Europe's largest investment bank.
The U.S. Justice Department has asked Deutsche Bank to pay $14 billion to settle claims that the bank sold fraudulent mortgage-backed securities in the years before the 2008 financial crisis. While Deutsche Bank has insisted it won't pay anywhere near the amount requested, the large figure has heightened concern the lender's mounting legal bills will force Chief Executive Officer John Cryan to tap investors for fresh capital, or even seek a state rescue.
Shares fell to an all-time low last week on concern about the future of the bank. Cryan is reorganizing the business in face of pressures including tougher capital standards and negative interest rates.
Before it's here, it's on the Bloomberg Terminal.
LEARN MORE