Colombia's Oil Company Stays Course With Peace Deal Likely
By and
Ecopetrol CEO sees no 'bleak scenario' for ending conflict

Peace with FARC would be a 'plus,' but plans are unchanged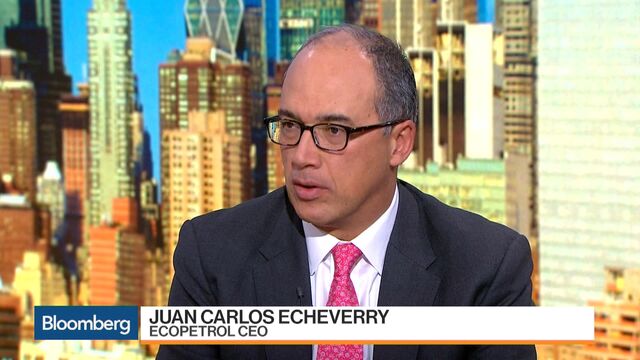 Colombia's largest company says it sees an eventual peace deal with Marxist rebels without a return to violence and plans to maintain its investment plans after Sunday's failed referendum.
"People on both sides of the vote were agreeing that the cease-fire is positive," Juan Carlos Echeverry, Chief Executive Officer of Ecopetrol SA, said in an interview at Bloomberg's global headquarters in New York on Tuesday. "As the national oil company, we expect these talks to resume. We don't expect a bleak scenario at the end of the year."
Colombians rejected an agreement that would have ended more than 50 years of conflict between the government and the Revolutionary Armed Forces of Colombia, or FARC, by a vote of 50.2 percent to 49.8 percent. After declining 3.2 percent in two days since the result of the referendum, the nation's currency gained the most since Sept. 6 after Colombia's Finance Minister Mauricio Cardenas said in a Bloomberg Television interview from Washington the government has a majority to pass key laws. Ecopetrol shares rose 2.4 percent as of 12:46 p.m. Wednesday in Bogota.
President Juan Manuel Santos is holding talks on Wednesday with former President Alvaro Uribe, who led opposition to the FARC deal on the grounds it was too lenient. The government says a cease-fire with the rebels will continue until Oct. 31.
Ecopetrol's financial and production plans through 2020 are unchanged by the vote result, Echeverry said. The company continues to plan for $3 billion to $3.3 billion a year in capital expenditures, 90 percent of which will go toward exploration and production.
Attacks on its oil fields and pipelines have dropped precipitously this year as talks with the government progressed. Any final agreement to end the conflict would be a "plus on our end," potentially allowing the company to boost output from an oil-rich region along Colombia's eastern mountains where the rebel group currently operates, he said.
Tax reform
The CEO was in New York to talk to investors on Ecopetrol's path forward. The company plans no increase to its net debt position between now and 2020 as it seeks to keep its investment grade credit rating. Echeverry, a former Finance minister under Santos, says he expects Colombia's Congress to pass tax reform legislation later this year, a move seen as key to preventing a rating downgrade for the country.
"Colombia policy makers will react responsibly and creatively to maintain investment grade," he said. "There is a strong commitment."
Analysts from Tudor, Pickering, Holt & Co. said the company's future plan lacked details about "the value creation potential of its transport and downstream segments, which we were expecting." The analysts said in a note that Ecopetrol's investor day in New York was "neutral" for the company's outlook as "positive detailed upstream update was dampened by lack of mid/downstream outlook detail."
Amid the slump in oil prices, Ecopetrol has realized the value of holding onto its profitable transport unit Cenit, Echeverry said.
Ecopetrol's 2020 plan assumes Brent oil prices at $50 per barrel and targets a 6 percent production increase by the end of the decade, coupled with a fall in reserves from existing assets. However, the Colombian driller could boost reserves through purchases and plans to participate in Mexico's auction of oil blocks early next year, while also eyeing assets in Brazil, Argentina, Ecuador and the Gulf of Mexico, Echeverry said.
Offshore discoveries in the Caribbean contain an "interesting" amount of natural gas, and will add to Ecopetrol's reserves after 2020, he said.
Before it's here, it's on the Bloomberg Terminal.
LEARN MORE