Bank That Predicted Brexit Is Shunning U.K. Stocks at Record
By
M.M. Warburg sees a hard Brexit that will hurt U.K. markets

Economist said in April a 'thin majority' would back Brexit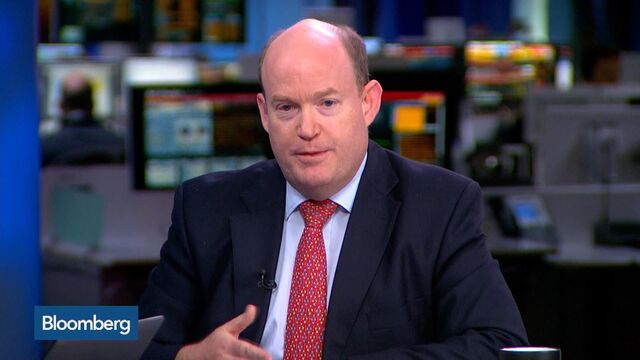 M.M. Warburg & Co., one of the few banks to predict Britons would vote to leave the European Union, is avoiding U.K. assets.
Follow @Brexit for the latest news, and sign up to our Brexit Bulletin for a daily roundup.
Since the June referendum, the 218-year-old Hamburg-based lender has limited its direct investments in U.K. equities and bonds and will continue to do so, according to Carsten Klude, its head of asset management and chief economist. Even as he acknowledges having "burned" his fingers -- the nation's stocks and government debt are top performers in Europe this year -- Klude says a so-called hard Brexit is looking increasingly likely and will send the assets tumbling.
"Trade negotiations are very, very complicated," he said in an interview last week. His firm manages 51 billion euros ($57 billion). "I wouldn't be surprised if Brexit negotiators come to realize after two years that they haven't executed the whole program."
The benchmark FTSE 100 Index surged as much as 18 percent from the low in the aftermath of the referendum, boosted by a slumping pound and economic data that have been beating forecasts, while gilt yields fell to a record in August. The equity index slipped 0.3 percent at 9:28 a.m. in London, and the rate on 10-year government bonds climbed 0.02 percentage points.
While the International Monetary Fund upgraded its outlook for the nation, Klude predicts Prime Minister Theresa May will run into tough negotiators when she engages with her EU counterparts in the new year, and that will negatively impact the economy and markets. The pound sank to its lowest since 1985 on Tuesday, after people in her administration said financial-services companies will get no special favors in secession talks, increasing concern that the country is heading for an exit that would restrict access to the EU's single market.
"The major sticking point" will be the services and financial sector as the U.K.'s goal to clamp down on immigration collides with EU rules, Klude said. "The EU will be very, very rigid on this issue, which will probably have the biggest economic impact."
Klude was one of few economists predicting a majority of U.K. voters would back a secession as he assumed emotions would override pragmatism. He said in April that a "thin majority" of voters would choose to leave the EU, accurately forecasting the 52 percent that did on June 23. By contrast, economists at Societe Generale SA put the probability of Brexit at 45 percent, Morgan Stanley at 35 percent and Citigroup Inc. between 30 percent and 40 percent.
The only London-listed stock M.M. Warburg invests in is Wolseley Plc, a distributor of building and plumbing supplies, because most of its revenue is generated in the U.S. so it "can benefit from pound depreciation," Klude said. It gets about 70 percent of its sales from North America and just 15 percent from the U.K. and Ireland, data compiled by Bloomberg show.