Drinks
Why Celebs Love This Wine Cooler, and You Should, Too
Ramona channels a 1980s buzz, without the hangover.
By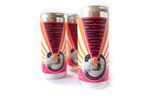 Wine coolers—or at least, a wine cooler—could be making a comeback, thanks to a superb new product and fans like Kanye West.
For anyone who wasn't of age in the 1980s, or didn't have a good enough fake ID, you missed a fun time to drink. Attention-getting Cosmopolitans were coming into fashion; it was the golden age of Jell-O shots; and one of the most popular beverages was the wine cooler. A sweet mix of wine and soda or juice, the drink seemingly came out of nowhere in the late '70s; a decade later, it was a $1.5 billion dollar business with brands such as Bartles & Jaymes leading the way. (The ads, featuring cantakerous old guys as the spokesmen, are classics).
And then abruptly, wine coolers disappeared.
The reason was specific, and the catalyst unlikely: Congress. In 1991, it quintupled the excise tax on wine-based drinks, and a burgeoning industry was zapped. The tax seemingly favored malt products and the beer industry; beverages that might have once been made with wine, such as Mike's Hard Lemonade, are based on malt. In the next 15 years, sales declined 95 percent. 
Now one entrepreneur is intent on making the wine cooler cool again.

Jordan Salcito, wine director at Momofuku restaurants and founder of Bellus Wines, has created Ramona. It's a delicious, captivating white wine drink that's just hitting the market. Made with organic Muscat-like zibibbo grapes from Sicily and flavored with natural ruby grapefruit flavors and organic cane syrup, Ramona is a little bit sweet, a little bit bitter and citrusy, and it's utterly refreshing, with a 7.5 percent alcohol content.  
"I was never the person who reached for a cold beer," said Salcito of her history with the beverage. "Wine coolers were my point of entry. They were friendly and low-alcohol, the first wines that tasted good to me. That was before I went to work the harvest in Burgundy."
The packaging is equally fun: Ramona is sold in tall, thin cans emblazoned with the logo and a black-and-white picture of a sunglass-wearing girl with a wedge of grapefruit; it purposefully evokes old Russian proletariat posters. As an added bonus, all the ingredients in the drink are sustainable.
Ramona's production is small right now: It's available only in New York at stores such as Crush wines and Bottlerocket, sold in four-packs for $19.99. Salcito is planning to roll it out nationally in the hope of making it the go-to drink at festivals. She's also experimenting with new flavors like cherry and raspberry.
Though Ramona is just getting out in the market, it already has a few notable fans. On the night of the MTV video awards, during an afterparty at Pasquale Jones, Kanye West asked for the coolest drink the place had. He got Ramona. It was so good that P-Diddy had the same thing, and Alicia Keys drank it straight from the can. A few nights later, again at Pasquale Jones, Rihanna was seen drinking Ramona, too.
Like our news and recommendations about top-tier wine? We're exploring creating a wine club. If you'd be interested in joining, please shoot us an e-mail at wineclub@bloomberg.net.
Before it's here, it's on the Bloomberg Terminal.
LEARN MORE