politics
Republicans Wonder If Trump Can Recover From 'Worst Week'
"The hole that Trump has dug for himself is very deep."
By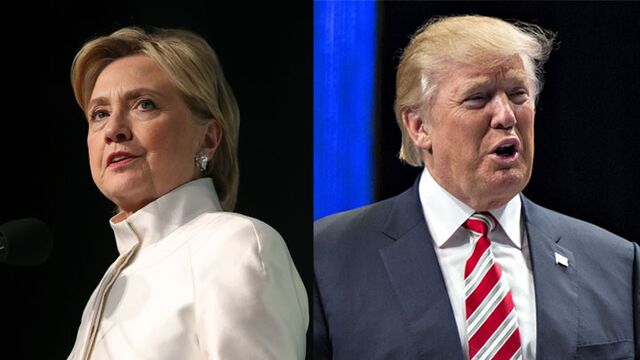 The worst week of Donald Trump's presidential campaign began with a widely criticized debate performance and ended with a bombshell report that he could have avoided paying federal income taxes for 18 years.
In between, the blustery Republican lashed out at a Latina beauty queen in a series of 5 a.m. tweets, faced opposition from conservative editorial boards, went after Bill Clinton's history of infidelity while refusing to discuss his own, was found to have appeared in a Playboy soft-core porn film, mocked Hillary Clinton's recent battle with pneumonia, and told a crowd she "could actually be crazy."
"This could be the worst week in presidential history for any candidate," said Rick Tyler, a Republican strategist and former communications director for Texas Senator Ted Cruz's presidential campaign. "I certainly wouldn't know how to top it."
Many Republicans were left wondering whether Trump could recover or if he had effectively lost the race in the past seven days.
"The hole that Trump has dug for himself is very deep," said Joe Watkins, a former aide to President George W. Bush. "Given the large viewing audience for the first debate and week of big missteps by Trump, it's possible that it could be too late to turn it around."
The Trump campaign and its allies seemed uncharacteristically frozen in place as the headlines mounted, unable to go on the offensive against Clinton as events spiraled beyond their control. Trump's own advisers publicly pleaded with him to be more disciplined.
Former House Speaker Newt Gingrich called it "a lost week, a week which has hurt him, which has shaken his own supporters" in a Friday appearance on Fox News. On Sunday, Trump's supporters tried to spin revelations published in the New York Times that the candidate had reported $916 million dollars in losses on his 1995 tax returns as evidence that he's a savvy businessman.
As the week opened, the Associated Press also reported that Trump repeatedly demeaned women on the set of his reality-TV show The Apprentice, a charge Trump's campaign denied.
The sequence of events further complicates Trump's path to victory, and comes after a stretch in which he had ticked up in polls.  
"It wasn't a bad week. It was a horrible week," said Republican pollster Frank Luntz, who argued on Sept. 15 that Trump was "capable of winning" but fretted on Sunday that he is "unmanageable."
"His staff has no control over him whatsoever. It's their responsibility to keep him focused on what it takes to win, and they have lost it," he said. But he's not writing Trump off yet. The outcome of the race is still "up to the debates," Luntz said. "Millions of people will read these stories. Tens of millions will watch the debates."
'Serious Trouble'
Trump is scheduled to hold rallies in Colorado, Arizona, and Nevada this week. The vice-presidential debate Tuesday night promises to momentarily turn the spotlight away from him, with Mike Pence seeking to make the case for his running mate against his Democratic counterpart, Tim Kaine. Yet the latest headlines are sure to draw the discussion back to the fresh controversies surrounding Trump.
A Fox News poll of likely voters conducted after the Sept. 26 debate found that suburban women favor Clinton over Trump by 20 points, despite her low favorable ratings. One clue as to why: 69 percent of them said Trump lacks the temperament to serve effectively as president. Among white women, a group that Republican Mitt Romney won by 14 points in 2012, Trump enjoys only a 4-point lead, with 59 percent expressing doubts about his temperament.
Overall, the survey showed Clinton leading Trump by 3 points, picking up 2 points since Fox's mid-September poll, and gaining a net of 6 points over the Republican in a two-way contest in flipping a 1-point deficit to a 5-point lead.
Polling since the debate has been scarce, but early signs aren't good for Trump. Swing-state surveys taken after the showdown show him trailing Clinton by 6 points in Nevada, by 4 in Florida, by 7 in Michigan, and by 7 in New Hampshire. Losing each of those states would almost certainly close off Trump's path to the White House.
"Trump is in serious trouble, but there are still a couple of things working in his favor," said Jack Pitney, a political-science professor at Claremont McKenna College. The electorate is more polarized than it's been in over half a century, he said, and the race could still be upended by a terrorist incident, a foreign-policy debacle, or a Clinton scandal or health scare. "But in the absence of out-of-left-field events, it's hard to see how Trump fully recovers from last week."
Trump defied regular doomsday predictions in the Republican primary, but now he faces a demographic disadvantage against his Democratic competitor. Broadening his appeal is paramount, and it's unclear where he can gain votes.
"His bizarre rants about Ms. Machado will further alienate women and Hispanics," Pitney said, referring to the pageant winner. "African-American voters will notice his repeated warnings about vote fraud in 'certain areas.' And nearly everybody has to wonder about his habit of tweeting out insults in the middle of the night."
'Survivable'?
Republicans' reactions to Trump's week ranged from fatalistic to cautiously hopeful, with some saying the race isn't over while conceding that Trump is on thin ice.
Trump's actions last week are "merely a summation of his campaign as a whole and why Trump was the most problematic candidate the party could have nominated to run against Hillary Clinton," said Kevin Madden, an adviser to Romney's 2012 campaign. "He has less than 40 days to turn this race back into a referendum on his opponent and the status quo. There are no days left to spare and he can't have another week like the last one."
John Weaver, the chief political strategist for Ohio Governor John Kasich and a Trump critic, said Trump "had probably the worst week any presidential nominee has had in modern American history. There are no parallels." He said the debate performance and its fallout put Trump "into a place that I don't think is survivable."
Tyler was equally pessimistic about Trump's hopes. "He took a bad debate performance—which is survivable, it happens—and he turned it into the worst week of post-debate spin in presidential history. It was just self-inflicted," he said. "He has now successfully entered into the zone of being a laughingstock and a punchline."
The bad news for Trump comes with early voting underway in some states and voters making up their minds. The fact that Trump's problems are dominating the political chatter drowns out daily efforts by his campaign to put Clinton on defensive over her own controversies.
A comeback, if there is one, would be predicated on the country's desire for a new direction eclipsing Trump's worst gaffes and foibles, strategists say. Surveys show Trump soundly defeats Clinton on who's more likely to change Washington.
"Trump is still positioned for a comeback," said Ed Brookover, a former strategist for both Trump and rival-turned-surrogate Ben Carson. "The country still has an overriding desire for change. Secretary Clinton represents the past. Mr. Trump is the only change candidate in this election."
'Absolute Genius'
Trump's campaign responded to the story published Saturday in the Times that highlighted portions of his 1995 tax returns by claiming the documents were "illegally obtained." Trump, the campaign said, "knows the tax code far better than anyone who has ever run for President and he is the only one that knows how to fix it." The campaign didn't comment on the central assertion—that Trump posted a $916 million loss on his tax returns that year.
The report came five days after Trump fueled questions about his taxes at the debate, which broke records with a viewership of more than 84 million. "That makes me smart," he interjected when Clinton said it's possible he has paid "nothing" in federal taxes.
On Sunday, Trump surrogate and former New York City Mayor Rudy Giuliani said on ABC's This Week that the Times article shows Trump is an "absolute genius" for using available tax breaks, and that the real-estate developer "would've been a fool not to take advantage of it."
Clinton campaign manager Robby Mook piled on. "In one year, Donald Trump lost nearly a billion dollars. A billion," he said in a statement. "He stiffed small businesses, laid off workers, and walked away from hardworking communities."
Weaver said the damage to Trump's image is irreparable with non-white voters, millennials, and suburban women, the latter being a bloc that historically trends Republican.
"They don't want to be for her. They want to be for the change agent. But they don't want to be for a nut-job," he said. "And if he could just pass the nut-job bar, which is as low as it can get, he might win. But he seems disinclined."
—With assistance from Jennifer Jacobs.
Before it's here, it's on the Bloomberg Terminal.
LEARN MORE