Republicans File Complaint to D.C. Bar on Clinton Lawyer Mills
By
Confidante Mills had conflict of interest, GOP official says

Legal ethics professor says it may not be that clear-cut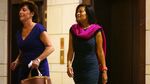 Officials with the Republican National Committee said Monday they lodged a complaint with the District of Columbia Bar against one of Hillary Clinton's attorneys and closest confidantes, the latest move to raise questions about what the GOP calls a cover-up over Clinton's private e-mail system.
Raj Shah, the RNC's research director, said in the complaint that Cheryl Mills violated a D.C. Bar rule by serving as one of Clinton's attorneys during the FBI's investigation into whether the former secretary of state and her aides mishandled classified information. Mills, who was chief of staff when Clinton was secretary of state, had also received limited immunity from the FBI as it looked into the server.

"The FBI's grant of immunity to Ms. Mills highlights the apparent conflict of interest in her representation of Secretary Clinton," Shah wrote in the letter obtained by Bloomberg News.
Representatives for Mills and for the Clinton campaign didn't return requests for comment. They have previously emphasized that the FBI found no cause to bring charges and no evidence of wrongdoing by Mills.
For a QuickTake Q&A on Hillary Clinton's e-mail system, click here.
Republican lawmakers and representatives of Donald Trump, Clinton's chief rival in the presidential campaign, have cited the FBI's immunity grants to Mills, a second official from Clinton's time at the State Department, and two computer technicians as proof of what a Trump spokesman called "without doubt a criminal scheme." Representative Jason Chaffetz, the chairman of the House Oversight Committee said the FBI "was handing out immunity agreements like candy" and that he's "lost confidence" in its investigation.
FBI Director James Comey has defended the agency, saying the grants of immunity from prosecution were narrowly drawn and that Mills was given protection solely so the agency could get access to a laptop she used. Mills had overseen what turned out to be an incomplete handover of Clinton's work-related e-mail to the State Department.
"You can call us wrong but don't call us weasels," an angry Comey told a congressional hearing last week. "We are not weasels, we are honest people."
The RNC's letter to the DC Bar says that that Mills may have violated a rule against a lawyer accepting "other employment in connection with a matter which is the same as, or substantially related to, a matter in which the lawyer participated personally and substantially as a public officer or employee." It calls on the Bar to "take any and all necessary disciplinary measures against Ms. Mills," without suggesting what those might be.
The Bar did not return requests for comment on the complaint.
Aware or Active?
Michael Krauss, who teaches legal ethics at the Antonin Scalia Law School at George Mason University in Virginia, said Mills may not have run afoul of the rule if she didn't participate "personally and substantially" in decisions regarding the server.
"Was she merely aware of this issue or was she active?" Krauss said. If she were active, she might be violating the rule technically, although it "typically imagines there being a conflict between" Mills and her former employer -- the U.S. government -- and her current employer, Clinton. "There is no active dispute between the Department of State and Mrs. Clinton," he said.
Voters, who've taken a negative view of Clinton's use of private e-mail, may come to a different conclusion, he added.
"There may be a conflict between Mrs. Clinton's interest and the interests of the United States of America," he said. "That's an issue that's obviously being debated as we speak."