Politics
Clinton, Trump Neck and Neck in North Carolina: Bloomberg Poll
The U.S. Senate race is also tight, while the Democratic gubernatorial nominee has a 6-point advantage.
By
Clinton, Trump Neck and Neck in North Carolina: Bloomberg Poll
The U.S. Senate race is also tight, while the Democratic gubernatorial nominee has a 6-point advantage.
By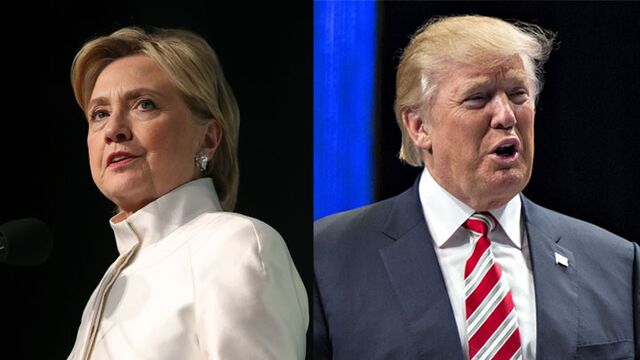 Hillary Clinton and Donald Trump are locked in a close race in North Carolina, a politically and racially polarized battleground where the Democratic presidential nominee is struggling to match the share of black voters President Barack Obama won in 2012.
Clinton has 46 percent and Trump 45 percent in a two-way contest, a Bloomberg Politics poll of the state's likely voters found, even as Trump is boosted by a 26-point advantage among independents. When third-party candidates are included, Clinton has 44 percent to Trump's 43 percent.
The U.S. Senate race is also tight, with Democratic challenger Deborah Ross 2 points ahead of Republican incumbent Richard Burr. In the gubernatorial race, Democratic challenger Roy Cooper has a 6-point advantage over incumbent Pat McCrory as local issues weigh on the state's contests.
"It's hard to imagine a battleground state where things could be much closer, both in the overall horse-race number and in the underlying party ideology of the voters," said pollster J. Ann Selzer, who oversaw the survey. "This is the kind of situation where third-party candidates could tip the balance."
Read the questions and methodology here.

As vice-presidential nominees Mike Pence and Tim Kaine prepare for their single televised debate Tuesday night in Virginia, the poll shows North Carolinians rated Clinton better than Trump in last week's top-of-the-ticket session. Forty-five percent say they became more supportive of Clinton while just 30 percent said that of Trump.
The survey highlights how local controversies—including policies affecting transgender people; voting-rights disputes; and police shootings of black people—have made North Carolina a partisan battleground.
On an issue that catapulted North Carolina into the national spotlight this year, 52 percent of likely voters say they'd prefer the repeal of a state law that requires people to use bathrooms in government buildings corresponding with the gender listed on their birth certificate, a measure that sparked backlash from transgender advocates.
In the two-way presidential race, Clinton receives support from 88 percent of the state's black voters, a group that represented 20 percent of the likely electorate in the survey. Exit polls in 2012 showed blacks casting 23 percent of the state's ballots and Obama receiving 96 percent of their votes.
Just more than half of voters say North Carolina's 2013 voter-ID provision was an attempt to address voter fraud (including 81 percent of Republicans and those who lean that way, and 61 percent of whites). About four in 10 voters (including 73 percent of Democrats and those who lean that way, and 78 percent of blacks) say it was more about suppressing blacks' votes. The measure required voters to show identification and cut back access to early voting, and was struck down by a federal appeals court.
Some of the demographic groups where Trump has the biggest edge over Clinton in the two-way race are white men without a college degree (+51 percentage points), rural dwellers (+28 percentage points), and evangelical Christians (+24 percentage points). 
For Clinton, her biggest advantages over Trump include non-whites (+67 percentage points), city dwellers (+39 percentage points), those under 35 years (+37 percentage points), women (+17 percentage points), and those with a college degree (+13 percentage points).
Libertarian Party nominee Gary Johnson wins 15 percent of those under age 35 in a four-way contest. The Green Party's Jill Stein won't appear on the ballot but qualified as a write-in candidate.
The survey, conducted by Iowa-based Selzer & Co., included 805 likely voters. Its margin of error is plus or minus 3.5 percentage points for topline results and is higher for subgroups. It was taken Thursday through Sunday, following Trump's shaky debate performance and disparaging remarks about a Latina pageant winner's weight and personal life. On Saturday he was confronted by another challenge as the New York Times reported he may not have paid federal taxes for almost two decades after a nearly $1 billion business loss.
With 15 electoral votes, North Carolina has traditionally leaned Republican in presidential elections. Obama, with a surge of support from black voters, narrowly won the state in 2008 before losing it four years later to Republican Mitt Romney.
Trump is viewed favorably by 44 percent of the state's likely voters and unfavorably by 53 percent. Clinton is rated similarly, at 46 percent favorable and 52 percent unfavorable. Among Republicans and those who lean that way, 17 percent have an unfavorable view of Trump, compared to 12 percent of Democrats who have an unfavorable view of Clinton. Top Democratic surrogates Obama and former President Bill Clinton are seen favorably by narrow pluralities, at 49 percent each.
In the Senate race, a victory by Ross could help hand control of the chamber back to Democrats. The demographic dynamics in the Senate race resemble those at the top of the ticket, suggesting Clinton and Ross could help each other if they're able to motivate more women and black voters to turn out, although the gender gap is smaller in the Senate race. Ross is a former state legislator who wasn't well known in the state prior to this year.
Ross does better with voters under age 35 (60 percent to 33 percent) and non-whites (67 percent to 23 percent), while Burr does better with those 65 or older (54 percent to 39 percent), whites (52 percent to 37 percent), and evangelicals (56 percent to 33 percent).

Passed in March and signed by McCrory, the so-called bathroom law also took away the power of municipalities to create their own anti-discrimination ordinances, and fallout from the measure has included sporting events and businesses moving to other states. Burr in May said the legislation was "far too expansive" and more recently has been mum on the issue. Burr has called the voter-ID measure, which McCrory also signed, perhaps inconvenient for voters but not discriminatory.
The strongest sentiment for repealing the bathroom law is among Democrats and those who lean that way and among those under age 35, with 74 percent and 72 percent favoring abolishment. Both men and women favor eliminating the law, although men are more divided (47 percent to 42 percent) than women (57 percent to 38 percent).
The question reveals a sharp division in the gubernatorial race, with more than three-quarters of Cooper supporters favoring repeal, while two in three McCrory supporters want it kept in place. In the overall race for the governor's mansion, Cooper, the state's attorney general, is helped by stronger support from women, young voters, and non-whites. McCrory is seen favorably by 49 percent and unfavorably by 44 percent, while Cooper is seen favorably by 45 percent and unfavorably by 35 percent.

After clashes between police and protesters in Charlotte and other cities where officers have killed black citizens, Clinton is viewed as better positioned than Trump to help calm tensions. Half of voters pick her, while 38 percent select Trump. 
Clinton made her latest visit to the state on Sunday, speaking to black church-goers and a group of young men about topics including police violence. First lady Michelle Obama is headed there on Clinton's behalf on Tuesday.
Likely voters were split on a generic ballot test that asked which party's candidate they'd support for the U.S. House in their district. Those who selected a Democrat or leaned that way totaled 46 percent, while 44 percent selected a Republican or leaned that way.
Just more than a third of likely voters say North Carolina is headed in the right direction. The issue that dominates for Trump voters is the economy, with 41 percent saying that's the most important matter facing the state right now. For Clinton supporters, three issues are named by at least a fifth of voters each as most important: race relations (24 percent), the economy (23 percent), and laws on accommodations for gay and transgender residents (20 percent).
Among five potential voter concerns about Clinton, the three that test the highest all relate to her time as Obama's secretary of state: her use of a private e-mail server (57 percent), her handling of the attack in Benghazi (57 percent), and her family foundation's acceptance of foreign government donations (53 percent).
With Trump threatening to bring up Bill Clinton's marital infidelities during next week's debate in St. Louis, there doesn't appear to be much political upside outside of rallying his base, at least in socially conservative North Carolina. Half of likely voters say they aren't bothered at all by Hillary Clinton's "handling of allegations of infidelity by her husband during his presidency, which some say allowed him to continue such behavior."
For Trump, the highest-testing concerns include his criticism of a reporter that was seen as mocking the reporter's physical disability (56 percent) and his treatment of women (51 percent).
(
Updates methodology document linked in fifth paragraph to include crosstab information.
)