High Court Rebuffs Obama, Won't Revisit Stalled Immigration Plan
By
Top court refuses to reconsider case that produced 4-4 split

Program would have shielded millions from deportation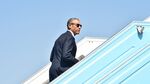 The U.S. Supreme Court rejected a last-ditch bid by President Barack Obama's administration to revive his plan to shield millions of unauthorized immigrants from deportation.
The justices Monday said they won't reopen a case that left the court deadlocked and effectively killed the program for the final months of Obama's presidency. The 4-4 split in June left intact a court order halting the program while a legal challenge goes forward. A federal appeals court said Obama overstepped his authority.
The administration asked the high court to reconsider the case once a ninth justice is seated. The Supreme Court almost never reconsiders its rulings, but the administration decided the request was worth pursuing given the unusual circumstances of the case.
White House spokesman Josh Earnest said the rebuff won't have any practical effect on the administration's deportation efforts, which focus on criminals and recent border crossers.
"This disappointing decision by the Supreme Court does not affect those enforcement priorities," Earnest said.
Court Vacancy
The high court has been shorthanded since Justice Antonin Scalia's death in February. Senate Republicans have refused to consider Obama's nomination of Judge Merrick Garland to fill the seat, saying the next president should make the selection.
Supreme Court reconsideration would have created a potential path for the immigration plan to take effect in 2017 if Democrat Hillary Clinton won the November presidential election. Clinton supports the program, and her election would ensure that either Garland or another Democratic appointee fills the Supreme Court vacancy.
The program would affect millions of people whose children are already U.S. citizens or legal permanent residents. Those people would get relief from deportation for three years and the right to seek work permits. They wouldn't be given an easier path to citizenship.
Republican presidential nominee Donald Trump has said he would abandon the plan, as well as a 2012 program that now shields about 750,000 young people from deportation.
'Validates' Opposition
Texas and 25 other mostly Republican-led states sued over the policy. Sixteen other states and the District of Columbia were among those backing the administration.
Texas Attorney General Ken Paxton said the Supreme Court action, which came without comment, "validated" the state's position.
"This is the latest setback to the president's attempt to expand executive power and another victory for those who believe in the Constitution's separation of powers and the rule of law," Paxton said in an e-mailed statement.
The case is United States v. Texas, 15-674.
Before it's here, it's on the Bloomberg Terminal.
LEARN MORE