European Governments Warn May Won't Get Early Brexit Talks
By and
Lithuania says 'no negotiations without notification'

Czech official says not 'been clearly told' what U.K. wants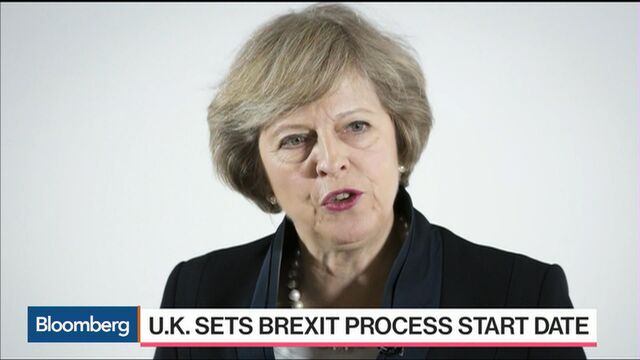 European Union governments complained U.K. Prime Minister Theresa May's plan to begin Brexit negotiations by April still lacks detail and said she will not get the informal talks she's seeking before then.
May said on Sunday for the first time that she will trigger the U.K.'s two-year withdrawal from the EU in the first quarter and told the BBC that by giving such a timetable she hoped her EU counterparts will allow "some preparatory work" to ensure a "smoother process."

That request received short shrift elsewhere in Europe as politicians reiterated that May must invoke Article 50 of the Lisbon Treaty -- which details how a nation leaves the EU -- before they engage. Investors may worry that raises the likelihood of a rupture rather than an easy break.
"No negotiations without notification," said Raimundas Karoblis, Lithuania's vice-minister for foreign affairs. Polish Deputy Foreign Minister Konrad Szymanski echoed that view, saying that any talks must include all 27 remaining members. Swedish EU Minister Ann Linde said in an interview that there "won't be any national, separate negotiations."
Officials from Denmark, Lithuania and the European Commission made the same point, while German Chancellor Angela Merkel's spokesman Steffan Seibert said her position is "unchanged."
The remaining nations may be taking a hard line as they worry early talks would allow the British to sow divisions among the 27 by meeting with individual governments, according to Charles Grant of the Center for European Reform.
Some nations also complained May was still not fleshing out her strategy. Czech Foreign Minister Lubomir Zaoralek told the state newswire CTK that "we are not much farther than we were before."
"We need to know what kind of exit scenario the U.K. wants," Danish Prime Minister Lars Lokke Rasmussen told reporters outside Parliament in Copenhagen. "The view among the EU27 remains that it's the British who asked for the divorce and they have to set the terms. Then we'll respond to that."
Still, there was some gratitude that May had finally set a deadline for starting talks, more than 100 days after the referendum.
"Brexit is unfortunate, but it's good that we got an idea on the timetable and the process can now be constructed on this basis," Finnish Finance Minister Petteri Orpo said in a telephone interview. "We can now start building a clear path and that will serve to calm the situation."
Safeguarding Interests
European Council President Donald Tusk said on Twitter that while he welcomed the clarity from May, the remaining 27 members of the EU "will engage to safeguard its interests" only when Article 50 is triggered.
Meanwhile, Prime Minister Joseph Muscat of Malta, which will hold the EU's rotating presidency in early 2017, said the link between tariff-free trade and single market membership "cannot be decoupled." May has said she wants to end free movement of labor while keeping trade as free as possible.
Muscat told Politico that the "format" of the talks will be "more or less what happened with Greece" during its financial crisis.
Sweden's Linde underscored Muscat's view on migration. "Theresa May clarified yesterday that free movement of people is a main question for Britain, so that message was quite clear," she said.
Irish Foreign Affairs Minister Charlie Flanagan told RTE that the negotiations will involve "give and take." While welcoming the news on timing, he said avoiding the reintroduction of a hard border between Northern Ireland and the Republic -- a key concern of the Irish government -- would be a "challenge."
Sign up to receive the Brexit Bulletin, a daily briefing on the biggest news related to Britain's departure from the EU.
— With assistance by Arne Delfs, Ian Wishart, Raine Tiessalo, Dalius Simenas, Peter Laca, Peter Levring, and Henrique Almeida
Before it's here, it's on the Bloomberg Terminal.
LEARN MORE