Sanders Sees No Slight in Clinton's Basement-Dweller Comments
By
Many young people heavily in debt after college, senator says

Primary rival now trying to help Clinton with young voters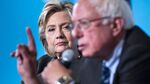 U.S. Senator Bernie Sanders said he agrees with the characterization by one-time primary rival Hillary Clinton that many his supporters are young people "living in their parents' basement" who feel stuck in a "job that doesn't pay a lot."
Clinton, who as Democratic presidential nominee is having trouble attracting many of the young voters who supported Sanders, also referred to Sanders's platform as a "false promise" during a February fundraiser, according to leaked audio released by the conservative website Free Beacon. The comments were made when Clinton was competing with Sanders to be the party's candidate in the general election.
The Vermont senator, who has endorsed Clinton and is campaigning for her, suggested Sunday that the comments were an accurate portrayal of national problems rather than an offensive characterization of an opponent's fans.
"There are young people who went deeply into debt, worked very hard to get a good education, and yet they are getting out of school and they can't find decent-paying jobs," Sanders said on CNN's "State of the Union." "They are living in their parents' basements, and that's the point."
On NBC's "Meet the Press," campaign manager Robby Mook said Clinton had been reflecting on "young people that she'd met who were frustrated that they graduated from college and went into an economy where they couldn't find the job they wanted."
'Defective Human'
Republican nominee Donald Trump pounced on the Democrat's comments Saturday in a speech in Pennsylvania, saying that "if you are not a diehard Hillary Clinton supporter from Day One, Hillary Clinton thinks you are a defective human being."
Sanders, who's been pushing the debt-free college plan he worked out with Clinton in an effort to unite young voters behind the Democratic nominee, didn't deny that some of Clinton's comments bothered him.
"But we're in the middle of a campaign," he said. "If you go to some of the statements that I made about Hillary Clinton, you can see real differences. So we have differences. There's nothing to be surprised about. That's what a campaign is all about."
Sanders said that if millennials saw Clinton's comments as condescending, they should "take a hard look at the needs of the American people" and realize that either she or Trump will be elected president on Nov. 8.
"After you take a hard look at those two candidates and their issues, I think the conclusion that the vast majority of people will reach is that Clinton is far and away the superior candidate," he said.
Sanders, whose broadsides against alleged billionaire tax evaders and wealth inequality in the U.S. helped propel his primary run, also weighed in on Saturday's report in the New York Times that Trump claimed a massive tax loss in 1995 that may have allowed him to stave off paying federal income taxes for almost two decades.
"This is exactly why so many millions of Americans are frustrated," he said. "They are angry. They are disgusted at what they see is a corrupt political system in this country."