Taking on Viacom Could Mean Even Fatter Paycheck for CBS Chief
by
Leslie Moonves already 22nd-highest paid executive in U.S.

More than 80% of companies pay retention bonuses in deals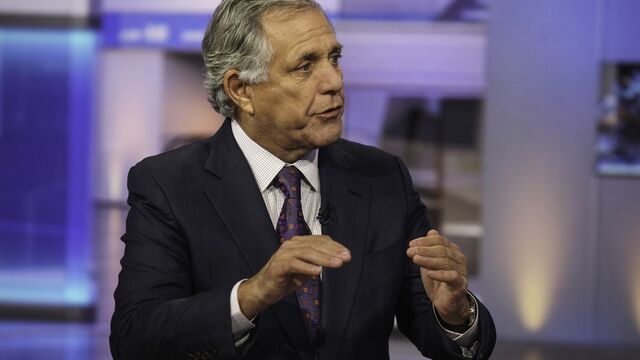 A tie-up between CBS Corp. and Viacom Inc. would put together the pieces of a media empire. It might also garner one of the industry's best-compensated chief executive officers an even bigger paycheck.
Mergers can bring windfalls for executives through special awards tied to cost savings or pay raises for running a bigger business. That kind of incentive might be needed to motivate CBS's longtime CEO Leslie Moonves to take on more heavily leveraged Viacom, whose cable networks such as MTV and Comedy Central have been losing viewers to newer and nimbler competitors.
"With every deal you're making promises to the Street, and compensation plans need to reflect those promises," said John Trentacoste, a managing director at executive compensation consultant Farient Advisors.
The idea to recombine the two media businesses that split in 2006 was floated on Thursday by National Amusements Inc., the Redstone family holding company that's a controlling shareholder in both entities. While a deal is far from imminent, the companies said in separate statements that their boards will consider National Amusements' suggestion.

Sumner Redstone, the 93-year-old billionaire who owns most of National Amusements, is known for paying CEOs lavishly. But he's in frail health, and daughter Shari won a drawn-out battle this year to steer the direction of his investments. It remains to be seen whether she will follow his executive compensation policies.
A Viacom spokesman declined to comment, while CBS didn't immediately respond to an e-mail.
There are other things the Redstones might have to do to keep Moonves happy. The network chief has run CBS with little interference and would want similar freedom at the combined entity, according to a person familiar with his thinking. Shari Redstone, who is vice chairman of both CBS and Viacom, has expressed admiration for Moonves in the past, and wants him to stay.
A larger media empire could be tempting for Moonves. Rejoining Viacom with CBS would double the company's revenue and give the CEO a film studio, Paramount Pictures -- one asset he long has lacked.
And executives who end up running substantially larger companies after a merger typically see their pay grow over a number of years to motivate them to stick around, according to Aalap Shah, managing director at executive compensation consultant Pearl Meyer.
Viacom's Troubles
A sweetened deal might be necessary even for 66-year-old Moonves, who was the 22nd best-paid executive in the U.S. last year. Viacom in August posted its eighth consecutive quarterly decline in domestic TV ad sales, and Paramount has suffered from a series of box-office disappointments this year, from "Whiskey Tango Foxtrot" to "Ben-Hur."
TV networks are seeing viewership erode as younger people entertain themselves with their smartphones or turn to streaming video services like Netflix. Moonves has burnished his reputation by helping CBS maintain its reign as the most-watched broadcast network in the U.S. with shows like "NCIS" and "The Big Bang Theory." And he's building his own streaming service, CBS All Access, to keep up with the times.
"The CBS-Viacom merger still hinges on the belief that CBS CEO Les Moonves is the one person with the ability to turn around Viacom while continuing to steer the ship at CBS," Michael Nathanson, an analyst at MoffettNathanson LLC, said in a note Wednesday.
Keeping senior leaders in the wake of a merger is crucial for companies grappling to unite two businesses and cultures. Cash bonuses tied to completion of the deal can ensure they remain on the job and compensate for the added workload. Awards that vest over a number of years -- often restricted stock tied to cost savings or integration of the two businesses -- are used to keep them during the ensuing years and show investors that the deal was warranted.
Allergan, American
Such strategies are common. More than 80 percent of 248 companies in 14 countries surveyed by Willis Towers Watson Plc in 2014 provided some form of retention bonuses in connection with deals for senior leadership or employees, or both.
Allergan Plc's predecessor Actavis Inc. set aside up to $30 million in cash for CEO Brent Saunders following the purchase of Forest Laboratories Inc. in 2014. About half of the award paid out in December thanks to achievement of goals tied to savings from synergies. The remainder will pay out in 2017 contingent on similar targets.
That structure would be familiar to Moonves, who's received about half of his reported compensation in cash over the past three years. His package for 2015 was worth $46.1 million at the end of last year, according to the Bloomberg Pay Index. CEOs in the Standard & Poor's 500 Index receive on average 60 percent of their compensation in equity, according to data compiled by Bloomberg.
While stock awards are riskier, they can provide more upside. American Airlines Group Inc. awarded CEO Doug Parker restricted stock worth $15.4 million following the announcement of its merger with US Airways Group Inc. in 2013. Half of the shares were tied to achieving $1 billion in savings and obtaining regulatory approval to operate as one company. The award had swelled to $27.1 million when it paid out in full in December.
One-time deal arrangements have drawn scrutiny in recent years by investors and proxy advisory firms. Cable company Comcast Corp. didn't grant its executives any special awards ahead of its two-part acquisition of NBCUniversal in 2011 and 2013.
"Some ask the question whether M&A isn't just part of your normal duties as an executive," Farient's Trentacoste said. "If that's the case, why should you get extra just for doing your job?"
Before it's here, it's on the Bloomberg Terminal.
LEARN MORE