Handheld Hydropower Is Real
Estream lets you juice your devices with moving water.
By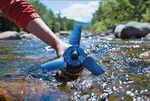 Innovator Hyerin Park
Age 30
Chief executive officer of five-employee startup Enomad in Los Angeles



Form and function
Estream is a generator the size of a water bottle that lets campers, kayakers, or people in isolated villages collect energy from moving water.


Origin
Park began working on personal generators a decade ago, after a backpacking trip to India. She also helped develop a tidal power plant for the South Korean government.

Funding
Enomad has raised about $450,000 from angel investors and crowdfunding and is seeking an additional $1 million to fund mass production.

Cost
About 600 Kickstarter backers paid $180 for an Estream.



Power
Placed in moving water, the blades of Estream's 8.3-inch-diameter turbine spin to charge its lithium ion battery in about four and a half hours.


Charging
On a full charge, Estream can juice three smartphones, tablets, or GoPros twice as fast as a regular outlet, Park says.

Add-ons
Enomad is developing attachments to turn Estream into a Wi-Fi router, a speaker, and even a wind-powered generator.



Next Steps
"It looks like a really sharp design," says Ron Pernick, managing director for market researcher Clean Edge, adding that Enomad will have to provide a strong warranty and prove its device will last. Park says she's in talks with retailers in the U.S., Canada, Europe, and Australia, and hopes to announce retail deals by the end of the year. Kickstarter backers will get their Estreams in March.
Before it's here, it's on the Bloomberg Terminal.
LEARN MORE