China's Box-Office Slump Deepens After Drought of Summer Hits
Bloomberg News
Ticket sales declined 16% to $1.6 billion in third quarter

Cinema visitors headed for first quarterly drop in five years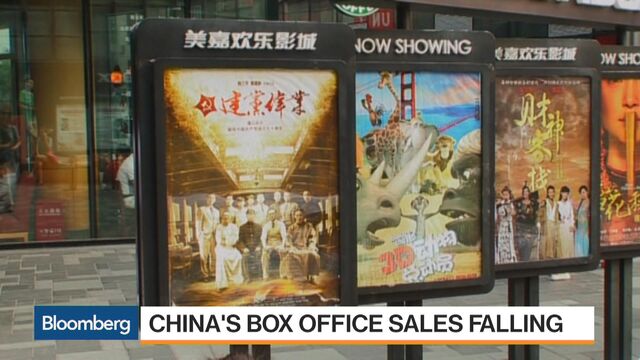 China's worst box-office slump in at least five years deepened in the third quarter as a dearth of hit films kept movie goers away.
Third-quarter ticket revenue fell about 16 percent from a year earlier, excluding Friday's results, Chinese government data as of Thursday showed. A decline would be the second straight quarterly drop.
The drought of hit films has prompted some analysts to push back projections China would overtake the U.S. as the world's biggest movie market.  The slump in ticket sales contrasts with the almost 50 percent jump in 2015, a surge that had Hollywood filmmakers targeting Chinese audiences and helping billionaire Wang Jianlin expand Dalian Wanda Group Co.'s entertainment empire.

"The market is maturing, with Chinese consumers now becoming more discerning in their movie choices since the novelty of the new cinema environment finally wearing off to some extent," David Hancock, analyst at IHS Markit Ltd., said in an e-mail. Hancock estimates China will overtake the U.S. film market in 2018, after previously predicting it would do so in 2017.
For a look at Wanda's plan to overtake Disney in theme parks, click here.
The number of filmgoers buying tickets dropped about 12 percent so far this quarter, heading for the first decline since at least 2011, figures from the government's China Movie Data Information Network showed.
Films such as Matt Damon's "Jason Bourne" and the animation "Ice Age: Collision Course" -- shown this year in a summer season normally reserved for locally made movies only -- failed to draw enough fans to offset an overall drop in sales.
Wang's Legendary Entertainment LLC is betting on "The Great Wall," due out in December in China starring Damon, Jing Tian and Pedro Pascal, to draw filmgoers toward the end of the year.
For a look at Wanda's prospective movie alliance with Sony, click here.
The adventure film "Time Raiders" was the only title drawing at least 1 billion yuan sales in the third quarter, compared with three reaching that milestone a year earlier, including "Shrek"-animator Raman Hui's "Monster Hunt," which racked up 2.4 billion yuan, China's biggest-selling film ever after this year's "The Mermaid."
Box-office sales have also been hurt this year as discounts offered by mobile ticketing apps backed by e-commerce and internet companies including Alibaba Group Holding Ltd. and Baidu Inc. ebbed.
Subsidies were estimated to have contributed as much as 10 percent of the total box office last year, and have fallen by 70 percent this year, according to Richard Huang, an analyst at Nomura Holdings Inc. "The effect of reduced subsidies is bigger than expected."
The mobile apps themselves haven't disclosed how much they spent on discounting.
"Other than 'The Great Wall,' few other films slated for this year would be likely to impress," said Jane Li, head of research at Beijing iMiner Data Technology Co., an information and consulting company that covers the entertainment industry. Total China box office sales this year will "at best" match last year's $44 billion, she said.
Nomura's Huang forecasts 8 percent box office growth this year, accelerating to 25 percent in 2017 and 2018 as film franchises such as "Transformers" draw moviegoers.
— With assistance by Jeanne Yang
Before it's here, it's on the Bloomberg Terminal.
LEARN MORE