May's Real Opposition Lies in Tory Ranks as Brexit Splits Emerge
by
Conservative conference begins Sunday; first for May as leader

May to address Brexit on day one, leave room for domestic aims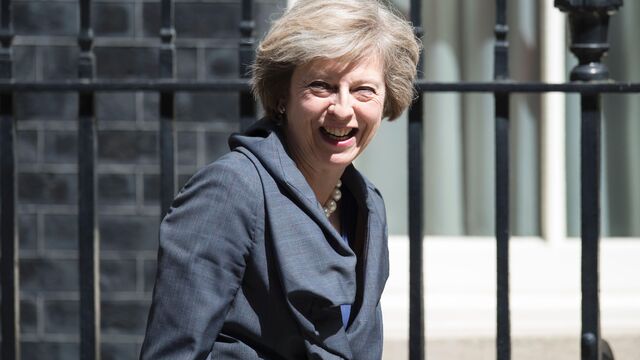 Theresa May is discovering the true opposition to her premiership lies within her own Conservative Party.
Less than three months since the vote for Brexit catapulted her into 10 Downing Street, the U.K. prime minister is preparing to helm her first Tory conference as leader. As she heads to Birmingham for Sunday's start, what should have been a celebration and push to consolidate power risks revealing fresh fault lines over the European Union within her own ranks.
While May refuses to give much insight into what she wants from the divorce, colleagues such as Foreign Secretary Boris Johnson and Brexit Secretary David Davis are already signalling they want a hard break. By contrast, other Conservative lawmakers including former finance ministers George Osborne and Ken Clarke are counseling caution.
"The principal source of opposition at the moment for Theresa May is not the mainstream opposition parties, but the challenge of establishing basic unity within her own government," said Matthew Goodwin, professor of politics at the University of Kent. "There are rumblings with the Brexit strategy and the lack of clarity over what that agreement is going to look like."
That leaves May, who has a parliamentary majority of just 12, under pressure to assert her leadership. While known to consume reams of information on Brexit, she has so far largely limited her comments to refusing to start formal talks this year and indicating a crackdown on immigration is a bigger priority than maintaining trade links. Brexit will be discussed on Sunday, leaving the following three days of conference for her domestic goals.
Hard or Soft
"There needs to be a steer on whether this is going to be a hard or a soft Brexit and some of the red lines," said Victoria Honeyman, who teaches politics at Leeds University. "If she doesn't provide those and talks in generalities there are going to be a lot of disappointed people on both sides."
For more on the other 27 EU governments' red lines, click here
Investors, foreign governments and corporate executives would also welcome clarity. The pound is headed for its fifth quarterly decline versus the dollar, the longest run since 1984, and is being undermined by speculation of a hard Brexit in which Britain surrenders access to the single market in return for securing control over labor flows.
"Silence is not a strategy," said Hannah White of the Institute for Government. "The current situation -- where we are left to interpret personal musings of individual ministers -- is frustrating those looking for an early exit, perplexing those with whom we have to negotiate and unsettling those looking to do business in the U.K."
Lukewarm Support
Failure to placate her colleagues means May, who turns 60 on Saturday, could end up joining the club of Tory leaders who since the 1970s have found their political ambitions derailed by Europe. Her predecessor, David Cameron, is already a member after gambling that the June referendum would finally silence euroskeptics in his party.
Instead it emboldened them and pro-Brexit lawmakers now sit at the heart of May's Cabinet. While she campaigned to remain in the EU her support for Cameron's case was lukewarm, as revealed by books now being published. She has since committed to delivering the referendum result, repeatedly declaring "Brexit means Brexit."
Tensions are already surfacing 99 days since the referendum. May has had to rebuke Johnson for publicity predicting she will engage with the EU in early 2017 and Davis for openly questioning whether the U.K. can enjoy tougher borders and easy commerce. Trade chief Liam Fox was slapped down for calling business leaders "lazy."
Although May has stayed quiet on what she wants and when, the pro-Brexit camp hasn't. Johnson even endorsed "Change Britain," a campaign of lawmakers designed to keep the pressure on May. Another group, "Leave Means Leave," features Tories outside of the government and so even more willing to criticize her. Lawmaker John Redwood says May shouldn't even negotiate and just cut ties with the EU.
Osborne's Case
Rank-and-file Tory parliamentarians are also aware that they will cede ground to the U.K. Independence Party if May takes too long to adopt a stance. UKIP leader Diane James this month demanded May should "stop the faff" and deliver a "hard Brexit."
At the same time, May has another wing of her party to keep onside. Osborne, who was ousted as chancellor of the exchequer in July, argues the British public voted to leave the EU but not to stampede out the door. He used an interview with Bloomberg Television this week to call for a "softer Brexit" and "the closest possible economic and financial relationship" with the bloc. He also suggested May wait until after next year's elections in France and Germany before invoking Article 50 of the Lisbon Treaty which starts the clock on two years of talks.
Clarke, another onetime chancellor, went further in telling the New Statesman that May is running a "government with no policies" and that "nobody in the government has the first idea of what they're going to do next on the Brexit front."
In her favor is that May faces little opposition from other parties. Jeremy Corbyn's Labour Party is in disarray over his leadership, the Liberal Democrats were ousted from sharing power and UKIP still has just one lawmaker. That leaves the pro-independence Scottish National Party as her chief tormentor in Parliament.
"While other parties are too divided, incompetent or self-obsessed to deliver the leadership the U.K. needs, the Conservative Party is knuckling down and getting on with the job," May wrote in the introduction to the conference program. "We are going to make the most of the opportunities that leaving the EU presents."
Before it's here, it's on the Bloomberg Terminal.
LEARN MORE