Inside Clinton's Quest to Lure Millennials and Shore Up Her Campaign
"Are we where we want to be? Not precisely," says campaign strategist Joel Benenson. "But we're confident we'll get there."
By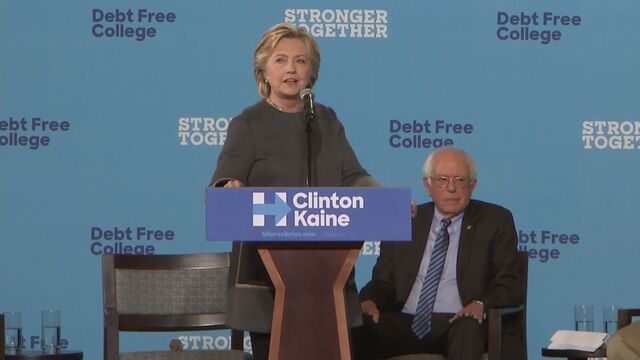 When Hillary Clinton decided to run for president, she faced a critical strategic choice. Should she tailor her message to the predominantly white working-class Americans who twice helped elect her husband—and supported her in the 2008 Democratic primaries over Barack Obama? Or should she try to piggyback on Obama's coalition of minorities, single women, and millennials?
Clinton chose the latter track. It's worked, up to a point: Polls have consistently shown she's crushing Donald Trump among black voters, Latinos, and suburban women. But she hasn't managed to attract the overwhelming support among young people that powered Obama's victories in 2008 and 2012. It's not that they won't vote, because they turned out in large numbers for Clinton's Democratic primary challenger Bernie Sanders. It's that, with less than six weeks to go until Election Day, they haven't gotten excited about Clinton.
In Ohio, Clinton leads comfortably among likely voters under 35 who are asked to pick between her and Trump, according to a Bloomberg Politics poll released on Sept. 14. When third-party candidates are included, however, Clinton's support among millennials tumbles 13 percentage points, while Trump's drops only 3 points. About 22 percent of voters under 35 say they'll choose Libertarian Gary Johnson.
A similar dynamic repeated nationally, according to a Bloomberg Politics poll released Sept. 26, with Clinton ahead by 10 points among voters under 35 in a two-way race and losing 20 percent of her support when Johnson and Green Party nominee Jill Stein are included. The trouble for Clinton, says Democratic pollster Andrew Baumann, is that her campaign hasn't given young people enough reason to vote for her rather than any of the other non-Trump candidates: "She needs to be making the case of why she's good."
From the start, Clinton has made efforts to attract millennials, who match baby boomers as a share of the electorate, with just under 70 million in each group, according to the Pew Research Center. She put her headquarters in Brooklyn, invited Girls creator Lena Dunham and singer Katy Perry to be surrogates, and printed up ironic T-shirts—including a bright-yellow one that read "Yaaas, Hillary!" over a black-and-white yearbook headshot. Clinton has also invited supporters to complain about their college debt on Twitter using emojis and has appeared with Zach Galifianakis on the Funny or Die web show Between Two Ferns. Yet all this synthetic hipness has failed to produce the real thing. "Are we where we want to be? Not precisely," says campaign strategist Joel Benenson. "But we're confident we'll get there."
Most of the voters Clinton is trying to reach are too young to remember when she and Bill Clinton were the insurgents who took over the Democratic Party in 1992 with their mix of centrism and Fleetwood Mac. Their expectations for politicians have been shaped under Obama. "Barack Obama is probably the coolest president we're going to have, maybe in my lifetime," says Steve Schale, who managed Obama's 2008 campaign in Florida. "It's impossible to replicate that moment."
Polls suggest the main reason young voters are so hesitant about Clinton is that they don't trust her. Of likely voters age 18-34, 77 percent don't think Clinton is honest, the highest of any age group, according to a Sept. 14 Quinnipiac University poll. Her approval rating among voters under 30 is 33 percent, according to a Sept. 11 Gallup poll.
In response, Clinton dispensed with the tweets and memes and went to Temple University in Philadelphia to talk to millennials directly. Her Sept. 19 speech covered college costs, climate change, LGBT equality, and racial justice. It also included a rare acknowledgment of weakness: "I also know that even if you're totally opposed to Donald Trump you may still have some questions about me. I get that. And I want to do my best to answer those questions."
The campaign is sending organizers to college campuses to register voters and try to get them excited about Clinton. It's specifically targeting people who supported Sanders in the primary, says Christopher Huntley, Clinton's director of millennial media.
Sanders has also hit the campaign trail for Clinton, appearing with her at a rally in Durham, New Hampshire, on Sept. 28. "I am asking you here today not only to vote for Secretary Clinton but to work hard to get your uncles and your aunts, to get your friends, to vote," he said. "This election is enormously important for the future of our country. It is imperative that we elect Hillary Clinton as our next president."
The close national polls may help Sanders and other surrogates impress on young people that their vote could influence the outcome of the race, says former Sanders strategist Tad Devine, who worked on Al Gore's 2000 campaign. That year, Devine says, younger voters told pollsters they were planning to support Ralph Nader, who was running on the Green Party line. "Many of them, particularly in places we went out and made an aggressive case not to do that, left Nader," says Devine.
Nader's support dropped significantly in the last few days before the vote, Devine says. He wound up winning 2.7 percent of the popular vote nationally. Nader's presence on the ballot in Florida, where he took just 1.6 percent of the vote, nevertheless cost Gore the presidency. Says Devine: "That'll weigh very heavily on them."
—With assistance from Joshua Green and Ben Brody.