Fighting for the Right to Run Sex Ads
Besieged on several fronts, online classified site Backpage.com wraps itself in the First Amendment.
By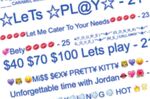 Backpage.com's business is an online classified marketplace, providing a forum for people who want to sell cars, rent an apartment, or find a baby sitter. But the site is far better known as one of the biggest web platforms for sex advertising—the descendant of the raunchy ads that used to be found at the back of alt weeklies such as the Village Voice. As such, Backpage is tied to the ills of that business: prostitution and human trafficking. It's also become a fierce standard-bearer in the war over online free speech, wrapping its business model in the First Amendment to fend off enemies in law enforcement and government.
Those foes are persistent, and understandably so: It's easy to support the ideal of free speech but rather more complicated when faced with for-profit companies like Backpage, whose constitutionally protected activities have contributed to horrific harm to minors and women. That's the backstory to the battle between Backpage and Sheriff Thomas Dart, who's hoping to take his fight to the U.S. Supreme Court in the term that starts on Oct. 3. To get at Backpage, he's trying to do an end run around the immunity protecting online businesses from liability for what their users do.
Dart, the sheriff of Cook County, which includes Chicago, has made the fight against prostitution a signature issue. In 2009 he sued Craigslist—Backpage's biggest rival in the online classifieds market—over its adult services section. Craigslist, he argued, was creating a public nuisance by facilitating the sex trade, which consumed the time, money, and resources of law enforcement. The case was dismissed under Section 230 of the Communications Decency Act (CDA).
Section 230(c)(1) is the fairy godmother of the internet. It reads: "No provider or user of an interactive computer service shall be treated as the publisher or speaker of any information provided by another information content provider." That one-liner in a 1996 law has ballooned into an expansive shield that insulates Google, Facebook, and Twitter from liability for what their users say and do. This has mostly been a good thing, because those services wouldn't exist if they had to police everyone's every word. In Dart's efforts against Craigslist, however, it meant that though pimps might choose to post barely disguised ads for prostitutes and johns might buy the services advertised, the site wasn't liable for any of that illegal activity.
Craigslist decided to get rid of its adult section in 2010, giving Backpage a big boost as escort advertisers shifted over to its adult category—one of the few services for which Backpage charged a fee. Dart turned his attention to Backpage, urging changes to the site to cut down on prostitution. Backpage, though, didn't "cave"—the word it later used to describe Craigslist's decision to drop out of the adult market.
On June 29, 2015, Dart sent letters to Visa and MasterCard that began, "as the Sheriff of Cook County, a father and a caring citizen, I write to request that your institution immediately cease and desist from allowing your credit cards to be used to place ads on websites like Backpage.com, which we have objectively found to promote prostitution and facilitate online sex trafficking." He made clear his frustration with the CDA: "For years, law enforcement agencies and advocacy organizations have screamed and howled about Backpage.com and similar sites to no avail. But Congress is too hamstrung to act and the Courts continue to follow antiquated laws to the point of nonsensical outcomes. But such absurdity is no excuse for institutions to ignore their own rules, precedents and their own sense of decency."
Both companies swiftly did as Dart asked. (American Express had ended its service to Backpage in April 2015, citing its terms of use, which forbid brand damaging or illegal transactions.) Backpage responded almost as swiftly with a lawsuit, calling Dart's actions censorship of the free speech rights of the site and its users "through an informal process of coercive threats or insinuation." The company sought a preliminary injunction, compensation for lost revenue, and punitive damages to deter Dart from "conduct recklessly indifferent to protected rights."
Backpage lost in district court, largely because Dart showed that not only had American Express taken action on its own but that MasterCard was beginning to do so as well. Visa submitted an affidavit saying it didn't consider Dart's letter a threat, though it did act on it.
Backpage, however, won the next round. The U.S. Court of Appeals for the Seventh Circuit reversed the lower court, interpreting Dart's letters as coercive and a restraint of protected speech regardless of whether or not the credit card companies acted because of them.
Don Herzog, a First Amendment specialist at the University of Michigan Law School, thinks the Seventh Circuit got it right. "It's completely facetious to say Dart is not using his power as a cop as a threat," Herzog says. "His position seems to be, 'I didn't cause the credit card companies to do this at all.' But imagine a cop says to you, 'Lady, get that Clinton sign off your lawn, or I'll bust you.' Just because you choose not to, that doesn't make the threat OK."
Dart has appealed to the Supreme Court (which accepts a tiny percentage of the petitions it receives). While he waits, he continues to battle Backpage in Illinois district court. The site dropped its claims for damages in August and is seeking summary judgment. Dart is pushing for further discovery related to Backpage's business—particularly how many of the ads are for prostitution. His office said in an e-mail, "The relief Backpage is seeking—to enjoin the Sheriff's speech—would be an improper restriction of Sheriff Dart's own First Amendment Rights." Backpage declined to comment for this story.
Backpage faces another possible Supreme Court showdown, one that addresses Section 230 immunity more explicitly. The plaintiffs in the case include three women trafficked via Backpage ads in Massachusetts, beginning at age 15. The U.S. Court of Appeals for the First Circuit in Boston found the plaintiffs made a persuasive case that Backpage tailored its services to facilitate sex trafficking, a criminal violation of federal and state law aimed at those who knowingly aid in sex trafficking. Nevertheless, the court held that even in this context, Section 230 conferred immunity on the site. The plaintiffs want the Supreme Court to clarify the extent of Section 230's protections, specifically whether a website can ever be sued for its own criminal conduct when content created by a third party was part of the "chain of causation" of the injuries.
Even if Backpage prevails against Dart and the women, it's still got problems. For one thing, it seems unlikely the credit card companies will reinstate services; none have since the Seventh Circuit ruling in November. (After Visa and MasterCard pulled out, Backpage began running sex ads for free, charging only for extra visibility on a page, via bitcoin, check, or money order.)
In March, a U.S. Senate committee sued Backpage Chief Executive Officer Carl Ferrer to compel him to appear before the committee and to comply with a subpoena in its investigation of sex trafficking. Backpage argued this was simply one more assault on its First Amendment rights and yet another plot to shut down its business. A judge has ordered Ferrer to cooperate. The Supreme Court rejected Backpage's request to stay the court order.
One broader worry is how all of this might erode Section 230—and alter the internet. "We're seeing some judges who are just so concerned about harm to victims online that they'll twist law in whatever direction it needs to be twisted," says Eric Goldman, an expert on free speech and technology at Santa Clara University School of Law. He sees Section 230 as key to protecting First Amendment rights online and also fundamental to the rise of startups that challenge the status quo. "The question," Goldman says, "is what do we need to do to preserve the next disruptive technology that's going to make our lives better?"
Before it's here, it's on the Bloomberg Terminal.
LEARN MORE