Disillusioned Brazilians Don't Believe in Democracy Anymore
by , , and
Minority of citizens believe in democracy or belong to a party

President Temer wants to take tough measures, but hands tied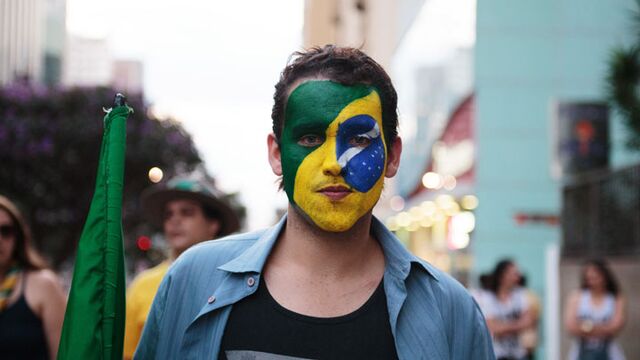 Luciano Pacheco, a 42-year-old owner of a key-cutting shack in the Brazilian capital, used to be a fervent supporter of the left-wing Workers' Party. His disillusion set in long before the party was ousted after 13 years in power, and he says there is no candidate or group he can now imagine backing.
"They are only interested in the party or their own careers," he said of the nation's politicians. "The people have been left on the side."

Brazil is facing an economic challenge of historic proportions but something else as well: a political identity crisis. Recent polls show that fewer than a third of the nation believe in democracy, only a quarter identify with a political party, and one in four young people are unemployed.
There is a kind of shell shock among Brazilians as they digest the fact that their last elected president was impeached, her predecessor indicted on corruption charges, and the economy collapsed. The state oil company, Petrobras, once a source of deep national pride, has been mangled by corruption and mounting debt. Many Brazilians are not only struggling to make ends meet but have lost faith in their political system and are wary of a president who plans to downsize an unwieldy state.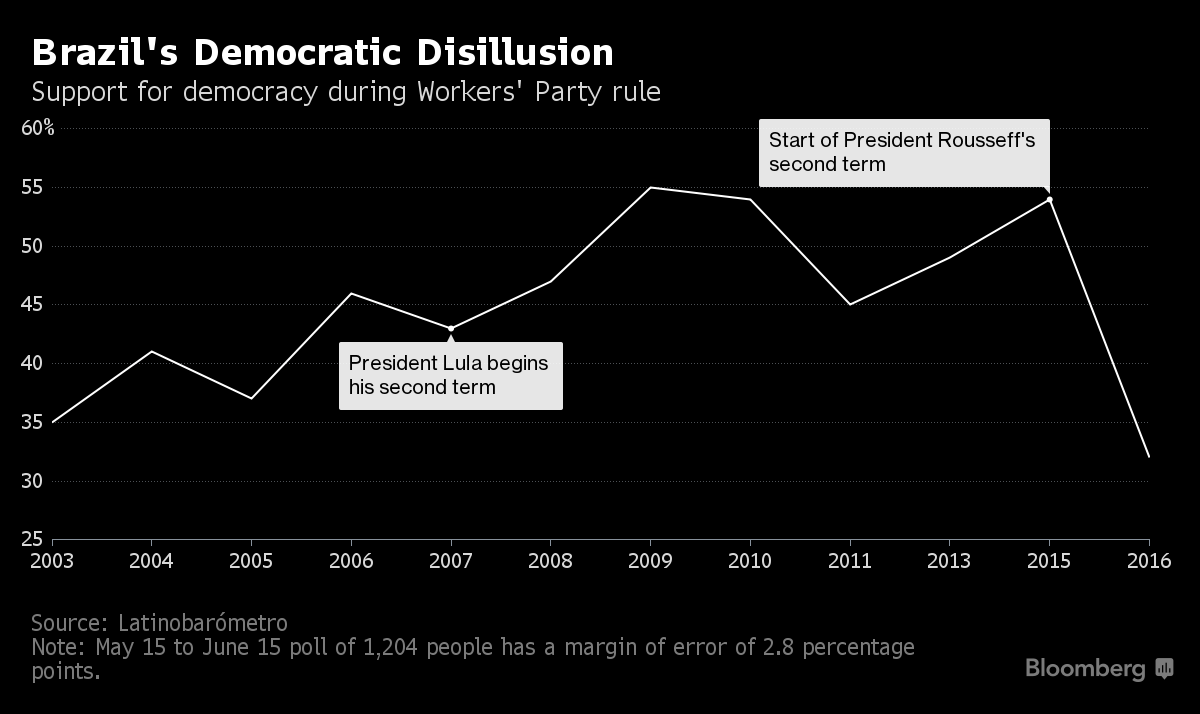 "The center-right doesn't have an agenda able to harness public opinion," said Marcos Troyjo, a Brazilian professor at Columbia University. "There is no clear ideological identity today."
For a QuickTake explainer on Brazilian politics, click here.
Workers' Party candidates running in municipal elections this Sunday are leaving traditional red colors and star emblems off their literature. Meanwhile, on the right, few major candidates wish to be associated with the Brazilian Democratic Movement Party (PMDB) of President Michel Temer. The candidate for mayor of Rio de Janeiro barely mentions the president, according to Mauricio Santoro, a political scientist, linking himself instead to the incumbent Eduardo Paes, who oversaw the Olympics. Temer is not campaigning for any candidates.
This puts all the more pressure on him to get Latin America's largest economy on track before the two-year tenure he just began comes to an end. He plans to sell off state assets and slash benefits to cut a budget deficit running at 10 percent of GDP, the same level as Spain's at the height of the southern European debt crisis. But the obstacles he faces are daunting: the absence of a popular mandate, rigid constitutional constraints on public spending, and a fractious multi-party Congress, overshadowed by an on-going corruption scandal.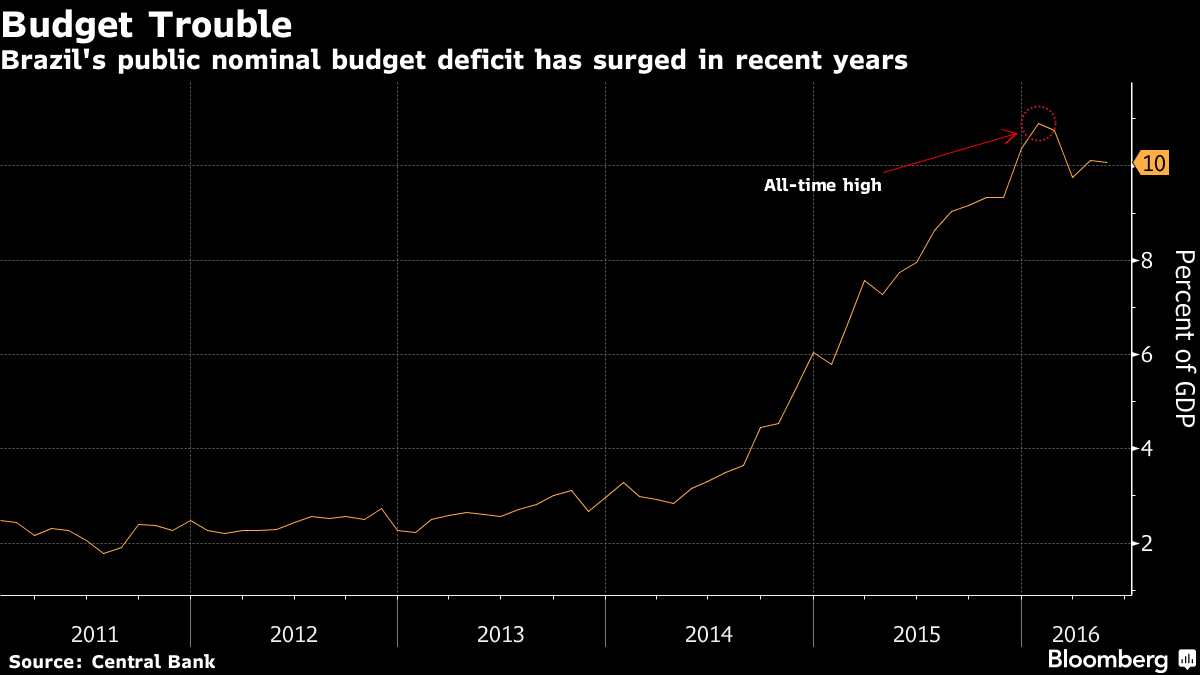 Temer says that since he will not seek reelection in 2018 he is free to pursue tough reforms such as cutting pensions and deregulating the labor market. If he fails, it could spell deeper turmoil, frustrating financial markets and voters. Critics sympathetic to his aims say he is already wavering.
"If the economic problems and political disenchantment worsen, the only candidates who will have a chance in 2018 won't be career politicians," Senator Romero Juca, one of Temer's closest allies, said in an interview. "They will be outsiders and blowhards."

Temer has wagered much of his credibility on congressional approval of a constitutional amendment to stop the growth in public spending in real terms for the next 20 years. Future government spending would be capped at the previous year's rate, adjusted for inflation.
While that bill may prove a tough sell, cuts to pension benefits he plans to pursue immediately afterwards could generate even more of a public backlash.
Temer aides say he is acutely aware of the tightrope he must walk to please investors expecting fiscal reform while reassuring a disillusioned electorate facing economic pain. It would be hard to imagine "that we're such a stupid government to come to power to restrict workers' rights," Temer said on Sept.14, adding that he had no intention to divide the country.
But few on Brazil's left are heeding Temer's call for unity or engaging in much soul-searching. They argue that the rule of the Workers' Party came to an end not because it lost a battle of ideas at the ballot box, but because it was unjustly overthrown in an unconstitutional coup when President Dilma Rousseff was impeached.
"We need to go against what they are doing," Senator Paulo Paim of the Workers' Party said of the government. "We need an energizing narrative that combats this discourse that seeks to destroy people's rights."
What makes Temer's belt-tightening agenda particularly difficult to sell is that many of the 40 million people who emerged from poverty during the decade of the commodity boom ending around 2012 are losing their grip on the status symbols of a middle class life, whether a car, a house or access to college. Nearly one in four households have some debt overdue, according to the National Commerce Confederation.
The reforms planned by Temer could require choosing between an additional 10 years of work or the erosion of labor benefits, making them a tough sell, says Mauro Paulino, executive director of the Datafolha polling firm.
"The middle class that began relishing new benefits is now tasting the bitterness of losing them," Paulino said in an interview. "If purchasing power continues to fall and unemployment to rise, there's no publicity campaign that will hold back a revolt."
Much of Brazil's social welfare state goes back to the 1940s, the days of President Getulio Vargas, and detailed benefits are written into the constitution, including the prohibition to cut wages or fire civil servants. Rural workers are guaranteed a pension while contributing little or nothing to the system.
"Brazil's constitution grants many rights and few obligations," said Cristovam Buarque, a former education minister. "Greece had to reduce wages. I doubt we could change the constitution to do that without a revolution."
Before it's here, it's on the Bloomberg Terminal.
LEARN MORE