Cars
The Paris Motor Show Is Light on Luxury, Heavy on Green Cars
You won't see Lamborghinis or even Fords, but here's a preview of what's coming at the biannual event.
By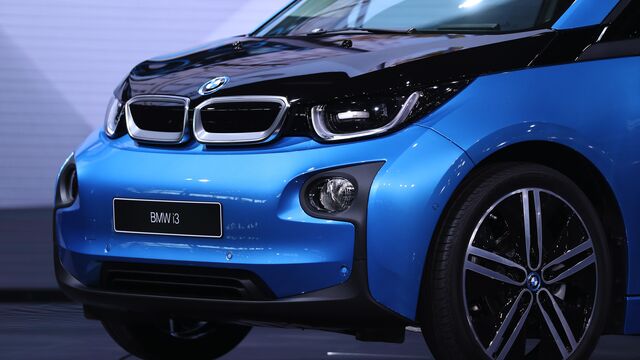 In 2014, no fewer than 1.25 million people filled the Paris Motor Show floor to ogle the latest from Bugatti, BMW, Maserati, and Mercedes-Benz during the first week in October. The biennial show was the industry's most populated event that year.
If those people return, they will likely be disappointed.
This year, fewer marques than ever in modern times will devote the time and considerable expense to attend this weekend's Parisian debuts. To them, in an era when social media and live video feeds disseminate new-car images and information instantaneously worldwide, it just isn't worth it. And for ultra-luxury brands, their best buyers never really frequented car shows anyway.

"At the moment we are revising our strategy at international motor shows, considering the positioning of our brand and the market in which we operate," said Stefano Domenicali, the chief executive officer of Lamborghini, in an e-mail. "We are choosing thoroughly how to present ourselves to clients, media, and enthusiasts, including the choice of the right locations [where] we want to be." 
Stephanie Brinley, an senior automotive analyst for IHS Markit research firm, said it's a question of fluctuating priorities and timing. The strategy started during the recession when some automakers missed shows to save money—and face, if they didn't have much to market—because the market was in turmoil. Since then, the internet and social media have created fundamental changes in the way people consume news and content related to their hobbies, which means that the once-temporary trend has continued.

"Automakers are beginning to weigh presence at auto shows differently," Brinley said. "If they do not have big news, they may choose not to spend the effort to hold a press conference simply to be there. If they have big news that they think might be overshadowed by someone bigger, sometimes doing something at a different time may get more media attention."
What to Expect in Paris: Green Tech and SUVs
That doesn't mean that there will be nothing to see in Paris next week—the consensus this year is that the most hype will surround green energy sources, especially those that will allow consumers to keep their habit of buying crossovers. 
"Crossovers and vehicle electrification are again expected to be key reveals at the event," said Ian Fletcher, the principal analyst for IHS Markit. "The key trends are being determined by a combination of consumer demand—in terms of the number of crossovers being revealed—and legislative emissions factors, through a focus on electrification."
To wit: BMW will show its new 3 Series Gran Turismo four-door, the new electric i3 and i8 Protonic Dark Silver special edition model, and a C evolution e-scooter aimed at commuters who want the ultimate battery life and range. It'll also show an X2 Concept SUV that is expected to go into full production late next year.

Mercedes will show the excellent and aggressive AMG GT R, AMG GLC43 Coupe, GLC350e Coupe, AMG GT and GT C Roadster; it'll also show an EV concept the automaker calls "a concrete vision of a totally new generation of vehicles with battery-electric drive." Daimler's Smart brand will reveal the electric drive variants of its ForTwo and ForFour models.
German counterparts Porsche will come with a Panamera hybrid variant, while Audi will have an A5 Sportback, S5 Sportback, the high-performance RS variant of the TT, and a Q5 SUV to introduce.

Hailing from across the pond, Bentley will show just the new diesel variant of its Bentayga—which won't be available in the U.S.—and Land Rover will unveil the new Discovery SUV, photos of which it has already leaked to semi-lackluster reception.  
Tesla, too, will capitalize on the need for green speed, showing P100D editions of its Model X and Model S for European markets. Lexus will show the UX SUV concept it leaked photos of last month, which is expected to have 3D driving and hologram components that would be novel for the Toyota-owned brand.
Are the Shows Worth It for the Luxury Class?
As one of the few high-end brands to show, Ferrari is sure to hog a lot of the spotlight with its new LaFerrari Aperta and GTC4 Lusso slated for the stand. And it should be noted that Lamborghini did send a few reps to the annual Volkswagen Group media reception the evening before the opening of the show.

But such big luxury brands as Rolls-Royce, Aston Martin, Maserati, Cadillac, McLaren,Fisker, Genesis, Lamborghini, and Bugatti are skipping the show altogether. (That's in addition to mass brands such as Ford, Mazda, and Volvo, among others, that will not attend.) Instead, they're doing small consumer and VIP press events in intimate, exclusive, and exotic locales.
"For Rolls-Royce Motor Cars, it's all about engaging our clients on their terms and locations," said Fintan Knight, the global director of sales and marketing for Rolls-Royce. "We are increasingly engaging our clients and prospective clients in exclusive encounters in places where they live and play, like Porto Cervo, Ibiza, and Pebble Beach. While at times global motor shows and the pageantry that surrounds them may be the proper venue, the 2016 Paris Motor Show is not in our plans."
The Social Media Effect
Those new methods utilize social media and Internet channels to achieve the same effect that auto shows used to provide for big debuts. Plus, the modern-day oversaturation of news coverage of motor shows actually obscures key product activities and announcements—so automakers unveil their models months before the public event at parties such as those at the Pebble Beach Concours d'Elegance—if those important and exciting models aren't leaked even earlier, that is.

It highlights the underlying question to all this, which is whether car shows, which require millions of dollars and months to plan, are even worth attending at all, ever. Or are they becoming like runway fashion shows—an expensive ego boost for a brand but increasingly superfluous and even annoying for those editors, stylists, and buyers whose jobs actually depend on them.
Most insiders say it's not quite to that level yet. But things do seem to be heading that direction.
"Auto shows will remain relevant—they are just no longer the only choice and may not always be the best choice, depending on what the automaker is looking to communicate," Brinley said. "I believe we will increasingly see automakers come in and out, be there in years when it makes sense and sit out other years."
Lamborghini's Domenicali agreed.
"The world is continuously changing," he said. "Lamborghini as a visionary brand of luxury super sports cars, operating internationally in a niche market, intends to anticipate these changes."
Even, these days, if that means skipping a car show every now and then.
Before it's here, it's on the Bloomberg Terminal.
LEARN MORE