Nippon-Techint Said Sticking It Out Amid Brazil Split Rumors
By and
No formal talks currently under way to end 2012 pact: sources

Shares have surged about 90% as steel gains help stem losses
With its share price almost doubling amid declining losses, Usiminas's bickering joint controllers have more reason than ever to keep the Brazilian steelmaker together.
While local newspapers including Estadao have reported that Techint Group and Nippon Steel & Sumitomo Metal Corp. are looking to cut ties and divvy up the assets, no formal talks are currently under way to end the partnership, according to people familiar with the companies. And if they were to change their minds, any such split would take as long as two years to complete, the people said, asking not to be identified because the matter is private.
Speculation that an asset split was looming intensified earlier this year as Techint and Nippon Steel feuded over how to contend with slumping demand and the merits of a debt-restructuring arrangement that was conditioned on a 1 billion-real ($309 million) capital increase.
While the two shareholders remain at loggerheads over management changes, the chances of ending the partnership may be diminishing after a rebound in steel prices helped spur its first positive earnings before items in more than a year and its shares surged about 90 percent in the past six months. Both owners declined to provide comments for this story.
One benefit of keeping Brazil's largest maker of flat steel intact is "to maintain market share for if and when the market improves," Paschoal Paione, an equity analyst with Votorantim, said by telephone Tuesday from Sao Paulo. The company's iron-ore and port assets also help contain costs, he said.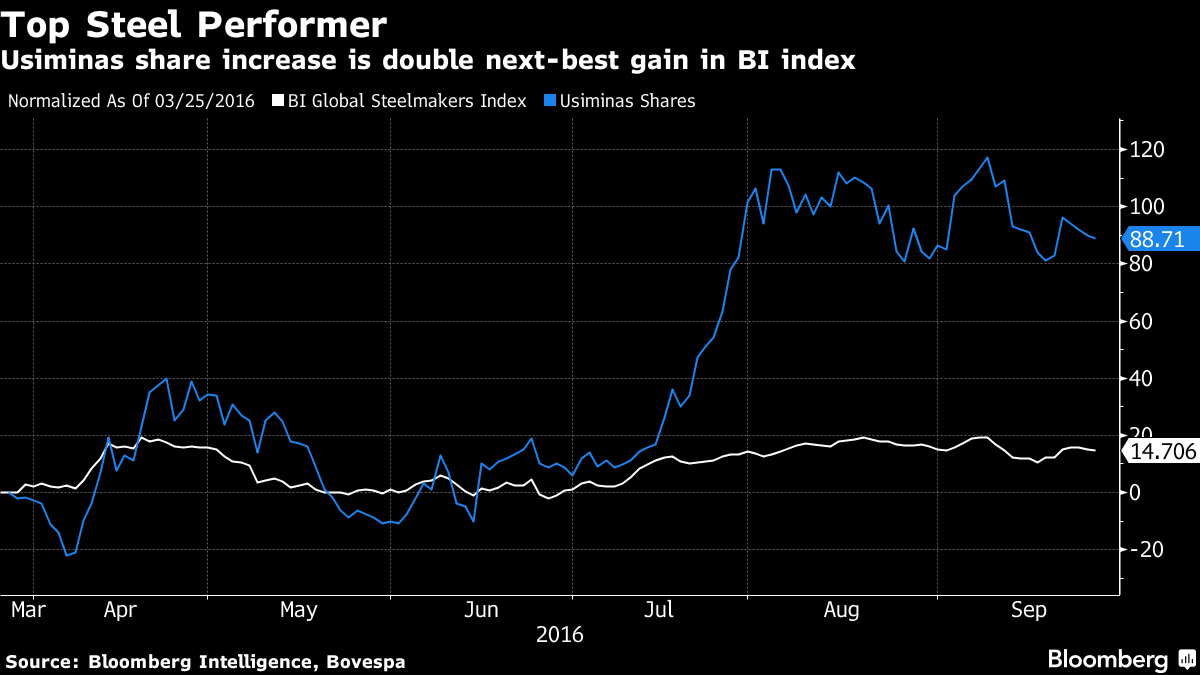 After Techint and Nippon Steel agreed to run Usiminas jointly in 2012, a row between the two emerged in 2014 when Chief Executive Officer Julian Eguren and two other Techint-backed officials were pushed out. The board then appointed Nippon-backed Romel de Souza on an interim basis before Sergio Leite took the helm in May. Leite's appointment is being disputed by Nippon Steel for allegedly violating the shareholders' pact.
Last month, Reuters reported that Nippon Steel was working on a Usiminas split plan and seeking financial and legal advisers. While the Japanese company has held internal discussions regarding a split, it hasn't decided to pursue the option, a person with knowledge of the matter said.
Click here for analysis of share performance since Leite took the helm
Pablo Brizzio, chief financial officer of Techint's steel-making unit Ternium SA, said during a conference call last month that splitting up the company formally known as Usinas Siderurgicas de Minas Gerais SA isn't something the group is considering at the moment.
The depth of the discord between Techint, owned by billionaire Paolo Rocca's family, and Tokyo-based Nippon Steel is such that the two shareholders don't even agree on who first proposed the option of splitting up Usiminas assets. When asked to comment, both sides insisted it was the other who first broached the subject.
Before it's here, it's on the Bloomberg Terminal.
LEARN MORE