politics
Trump Allies Move to Stem Damage From Strong Clinton Debate
By and
Early reviews from markets and voters rate Clinton better

Trump doubles down on criticism of Latina pageant winner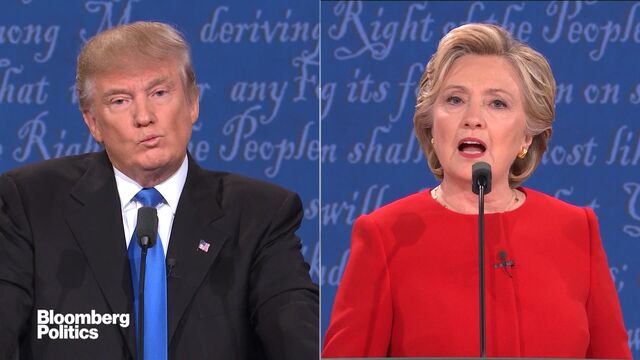 Republican presidential nominee Donald Trump's team scrambled Tuesday to stem political damage from his first debate with Democrat Hillary Clinton as he claimed unfair treatment and renewed his criticism of a Latina pageant contestant that had drawn attacks from Clinton.
Both global financial markets and everyday voters in polls said Clinton carried the day in their early reviews of the highly anticipated showdown.

Trump's aides tried to spin the night as a win even as a CNN poll showed that 62 percent of voters who watched said Clinton won the debate compared to 27 percent for Trump.
Risk appetite improved in the debate's immediate aftermath as traders judged that the possibility of a Trump presidency was receding, with the Mexican peso surging against the dollar as havens from gold to Treasuries retreated.
Personal Attacks
The debate quickly got personal on the stage at Hofstra University in Hempstead, New York, on Monday, as Trump, 70, accused Clinton, 68, of staying home while he campaigned and Clinton questioned his wealth, charitable giving, and whether he pays any federal income tax.
Trump's attacks ran out of steam as the night wore on, while Clinton saved some of her best lines for the end of the 90-minute session. She batted back Trump's claim that she lacked the "stamina" to be president and reminded viewers of some of Trump's most critical words about women and minorities.
"She has become a U.S. citizen," Clinton said of a Latina beauty-pageant participant Trump once called "Miss Piggy" and "Miss Housekeeping," and "you can bet she's going to vote."
Trump said that he could have made "nasty" comments about Clinton's family but that he chose not to. He said afterward that he "didn't want to do my final attack" on former President Bill Clinton, "on what took place with respect to him and his life and all of the things that took place," because the Clintons' daughter, Chelsea, was in the room.
'Massive Amount of Weight'
Trump in a Fox News interview Tuesday acknowledged that Clinton may have gotten under his skin by mentioning the pageant contestant.
"She was the worst we ever had," Trump said about the pageant contestant. "She was the winner and she gained a massive amount of weight, and we had a real problem." The contestant also had a bad attitude, Trump said.
Similar comments about women by Trump have found their way into Clinton TV ads because of the key role female voters -- especially suburban women -- play in the election.
While there are some signs Clinton's margin with women has eroded in the past few months, she continues to lead among them, getting 52 percent support to Trump's 39 percent in a Bloomberg Politics poll of likely voters published Monday. Her margin among suburban women is similar, according to the poll.
The pageant contestant, Alicia Machado, didn't immediately respond to an e-mail seeking comment about her name coming up in the race. She thanked Clinton in a tweet on Monday night.
Trump said he thought the debate "went really well" overall but blamed moderator Lester Holt for "hostile questions" and said his own microphone was faulty.
"It was on and off and it was much lower than hers," Trump said. "I don't want to believe in conspiracy theories but it was much lower than hers and it was crackling."
An upbeat Clinton told reporters Tuesday morning that the debate showed the "clear differences" between her and Trump and that she was looking forward to the next two rounds.
Drawing Conclusions
"I think his demeanor his temperament his behavior on the stage could be seen by everybody and people could make their own conclusions," she said on her campaign plane before leaving for a rally in the battleground state of North Carolina. "Anybody who complains about the microphone is not having a good night."
Immediately following the debate, Trump campaign manager Kellyanne Conway sought to downplay the importance of the face-off.
"Debates are fine, but I think what's most important is who is out there with people showing that they're not hiding behind a podium or in a fundraiser with donors or wherever they may be on many days off," she told reporters at Hofstra.
Conway said Trump showed restraint in the final moment of the debate by not responding to his opponent's "specious, gutter political attacks, partisan negative attacks about him and women" by criticizing her husband while their daughter was present.
"Restraint is a virtue, and restraint is certainly a presidential virtue," Conway said.
Battleground States
Both candidates headed out to some of the swing states that will be crucial on Nov. 8. Clinton headed to North Carolina, while Vice President Joe Biden and Bill Clinton were set to appear at separate events for her in Pennsylvania and Ohio. Trump was spending the day in Florida.
Colony Capital founder Tom Barrack, a Trump backer who spoke on his behalf at the Republican National Convention, lauded Clinton's performance Monday night.
"She's a superb debater, she was incredibly well prepared, she was composed, she didn't get riled, and she baited him beautifully," Barrack said Tuesday on Bloomberg TV.
Clinton has had years of political experience while Trump is new to politics and he missed a lot of opportunities, Barrack said.
But, Barrack added, Trump turned in a performance that pleased his political base and few voters should be expected to move one way or another as a result of the debate.
On Capitol Hill, several House Republicans said Trump let pitches go by, while Speaker Paul Ryan said the nominee showed that for 90 minutes "he can go toe to toe" with Clinton.
Mexico, Canada
U.S. stock index futures rose with equities in Asia and Europe immediately after the debate. Canada's dollar also strengthened. Losses among carmakers, energy producers, and banks later damped the global stocks rally.
The Mexican and Canadian currencies have both shown sensitivity to Trump's improving poll position in recent weeks as the Republican nominee promises to make American's southern neighbor pay for a border wall and to renegotiate the North American Free Trade Agreement or possibly withdraw from it.
"Had Trump been stronger then maybe we would have seen a stronger downside reaction in the market," said Jasper Lawler, an analyst at CMC Markets in London.
Poll Trends
In addition to the CNN poll -- which found Clinton's ratings comparable to Republican Mitt Romney's after his strong first debate with President Barack Obama in 2012 -- a survey by the Democratic firm Public Policy Polling found more debate watchers considered Clinton the winner.
"Although the survey suggested debate watchers were more apt to describe themselves as Democrats than the overall pool of voters, even independents who watched deemed Clinton the winner, 54% vs. 33% who thought Trump did the best job in the debate," CNN polling director Jennifer Agiesta wrote.
These post-debate polls are methodologically similar to traditional election surveys unrelated to debates, in contrast to, for example, online reader polls on news websites. Trump on Tuesday heralded several surveys of the latter type that showed him winning the showdown.
But post-debate polls like CNN's focus on voters who watched, not likely voters overall, and any longer-term changes in public opinion of the race as a result of the debate remain to be seen. Indeed, Trump's poll numbers rose on his way to capturing the Republican nomination even as his opponents sometimes shone brighter in the primary-debate spotlight.
Clinton's national polling lead narrowed this month after a strong summer. She's ahead by an average of 1.6 percentage points when third-party candidates are included, RealClearPolitics said Tuesday.
The election forecaster FiveThirtyEight gave Clinton a 55.5 percent chance of winning the Nov. 8 election in its polls-only model Tuesday, down from 89.2 percent in mid-August.
—With assistance from Jennifer Jacobs, Justin Sink, James Regan, Jennifer Epstein, Lukanyo Mnyanda, Ben Brody, Billy House and Erik Wasson.
(
Updates with Clinton's remarks in 16th, 17th paragraphs.
)
Before it's here, it's on the Bloomberg Terminal.
LEARN MORE