Pro Sports Leagues Fly the Rainbow Flag
U.S. leagues are embracing their LGBT fans—and their $1 trillion in purchasing power.
By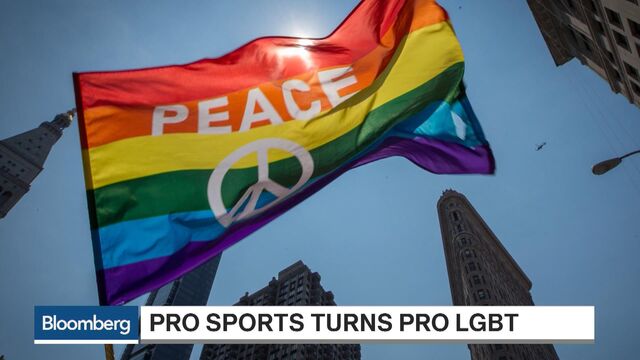 A rainbow flag unfurled during the national anthem at a D.C. United soccer match in August was a signal to Robert York that the team was throwing out the welcome mat to people like him. "It was a powerful symbol," says York, a lifelong soccer fan who's gay. "It's about the fact that love wins overall, more so after what happened in Orlando," he says of the June 12 shooting at Pulse nightclub that killed 49 people.
Professional U.S. sports leagues, long seen as a bastion of homophobia, are increasingly sending the message that lesbian, gay, bisexual, and transgender fans are welcome at the ballpark. So far this year, about three dozen professional baseball, soccer, and women's basketball teams have hosted pride nights, inviting members of the LGBT community to throw first pitches or participate in coin tosses, handing out commemorative merchandise, and donating a portion of ticket sales to LGBT causes.
"From the NBA standpoint, this is a core value and a core strategy of how we are running our business and ultimately growing the game,'' says Oris Stuart, the NBA's chief diversity and inclusion officer. More teams will be hosting such events in the coming season, he says. The NBA's Orlando Magic will honor the victims of the Pulse shooting at their home opener on Oct. 26 and is planning a pride night for later in the season. The Detroit Regional LGBT Chamber of Commerce will host its second pride event Oct. 23 at Detroit's Ford Field, when the NFL's Detroit Lions host the Washington Redskins. Just two years ago, such gestures were rare.
"With respect to the LGBT community and where society is today, it totally makes sense that teams are being more proactive and reaching out," says Jessica Berman, vice president for special projects and corporate social responsibility at the NHL. At least half of all NHL teams will host LGBT nights as part of a diversity week in late February. The league partnered in 2013 with the group You Can Play, which promotes LGBT sports participation, and in the 2015-16 season, Berman says, nine teams hosted pride nights.

The efforts are a positive change from the past, says former baseball outfielder Billy Bean, who retired from playing in 1995 and came out as gay in 1999. "Sometimes doing the right thing is not the easy thing, but I'm still in awe of the progress we've made," he says. "If there was a pride night when I ran onto a big league field, if I had seen that, it might have changed my whole life."
MLB hired Bean in July 2014 to serve as its first ambassador of inclusion. As part of the job, he travels across the country educating teams about the LGBT community and attends pride events at ballparks. In 2016 he visited the Tampa Bay Rays' Tropicana Field shortly after the Orlando shooting, as well as Wrigley Field, home of the Chicago Cubs, and the Toronto Blue Jays' Rogers Centre, among others.
LGBT fans have almost $1 trillion in purchasing power, according to an annual survey by Witeck Communications, a consulting firm that focuses on the gay-and-lesbian market. "Sports teams depend on fan lifeblood, and a growing share of LGBT total spending means more money to fill seats, buy swag, and cheer themselves hoarse," says founder Bob Witeck. Sports marketers can't ignore this option, he says.
Ticket sales were about 7 percent above average for a pride night held by the WNBA's New York Liberty in June, says Kristin Bernert, senior vice president for business and basketball operations for the team, which held its first such event in 2012. "A lot of our fans are from the LGBT community, so we're recognizing and celebrating that," she says. Each of the dozen WNBA teams hosted pride nights during the 2016 season.
The leagues' outreach has met with some predictable hostility. The comments posted to videos produced for pride events are filled with homophobic slurs and insults. Similar messages are shared on social media. "Out on the Fields," a survey of 2,064 lesbian, gay, bisexual, and straight Americans conducted on behalf of an international coalition of LGBT sporting groups in partnership with Australia's government, found that homophobia is more prevalent in sports than in society at large. The problem prompted former NFL player Wade Davis, together with a researcher at the University of Alberta's Institute for Sexual Minority Studies and Services, to create the website NoHomophobes.com to track homophobic slurs on Twitter in real time. Davis, who came out in 2012, years after he retired from the NFL, says the site's data show an increase of homophobic posts during sporting events.
"We're trying to get it to the point where every team does an LGBT event either at a game or elsewhere,'' says Davis, who's also executive director of You Can Play. The NFL has granted Davis's group funds to stage four to five LGBT events this season.

To keep the pressure on sporting arenas, Athlete Ally, an advocacy group whose mission is to end homophobia in sports, is developing tolerance ratings for 127 venues based on several factors, including whether the stadium has held a pride night and if it makes accommodations for transgender people. "The reality is that fans travel for their team and they will want to know if a venue is welcoming to them," says founder Hudson Taylor.
Despite the efforts, pro sports still aren't seen as inclusive, he says. The number of stadiums and fields that haven't yet hosted a pride night outnumber those that have. "Pride nights are amazing and important and powerful, but they are only one game out of a season," Taylor says. His group encourages venues to institute fan codes of conduct that prohibit homophobic slurs and ensure the facilities also are welcoming to transgender visitors.
JoAnn Neale, Major League Soccer's chief administrative officer, says her league's goal is to create what she calls a "safe place" for everyone, fans and athletes alike, by not tolerating any discrimination at the stadium. MLS rules prohibit homophobic slurs. D.C. United fan York believes LGBT viewers will respond positively to the leagues' efforts. Almost 900 gay fans and their supporters, waving rainbow-colored scarves made for the D.C. United pride event, cheered the team on at RFK Stadium. The Gay Men's Chorus of Washington DC sang the national anthem. Says York: "It was a great night for sports and for visibility for LGBT sports fans."
The bottom line: Pro sports leagues are hosting pride nights to welcome LGBT fans and tap into their purchasing power.
Before it's here, it's on the Bloomberg Terminal.
LEARN MORE