Hillary Clinton and Her Top Allies Plan Post-Debate Blitz
By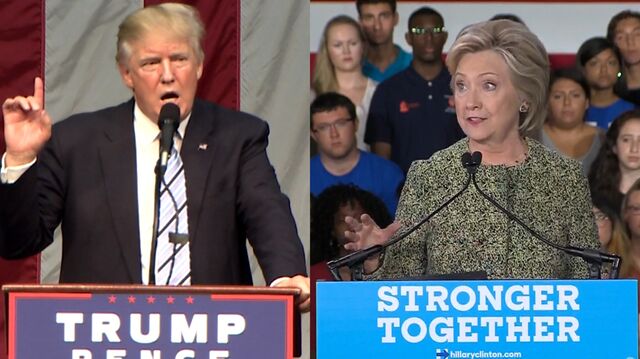 Hillary Clinton and her top surrogates -- including her husband, former President Bill Clinton, and first lady Michelle Obama -- plan to fan out to a handful of battleground states in the days following Monday's first presidential debate in a sign of force aimed at getting more Democrats to the polls.
They plan to visit Florida and Pennsylvania repeatedly, with fewer stops in other key states up for grabs and just one visit to Ohio. They have no scheduled trips next week to Colorado, Nevada, or Virginia.
QuickTake Q&A: The First Debate
Clinton will travel to North Carolina on Tuesday, New Hampshire on Wednesday, Iowa on Thursday, and Florida on Friday, her campaign said Saturday. She also has fundraisers planned in battleground states or nearby cities each day next week. Republican nominee Donald Trump's team hasn't yet previewed his plans for next week.
Clinton's post-debate push coincides with National Voter Registration Day on Tuesday, which her campaign plans to use as an opportunity to work toward its goal of signing up 3 million additional voters.
While Clinton herself won't be going to Ohio, Bill Clinton will be there on Tuesday. He's also planning a Friday bus tour in Florida. Vice-presidential nominee Tim Kaine will be in Florida on Tuesday.
The Clinton campaign didn't preview any travel for President Barack Obama, whose aides said this week he will begin hitting the trail at least once a week. Vice President Joe Biden will be stumping for Clinton in Philadelphia on Tuesday. Michelle Obama will visit Philadelphia and Pittsburgh on Wednesday.
The Clintons' daughter, Chelsea, will be in North Carolina on Wednesday and Wisconsin on Friday. Kaine's wife, Anne Holton, will be in Michigan on Tuesday and Wednesday, Iowa on Thursday, and Wisconsin on Friday.