American History Is Glorious, Messy, Obama Says at Museum Debut
By , , and
First national museum of black experience opens in Washington

Bipartisan gathering draws Ryan, Pelosi, seated side by side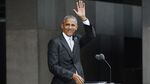 The American struggle to celebrate progress while pushing for more equality and opportunity is also the story of black America, President Barack Obama said in a sweeping address at the opening of the Smithsonian's National Museum of African American History and Culture.
"That's what this museum is about. I too am American," Obama said on Saturday. "It is a glorious story, the one that is told here. It is complicated and messy and full of contradictions, as all great stories are."
Obama's speech comes as the city of Charlotte, North Carolina, is roiled by unrest following the police shooting of a black man they said had a gun, whom others say was unarmed. That incident was the latest in a string of deaths of black men at the hands of law enforcement that's sparked national protests, retaliatory strikes against those who enforce the law, and the Black Lives Matter movement.
The president said his hope was that the museum on Washington's National Mall, and its thousands of artifacts chronicling centuries of black oppression and perseverance, would show all Americans that "even in the face of unimaginable difficulty, America does move forward."
'Pain and Anger'
"Perhaps it can help a white visitor understand the pain and anger of demonstrators in places like Ferguson and Charlotte," Obama said. "But it can also help black visitors appreciate the fact that not only is this younger generation carrying on traditions of the past, but within the white communities across the country we see the sincerity of white law enforcement officers."
The museum, the president said, "shows context for the debates of our time."
Obama's audience included House Speaker Paul Ryan, a Republican, seated next to a predecessor, Representative Nancy Pelosi, a Democrat, as well as former Presidents Bill Clinton and George W. Bush. Both parties' presidential nominees, Hillary Clinton and Donald Trump, were absent.
Racial issues have been a source of tension for Obama throughout his two terms in the Oval Office, as the nation's first black president has sought to reconcile efforts to unify the country with persistent disparities in living standards and within the criminal justice system.
Reticent on Race
Obama created controversy in 2009, early in his first term, when he said a police officer "acted stupidly" by arresting Harvard University professor Henry Louis Gates, Jr., who is black, at his home in Cambridge, Massachusetts. After that, Obama seemed reticent to wade publicly into issues of race, drawing criticism from some civil rights leaders.
That changed after the nation was rocked by incidents including the 2012 killing of Trayvon Martin, an unarmed black teenager shot in Florida by a neighborhood watch coordinator ultimately acquitted of murder charges. Protests also erupted in Ferguson, Missouri, after the 2014 police-involved shooting of black 18-year-old Michael Brown, and in Baltimore in 2015 after 25-year-old Freddie Gray died while being transported in a police van.
In recent years, Obama has met with leaders of the Black Lives Matter movement and spoken in detail about how he empathizes with blacks profiled by law enforcement. The father of two daughters, Obama memorably said in a White House Rose Garden address that if he had a son, the boy would look like Martin, and discussed instances where he had been racially profiled.
'See Each Other'
Obama said the museum would not "eliminate gun violence from all our neighborhoods or immediately assure justice is colorblind," and that given how recent Jim Crow laws and other discriminatory policies are, the nation "shouldn't be surprised not all the healing is done."
"Hopefully this museum makes us talk to each other," he said. "And more importantly listen to each other. And most importantly see each other."
The museum occupies what was the last swath of open land on the National Mall between the Washington Monument and the U.S. Capitol. Created by an act of Congress in 2003, it's the only national museum devoted solely to documenting the life, history and culture of blacks in the U.S.
Unlike its alabaster-toned neighbors, the museum's three-tiered facade is covered with 3,600 ornate bronze-colored cast aluminum panels. Each layer of its exterior corona is wider at the top than at the bottom, opening toward the sky, its filigreed panels allowing light to pass through its external walls.
37,000 Artifacts
Lead designer for the project was David Adjaye, the son of a Ghanaian diplomat. Philip Freelon was the lead architect. The 400,0000-square-foot building was built at a cost of $540 million, half sourced from federal funds and the remainder by the Smithsonian.
Obama also spoke at the 2012 groundbreaking, when he called the project "a monument for all time" and an institution that would serve "not just as a record of tragedy, but as a celebration of life."
It is the 19th and newest in the Smithsonian Institution. The 37,000 artifacts, of which about 3,000 are on display, chronicle the civil rights movement, life in the American south and west, education, politics, segregation and slavery. Among those relics are auction notices and other documents attesting to the ownership of some humans by others.
Toppling Segregation
U.S. Supreme Court Justice John Roberts on Saturday recounted for the audience his institution's mistaken role in maintaining legalized segregation before ultimately toppling it, and said the museum would allow visitors to effectively meet some of the people who were on losing end of those landmark rulings.
Bush, who signed the legislation authorizing the museum's construction, told those gathered that the museum showed America's commitment to truth and capacity to change. "A great nation doesn't hide its history," he said. "It faces its flaws and corrects them."
Speakers at Saturday's ceremony also included American Express Co. Chairman Kenneth Chenault, entertainment mogul Oprah Winfrey, and actors Will Smith, Angela Bassett and Robert De Niro.
Democratic Representative John Lewis of Georgia, a civil rights leader who wrote the enabling legislation later co-sponsored by then U.S. Senator Sam Brownback -- a Republican who's now governor of Kansas -- called the museum "a dream come true." Brownback also attended the opening.
"As long as there is a United States of America, now there will be a National Museum of African American History and Culture," said Lewis. "There were some who said it couldn't happen, you can't do it, but we did."