Real Estate
Why Aren't We Building More Mobile Homes?
Manufactured housing could ease the affordability crisis.
By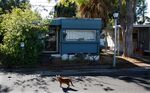 People in West Virginia accepted delivery of a little more than 1,000 mobile homes last year, according to census data. Over the same period, homebuilders obtained permits to build about 2,000 single-family homes. In other words, roughly one in three homes added to the state's housing stock last year was a mobile home.