Stuck Congress Flirts With Shutdown Nobody Wants or Expects
By and
Democrats angry over McConnell's decision to deny Flint funds

OMB starts preparations for closing government functions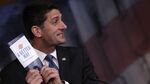 In seven days, Congress will hit a deadline for avoiding a government shutdown that no lawmakers say they want.
Not to worry, Republican leaders insist. After all, if everyone follows the script, lawmakers will cobble together a last-minute deal that leaves everyone grumbling as they head home to hit the campaign trail.
But for now, Senate Majority Leader Mitch McConnell and House Speaker Paul Ryan -- after weeks of saying they were hopeful of reaching a no-drama deal with Democrats and the White House to keep the government funded until after the elections -- still don't have a deal. Government funding runs out on Sept. 30.
McConnell's move Thursday to introduce a "clean" GOP-authored bill funding the government through Dec. 9 incensed Democrats because it excluded $220 million sought for months by Democrats for Flint, Michigan's lead water crisis -- but did include $500 million sought by Republicans and some Democrats for floods in Louisiana and other states.
Democrats, sensing leverage with a passel of vulnerable Republican senators facing the voters in November, have also demanded eliminating an existing provision blocking the Securities and Exchange Commission from requiring corporations to disclose their political spending.
McConnell has trouble in his own conference. Some lawmakers are angry that the Kentucky Republican backed down on demands from conservatives to block a U.S. plan to hand over management of internet domain names to an international consortium.
Lindsey Graham of South Carolina also announced Thursday that he'll oppose his leader's plan because it fails to lift the Senate Republicans' blockade on deals worth more than $10 million at the U.S. Export-Import Bank. There's already a $20 billion backlog of export deals being held up, according to the bank.
And even if the bill makes it through the Senate, it still has to be passed in the House, where conservatives are already chafing over McConnell's compromises.
Vote Timing
A procedural vote on the McConnell plan is scheduled for Tuesday afternoon, giving time for senators to digest Monday night's presidential debate and the weekly partisan Senate strategy lunches.
The White House Office of Management and Budget announced Friday that the federal government is starting to gear up the machinery for shutting down nonessential functions.
Josh Earnest, the White House press secretary, said Friday that it's still too early to panic about a shutdown, but that Congress has more work to do.
"It's not at all clear to me that the president is prepared to sign this bill," he said after meeting with President Barack Obama in the Oval Office, in remarks that fall short of a veto threat.
Unless the Senate can advance the stopgap measure on Tuesday, the chamber's rules make it tough to enact a different spending package by the Sept. 30 deadline without the cooperation of every senator.
Gambler McConnell
In a game of high-stakes shutdown poker, McConnell appears to be gambling that the Democrats will have a hard time justifying voting to shut down the government over Flint and the obscure SEC disclosure rule.
McConnell's decision not to include the Flint provision is curious to Democrats given the Senate had just voted 95-3 in favor of the money in a separate water resources bill.
Still, at least one Democrat broke with his party on Thursday, with Senator Bill Nelson of Florida announcing he would vote for the bill because McConnell included $1.1 billion to fight the Zika virus while dropping provisions Democrats considered to be poison pills.
Other Democratic lawmakers and aides, however, insisted they won't crack, that it's Flint or bust, and argue that Republicans will feel the heat if a shutdown happens on their watch.
"If it's September 30th, Mitch McConnell ought to be worried, because he's the person that has the members running for re-election," Senator Debbie Stabenow of Michigan said. "If I were him, I would not want to be here on September 30th."
Bystander House
Far from itching for a shutdown fight, most House lawmakers are eager to finish their work in Washington at the end of the week and focus on the stretch runs of their re-election campaigns.
That has Ryan's House looking a bit like a bystander. While some conservatives are unhappy with elements of McConnell's bill, there has yet to be a major push to pressure Ryan into a showdown with Democrats, and every expectation that the House will have to swallow what can get out of the Senate.
"I think our members realize we want to get our work done. We don't want high drama around here," Ryan told reporters Thursday. "We're working through the process. I am not that worried."
But Republican leaders have in recent years been loath to put a bill on the floor without the backing of a majority of their conference.
Members like conservative House Freedom Caucus co-founder Mark Meadows of North Carolina aren't happy with a bill that could tee up a year-end omnibus spending package or the lack of conservative riders like one that would block Syrian refugees from entering the U.S.
Advantage for Democrats
Representative Reid Ribble, a Wisconsin Republican who is not running for re-election, is among those who believe a shutdown will be avoided. But he cautions that there is no real political incentive for Democrats to cave on anything since the party that is holding the White House "usually wins" these kinds of fights over stopgap spending measures, also known as continuing resolutions.
"Ryan would not put anything on the House floor that doesn't have a majority of Republicans supporting it -- recognizing that with any CR there are a lot of conservatives that wouldn't vote for it out of pure principle," he said.
The proposal also doesn't contain items that Representative Bill Flores of Texas, chairman of the 170-member conservative Republican Study Committee, said he wanted in any such short-term bill, including language "to stop Obama's internet giveaway."
Meadows complains that Democrats are getting some things they want.
"There is a frustration that Senate Democrats are setting the negotiations on the premise of several unacceptable options -- not even accepting a short-term clean CR which has previously been their fallback position in previous fiscal years," he said. 
"There is a belief that they are not operating in good faith," he added.
A source of aggravation for some conservatives is a perceived Democratic victory over a provision related to Planned Parenthood. Under the stopgap measure, the group would be able to access some of the funding to combat the mosquito-borne Zika virus that's linked to birth defects in pregnant women. 
Republican Representative Trent Franks of Arizona, chairman of the House Pro-Life Caucus, said he wants to take a close look the McConnell proposal before deciding whether he'd support it. But Franks said he couldn't back any plan that will provide funding to Planned Parenthood.