Osborne Says U.K. Voters Didn't Support 'Hard Brexit' From EU
by
Former chancellor says U.K. shouldn't be run from 'extremes'

Osborne says in Chicago speech that deal will mean compromises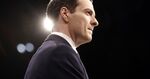 Former U.K. Chancellor of the Exchequer George Osborne warned against the U.K. signing up for a "hard Brexit," arguing that is not what voters backed in June's referendum on membership of the European Union.
"We need to resist the false logic that leads from exiting the EU to exiting all forms of European cooperation -- and that values the dangerous purity of splendid isolation over the practical necessity of cooperation in the real world," Osborne said in a speech in Chicago late on Thursday. "Brexit won a majority. Hard Brexit did not."
Speculation has mounted that some in Prime Minister Theresa May's government are pushing for a so-called hard Brexit which would involve surrendering access to the EU's single market for trade and services in return for securing control over immigration and contributing no more money to the bloc's budget.
"The mainstream majority in our country do not want to be governed from the extremes," said Osborne, who campaigned not to leave the bloc and was fired when May became premier.
"We need to be realistic that this is a two-way relationship: that Britain cannot expect to maintain all the benefits that came from EU membership without incurring any of the costs or the obligations," he said. "There will have to be compromise."
Osborne also said that it was right for May to say she won't begin formal exit talks this year.
"She is right that we need time to decide what Britain's approach to these negotiations will be before we enter into them," he said. "In any case, it is highly unlikely that the rest of Europe will be in any position to conduct serious negotiations until the autumn of next year."
Before it's here, it's on the Bloomberg Terminal.
LEARN MORE