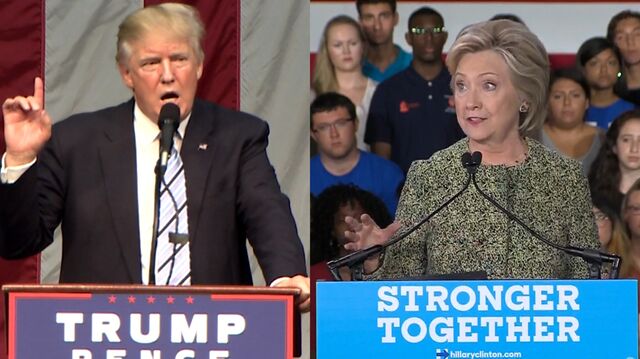 Two of the most widely disliked major-party nominees in U.S. history, Hillary Clinton and Donald Trump, should welcome any chance to change the negative impressions voters have of them. Three nationally televised debates could provide that opportunity -- or could reinforce their weaknesses. Ronald Reagan used a quip to assuage concerns about his age on his way to victory in 1984; Al Gore's sighs while debating George W. Bush struck many viewers as smarty-pants condescension. Now it's Clinton's and Trump's turns to try to spruce up their image in front of massive television audiences, certain to be in the tens of millions. The first debate is Monday at Hofstra University in Hempstead, New York.
1. What weaknesses does Clinton carry into the debate?
Trust is Clinton's biggest weakness, especially among voters under 35, a group that's supposed to be a Democratic pillar. A significant number of voters consider her corrupt and liable to change positions for political expediency. At its most basic, many voters don't like her as a person. Recent polling suggests she's also more at risk than Trump of losing potential votes to third-party candidates, particularly when it comes to millennials.
2. What might she do about them?
It's not easy to become suddenly likable -- just ask fifth graders. In her 2008 campaign for the Democratic nomination, Clinton benefited from a brief, humanizing display of emotion. A well-timed flash of humor or self-deprecation could go far. So could a direct appeal to voters considering delivering their ballot to the Libertarian or Green candidate. As for recent speculation about her health -- some of it scurrilous, some based on a bout of pneumonia -- she could benefit just by appearing physically strong and mentally agile.
3. What weaknesses does Trump carry into the debate?

His shoot-from-the-hip campaign has frightened some voters even as it built him a loyal following. He's seen as lacking the requisite experience, knowledge and temperament to be president. A remarkable number of voters see him as racist, sexist or both, and voters say Clinton is much better at understanding the problems faced by regular people.
4. What might he do about them?
The candidate who once bragged about his masculine attributes during a primary debate could help himself simply by refraining from such talk now. A dollop of empathy or a hint of deliberation could serve to show he's White House-ready. Though many voters by now are inured to factual gaffes by Trump, his knowledge of the world hasn't been tested on such a big stage. Even Gerald Ford stumbled on it.
5. What surprises might the candidates have in store?
Clinton may seek "to needle and undermine" Trump in hopes of making him "lash out in less-than-presidential ways," according to the New York Times. Trump has reportedly sought debate advice from conservative media stars Roger Ailes and Laura Ingraham. Deputy campaign manager David Bossie, a longtime critic of Clinton and her husband, Bill, is "mining past controversies" that Trump could bring up during the debate, according to the Washington Post. Despite repeated threats, Trump has never launched a full-bore attack on Bill Clinton's infidelity and Hillary Clinton's reaction to it. Maybe now will be the time.
6. How good are they as debaters?
Trump was effective and entertaining during the crowded Republican primary debates, labeling his opponents with unflattering nicknames and usually grabbing more than his share of microphone time. But he no longer will share the stage with 10 or more opponents. Unlike Clinton, a veteran of one-on-one debates, Trump is new at this format and will not be able simply to stay quiet when topics beyond his expertise are raised. Clinton's mastery of topics is assumed, but she can be ambiguous or evasive, traits that would stand out in comparison to Trump's concise bluntness. A CNN/ORC poll found that 53 percent of likely voters think Clinton will do better in the debates, versus 43 percent for Trump.
7. Can debates decide a presidential election?
In a very tight election -- Bush-Gore in 2000 comes to mind -- possibly. But since they happen so late in an interminably long campaign, debates are more apt to harden views than change minds. Even a "well-timed riposte" or "ill-timed stumble" is unlikely to have a meaningful impact on voter preferences, according to John Sides, a political scientist at George Washington University who reviewed the data in 2012. He wrote, "(W)hen it comes to shifting enough votes to decide the outcome of the election, presidential debates have rarely, if ever, mattered."
8. Who's under the most pressure?
A surprise pick: the moderator, Lester Holt of NBC News. After the way his colleague, Matt Lauer, was lambasted for his handling of back-to-back (but not face-to-face) interviews with Trump and Clinton, Holt is under pressure to press the candidates for substance, fact-check falsehoods on the spot -- and yet, somehow, not become the story.
9. When will the other debates be?
Clinton and Trump will meet again on Oct. 9 at Washington University in St. Louis and on Oct. 19 at the University of Nevada-Las Vegas. Their running mates, Virginia Senator Tim Kaine and Indiana Governor Mike Pence, will debate on Oct. 4 at Longwood University in Farmville, Virginia. 
The Reference Shelf
Before it's here, it's on the Bloomberg Terminal.
LEARN MORE