Why One Man Gave Money to the Trump Foundation
There's nothing wrong with donating to the candidate's unorthodox charity, as long as your taxes are in order.
By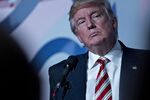 Who gives money to the controversial Donald J. Trump Foundation, and why do they do it?
Some donors are his business partners. Vince and Linda McMahon, owners of World Wrestling Entertainment, gave a total of $5 million during a period when the man who may be the next U.S. president was making appearances on WWE broadcast specials, according to Internal Revenue Service filings. WWE did pay Trump separate fees for his role on its programs.
NBC Universal, meanwhile, which aired Trump's reality show The Apprentice, donated $500,000 in 2012.
On a much smaller scale, Richard Levine, one of the Republican presidential candidate's golf partners, says he donated out of gratitude for free flights on Trump's private planes. Levine says he has flown on his friend's aircraft to Scotland, Ireland, and Palm Beach, Fla. "I've been on the old plane, and I've been on the new plane—a gazillion times," Levine said. How to thank his generous host? "I'm not going to give him a check for the plane flights, so I make a donation."
In 2012 and 2013, Levine gave a total of $20,000—more than Trump himself, who last wrote a check to his own foundation in 2008.
As the Washington Post has reported, Trump's charity has been funded by other people's money for years, a strategy that allows him to appear generous while passing along the cash of others. In its latest dispatch, the Post alleged that Trump "spent more than a quarter-million dollars from his charitable foundation to settle lawsuits that involved the billionaire's for-profit businesses," a practice that may have violated laws against "self-dealing."

Trump spokesman Jason Miller, while saying there was no "intent or motive" for Trump's foundation to make "improper payments," didn't confirm or deny the Washington Post report on how lawsuit settlements were funded. In his statement Tuesday, Miller said the story contained unspecified inaccuracies and omissions.
In another episode, House Democrats earlier this month asked the Justice Department to investigate a $25,000 donation the Trump foundation made in 2013 to the reelection campaign of Florida Attorney General Pam Bondi, whose office at the time was considering whether to start a fraud probe of Trump University, his defunct, for-profit real estate school. Federal law bars foundations from donating to political campaigns or candidates. Aides to Trump have blamed the donation to Bondi on clerical errors, while Trump, 70, who has said there was no wrongdoing, paid a $2,500 penalty earlier this year and reimbursed the foundation from his personal account.
Hicks, in an email, called any allegations of wrongdoing tied to Bondi a "false mischaracterization" that "disregards the facts."
Beyond Florida, New York Attorney General Eric Schneiderman said on CNN Sept. 13 that his office has been "looking into" the foundation to make sure it has complied with New York law.
Hicks, in the same email, called Schneiderman a "partisan hack" who has endorsed Democratic Party nominee Hillary Clinton for president.
As for Levine, no one has suggested there's anything untoward about his dealings with Trump's foundation. Levine runs the New York Real Estate Institute, a broker's license school. Photos of Trump's children Ivanka and Donald Jr. appear on its home page, along with testimonials about the classes they once took there.
"I recommend it to all my colleagues," Ivanka is quoted as saying. Trump "never asked for a penny—ever" in connection with travel on his private planes, said Levine.
Hicks, in her email, said of people like Levine that it's "not uncommon for friends to make donations to a charitable organization." 
Jeffrey Tenenbaum, chair of the nonprofit organizations practice in the Washington office of the Venable law firm, said, "There's absolutely nothing wrong with" Trump accepting donations offered by associates who benefited from free flights or other perks at Trump's clubs and hotels.
Tenenbaum said that it's "an interesting question" whether a donor in Levine's position could properly deduct on his own taxes the full value of his contributions to the Trump foundation. If Levine received the air travel in exchange for donations, the fair market value of those flights probably should be subtracted from any deduction, the attorney explained.
Asked if he deducted some or all of his donations, Levine said: "I honestly don't recall. I give my accountant all that stuff, and he takes care of it."
Before it's here, it's on the Bloomberg Terminal.
LEARN MORE