Major Republican Donors Spend Big on Senate Races, Not Trump
By
Adelsons give $20 million to Republicans running for Senate

Clinton maintains fundraising advantage, campaign filings show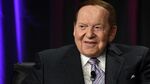 Some of the Republican party's top financiers are pouring money into the effort to maintain control of the Senate, while they're showing far less enthusiasm for Donald Trump, the presidential nominee, new filings show.
The casino magnate Sheldon Adelson and his wife, Miriam, contributed $20 million in August to a group backing Republican Senatorial candidates, according to reports submitted to the Federal Election Commission on Sept. 20. Meanwhile, Adelson, the biggest donor in the 2012 election cycle, was reported to be considering spending only $5 million to help Trump. 
With less than two months until the election, the reports Tuesday showed little sign of a last-minute surge that would help Trump compete on the airwaves with Hillary Clinton, who has raised and spent far more than Trump and began September with $152 million on hand between her campaign and joint accounts with the Democratic party.
Trump claims to have a net worth of more than $10 billion, but has mostly relied on outside donors since he defeated his last primary opponents in May. Trump has had success attracting small-sized contributions from millions of fans, but said earlier this month that his August fundraising haul was $90 million, a fraction of Clinton's.
Clinton Advantage
So far, Clinton has also had a lopsided advantage when it comes to support from outside groups such as super-PACs, which can accept donations of unlimited size from individuals and corporations. The main group supporting her, Priorities USA Action, brought in $23.4 million in August from the hedge-fund manager George Soros and other donors, bringing the group's total fundraising since last year to more than $130 million.
Meanwhile, two of the three biggest pro-Trump groups together reported raising just $4.2 million in August, including a $1 million check from Cherna Moskowitz, the Miami widow of a casino entrepreneur. A third group isn't required to report fundraising until next month.
Even Robert Mercer, the hedge-fund manager whose longtime advisers were recently installed atop the Trump campaign, doesn't appear to be opening the floodgates. Although he set up one of the pro-Trump groups and his daughter is running it, he has only put $2 million into it so far, compared with the more than $13 million he spent on another candidate during the Republican presidential primary.
Senate Super-PAC
The Senate is a different story for Republicans. Kenneth Griffin and Paul Singer, two hedge-fund managers who haven't supported Trump, gave seven-figure sums to the Senate Leadership Fund, the pro-Republican super-PAC to which the Adelsons also gave. The group gathered $28 million in August, more than doubling its total fundraising. And the network of groups overseen by the brothers Charles and David Koch have spent tens of millions of dollars on the Senate as well.
The deep-pocketed donors' enthusiasm has helped give Republicans an edge on the airwaves in those races, according to a Wesleyan Media Project analysis of Kantar Media/CMAG data. Republicans and their allies have run 61,015 ads in Senate contests, compared with 56,474 for Democrats.