business
Mylan Investigations Mount as West Virginia Opens Fraud Probe
By and
West Virginia AG seeks court order on rebate documents

Morrisey calls EpiPen's 500 percent price hike 'outrageous'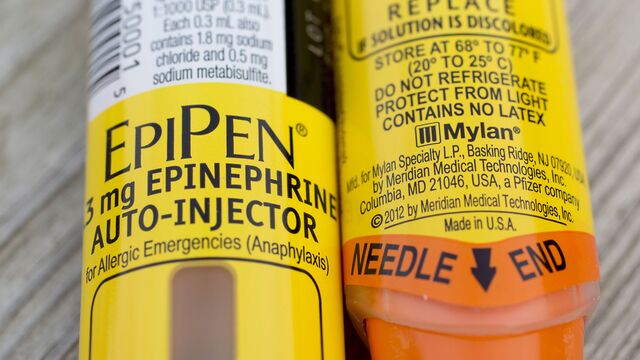 Mylan NV, already under fire from patients over the rising price of its EpiPen allergy shots, is facing a growing number of questions from lawmakers and law enforcement after the state of West Virginia launched a Medicaid fraud investigation into the drugmaker's pricing Tuesday.
The inquiry, led by State Attorney General Patrick Morrisey, seeks to force Mylan to turn over company documents related to EpiPen. Similar requests have been made in the last month by lawmakers in Washington, and on Wednesday Mylan Chief Executive Officer Heather Bresch is to testify at a congressional hearing about the product's price. The state attorneys general in Minnesota and New York also have inquiries, as do several congressional committees.
The West Virginia probe was announced at a press conference in Charleston where Morrisey, a Republican, called Mylan's failure to cooperate a violation of state law and said the company's actions are "outrageous." Mylan said it "has been cooperating and continues to cooperate by providing information in response to the AG's inquiry."
State Ties
While its headquarters are in Cannonsburg, Pennsylvania, Mylan's ties to West Virginia are deep. It was founded in the state and has a large manufacturing facility there. Bresch is the daughter of U.S. Senator Joe Manchin, a Democrat. And on Tuesday, USA Today reported that Bresch's mother, Gayle Manchin, was involved in an effort to encourage states to make schools keep EpiPen on hand, during her time as a state board of education member and the president of a national education group.
In a statement, Mylan said the USA Today story was "factually inaccurate in its core premise, as well as in numerous other assertions." USA Today said it was aware of Mylan's disagreement and wasn't aware of any inaccuracies.
Mylan's shares were little-changed at $41.52 at 1:44 p.m. in New York. The stock is down 15 percent in the last month, as of Monday's close.
Mylan has been under the spotlight for weeks over the escalating price of its EpiPen, a life-saving allergy shot of epinephrine. The drugmaker acquired the rights in 2007, when it cost about $50 for a single EpiPen, according to SSR Health, and has since raised the price to $600 for a two-pack. Mylan dominates the market, and the drug accounts for 40 percent of its operating profits.
Related Story: Mylan CEO's Boss, the Man Who Acquired EpiPen, Avoids Spotlight
Morrisey is seeking internal company files outlining rebates Mylan paid to participate in the state's Medicaid program, according to a statement from his office. West Virginia officials are questioning whether Mylan paid rebate amounts typically associated with "non-innovator" drugs, even though brand-name drugs such as the EpiPen generally pay higher, "innovator" drug rebates.
Rebate Laws
U.S. law requires makers of drugs who have no approved competitors to pay a rebate of at least 23.1 percent of the average manufacturer price to participate in the Medicaid program. Generic drugs are subject to a 13 percent rebate.
Mylan, which operates a manufacturing plant in Morgantown, West Virginia, failed to turn over records when Morrisey's investigators originally requested them in August, according to court filings.
Mylan officials countered that they couldn't comply with the document request until after congressional hearings into the EpiPen price hike were completed, according to the filings.
The case is State of West Virginia v. Mylan NV, NO. 16-P-435, Circuit Court for Kanawha County, West Virginia (Charleston).
— With assistance by Jared S Hopkins
Before it's here, it's on the Bloomberg Terminal.
LEARN MORE