Allergan Buys Liver Drug Maker Tobira, Sending Biotech Stocks Up
By
Premium of at least 498 percent over Tobira's Monday close

Other liver drug stocks soar: Intercept, Galectin, Conatus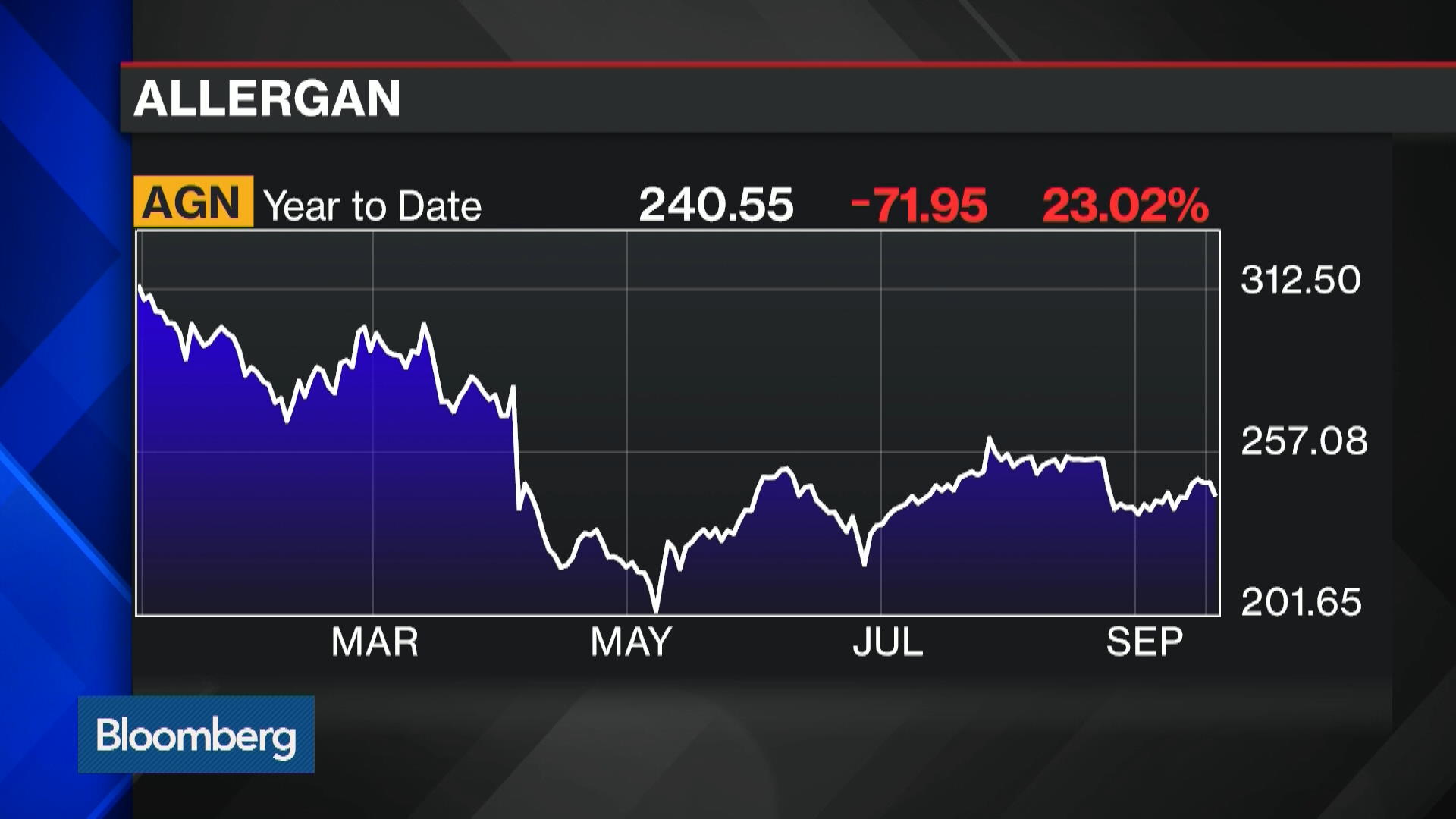 Allergan Plc's agreement to buy Tobira Therapeutics Inc. for as much as $1.7 billion sent biotech stocks soaring Tuesday, as investors bet that buyers will emerge for other companies developing experimental treatments for a liver disease known as NASH.
NASH, or non-alcoholic steatohepatitis, is a severe type of fatty liver disease that has become one of the hottest areas in biotech -- and Allergan's 498 percent premium for Tobira just made it even hotter.
Intercept Pharmaceuticals Inc. rose 7 percent, Galectin Therapeutics Inc. jumped 14 percent and Conatus Pharmaceuticals Inc. soared 17 percent. Even biotech giant Gilead Inc., which has NASH assets, got a boost of 3.3 percent.
Allergan will pay $28.35 a share in cash upfront and up to $49.84 if Tobira hits certain sales and regulatory goals, according to a statement Tuesday. The lower price values Tobira at about $533 million based on the number of shares outstanding, almost six times its market capitalization of $89 million as of Monday's close -- even if the liver drug maker doesn't hit the goals.

Tobira, based in San Francisco, jumped eight-fold to $38.28 at 1:41 p.m. in New York, while Allergan dropped 2.5 percent to $239.20.
Some analysts raised questions about Allergan's premium for a company that has recently missed a primary target in a mid-stage study. In July, Tobira said its NASH drug missed its main goal of lowering a gauge of disease severity, but did lower liver scarring, an important secondary goal. 
"Efficacy is not 'locked in,"' Umer Raffat, an analyst at Evercore ISI, wrote in a note to investors.
Last month, Allergan Chief Executive Officer Brent Saunders said the company doesn't need to do any "big M&A," confirming a change of approach to dealmaking following the collapse of its its planned $160 billion merger with Pfizer Inc. in April in the face of regulatory hurdles. With Tobira, Allergan is making its third acquisition in as many weeks after Vitae Pharmaceuticals Inc., a maker of dermatology medicines, for $639 million last Wednesday, and ophthalmology gene-therapy firm RetroSense Therapeutics LLC for $60 million, in early September.
The moves suggest "other mid cap biotechs in these markets may also continue to benefit as a deep-pocketed acquirer appears to want to build a pipeline of clinical stage biotech assets," said Michael Yee, a biotechnology analyst at RBC Capital Markets. He also noted that Allergan moved on Vitae and Tobira after both stocks had dropped following disappointing data from their studies, offering big premiums.
"What is interesting is Allergan appears to be buying biotech assets that the market views as 'questionable' or relatively disappointing," Yee wrote in a note to investors.
Covington & Burling LLP was Allergan's lead legal counsel on the Tobira deal. Centerview Partners and Citigroup Inc. were Tobira's financial advisers, while Skadden, Arps, Slate, Meagher & Flom LLP and Gunderson Dettmer Stough Villeneuve Franklin & Hachigian, LLP provided legal counsel.